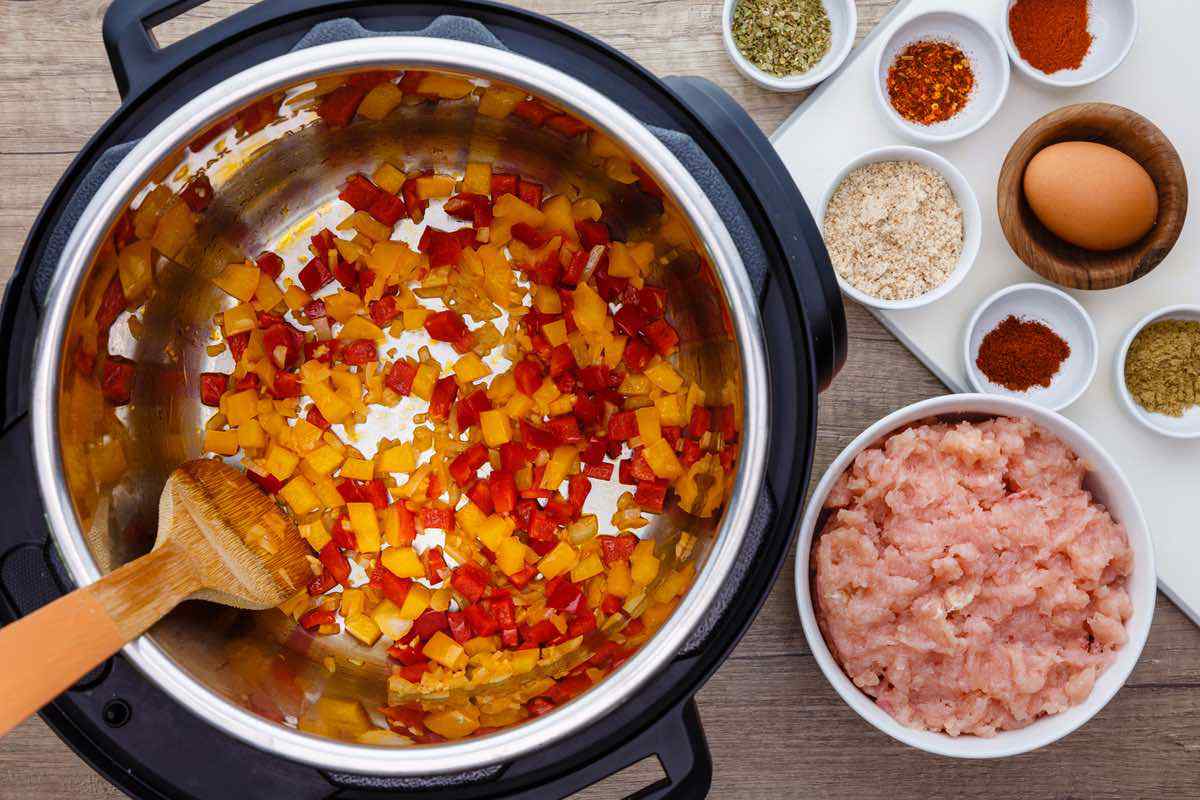 View More Paleo Meatloaf Recipes:
Easy 7-Ingredient Paleo Meatloaf with Bacon (Ermahgerd!)
Quick and Easy Turkey Meatloaf
40 Paleo Meatloaf Recipes without Bread Crumbs
---
1 ½ pounds ground turkey
1 tbsp olive oil
½ medium onion, chopped
½ medium red bell pepper, diced
½ medium yellow bell pepper, diced
1 large egg
1 ½ tsp dried oregano
1 ½ tsp ground cumin
1 tsp garlic powder
½ tsp chili powder
½ tsp paprika
½ tsp crushed red pepper flakes, optional
1/4 cup almond flour
salt, black pepper to taste
Press the SAUTE button on the Instant pot and let stand until screen reads "HOT".
Add the olive oil.
Add the onion and bell peppers and cook, stirring occasionally for 3-5 minutes.
Press the CANCEL button.
In a large bowl place the ground turkey, egg, dried oregano, ground cumin, garlic powder, chili powder, paprika, crushed red pepper, almond flour and bell pepper-onion mixture.
Season to taste with salt and black pepper.
With clean hands, mix the ingredients until well combined.
Place the meat mixture on two pieces of tinfoil and shape it into a loaf.
Fold the foil up and around the edges of the meatloaf, creating a loaf pan.
Place the trivet in the Instant Pot.
Add 1 cup of water.
Place the meatloaf on top of the trivet.
Close and seal the Instant pot.
Turn the venting knob to SEALING.
Press PRESSURE COOK button and check to make sure the pressure level shows as "High" on the display.
Adjust the timer to 25 minutes.
When finished cooking, let the pressure come down naturally for 10 minutes, then quick release the rest of the pressure.
Open the lid and remove the meatloaf from the pot.
Slice and serve.