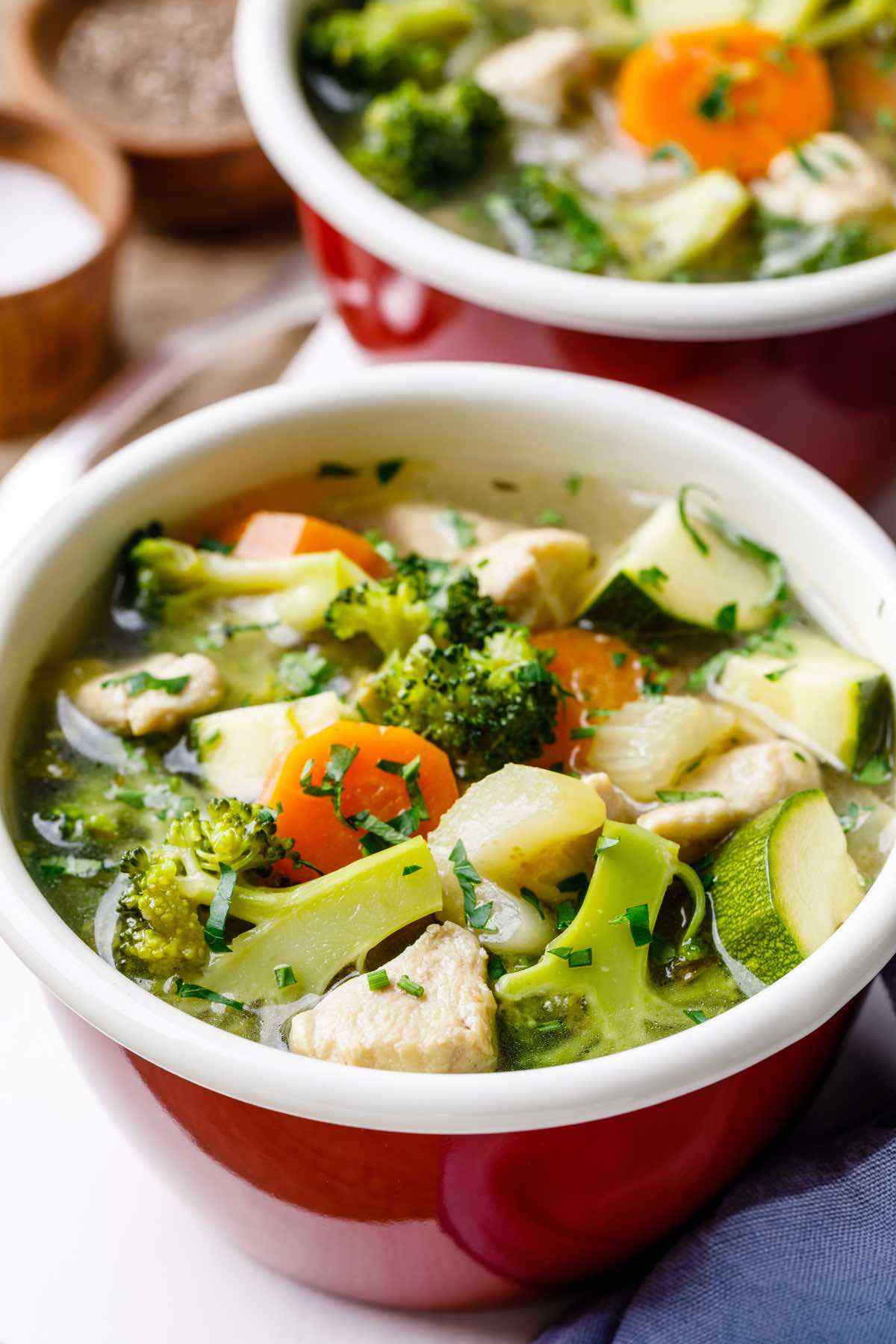 More Paleo Chicken Soup Recipes:
Easy 5-Ingredient Crockpot Paleo Chicken Soup
Low Carb Rainbow Paleo Chicken Soup with Zucchini Noodles
Quick Paleo Chicken Noodle Soup with Zucchini Noodles
Slow Cooker Chicken Enchilada Soup
Homemade Chicken No-Noodle Soup
---
2 tbsp olive oil
1 medium onion, chopped
1 medium carrot, diced
2 stalks celery, diced
2 garlic cloves, minced
1 ½ pounds boneless skinless chicken breast, cut into 1 inch cubes
4 cups homemade chicken broth
1 bay leaf
½ tsp dried thyme leaves
1 small zucchini, cubed
1 cup broccoli florets
2 tbsp chopped fresh parsley
salt and black pepper, to taste
Press the SAUTE button on the Instant pot and let stand until screen reads "HOT".
Add the olive oil.
Add the onion, carrots and celery and cook, stirring occasionally for 2-3 minutes.
Add the garlic and cook for 30 seconds.
Add the chicken and cook until no longer pink.
Press the CANCEL button.
Add the dried thyme, bay leaf and chicken broth and mix to combine.
Close and seal the Instant pot.
Turn the venting knob to SEALING.
Press PRESSURE COOK button and check to make sure the pressure level shows as "High" on the display.
Adjust the timer to 5 minutes.
When finished cooking, let the pressure come down naturally for 5 minutes, then quick release the rest of the pressure.
Open the lid and discard the bay leaf.
Press the SAUTE button.
Add the zucchini and broccoli florets and cook for 1-2 minutes or until tender.
Stir in the chopped parsley.
Press the CANCEL button.
Season to taste with salt and black pepper.
Serve warm.