Recipe Lists
45 Dairy-Free Paleo Ice Cream Recipes (Try these!)
Conventional ice cream is definitely a no-go on Paleo. Store bought ice cream is loaded with non-Paleolithic items like milk, sugar, and cream, and that's if you go with a brand that doesn't add a lot of extras like corn syrup or whey protein. But don't fret if you love ice cream, because there are plenty of Paleo chefs out there that have come up with workarounds for ice cream that doesn't contain these unauthorized items, and keeps it Paleo friendly so you can enjoy it without feeling like you're cheating or going off course.
Paleo Fudgesicles
Look no further for a creamy, decadent, and frozen chocolate treat for the summer. The recipe has a coconut milk base, which is actually heated on the stove in order to thicken, before it goes into the freezer. The serving size depends on the popsicle mold, but this recipe makes approximately 8 medium paleo-friendly fudgesicles. They take around 5 hours to fully freeze.
Ingredients
1 1/3 cups coconut cream
1 egg yolk
1/2 cup honey
1/2 tsp vanilla extract
Pinch of salt
2 oz. dark chocolate, chopped
Instructions
1. Whisk together the egg yolk, honey, vanilla, and salt in a medium glass bowl. Set aside.
2. Heat the coconut milk in a small saucepan over medium heat, stirring occasionally, for 5 minutes. Slowly pour the coconut milk into the egg mix, whisking constantly. Transfer the entire mixture back into the saucepan and cook for another 5 minutes. Stir regularly until thickened, making sure it does not boil.
3. Transfer the mixture back into the glass bowl and whisk in the chocolate. Let cool for 15 minutes, then pour into popsicle molds and freeze until solid.
Paleo Ice Cream Sundae with Chocolate Sauce
This is a basic recipe for Paleo ice cream, gaining natural sweetness from maple syrup and vanilla. It is transformed into a sundae when topped with chocolate sauce, brownie crumbles and berries. Additional toppings ideas include mint, coconut flakes, or orange zest.
Ingredients
For the ice cream:
2 cans full-fat coconut milk, chilled
1/2 cup maple syrup or honey
1 tsp vanilla
For the chocolate sauce:
1 oz. paleo-friendly dark chocolate
1 tbsp coconut oil
3 tbsp coconut milk
1 tbsp dark cocoa powder
1 tbsp honey
Dash of vanilla
Instructions
1. Blend coconut milk, maple syrup, and vanilla until combined. Put into an ice cream maker and follow its instructions, or place in a baking dish in the freezer for 2-3 hours until set, stirring every 30 minutes.
2. Remove the ice cream from the freezer and allow to soften for about 10 minutes before serving. While waiting, prepare the chocolate sauce. Melt the dark chocolate and coconut oil together in a medium microwave-safe bowl. Stir in the coconut milk, cocoa powder, honey, and vanilla. Drizzle over ice cream to serve. Serve with desired additional toppings.
Creamy Peach Paleo Ice Cream
Both peaches and ice cream are popular in the summer months. Dairy-free paleo ice cream is a wonderful summer treat, and easier to make than you might believe. Ripe, juicy peaches provide the main flavor, but egg yolks are also incorporated into this recipe. This produces a creamy, custard-like result, rather than having the icier consistency of sorbet.
Ingredients
3 overly ripe peaches
1 14.5-oz. can coconut milk
2 egg yolks
1/4 cup honey
1 tsp lemon juice
1/2 tsp vanilla extract
Pinch of salt
Instructions
1. Peel and pit the peaches. Mash the flesh in a bowl or puree in a food processor depending on your desired consistency for the end product. Place into the refrigerator to chill.
2. Whisk together the egg yolks, honey, vanilla, lemon juice, and salt in a medium glass bowl. Set aside.
3. Heat the coconut milk in a small saucepan over medium heat, stirring occasionally, for 5 minutes. Slowly pour the coconut milk into the egg mix, whisking constantly. Transfer the entire mixture back into the saucepan and cook for another 5 minutes. Stir regularly until thickened, making sure it does not boil. Remove from heat and allow to cool. If there are any lumps, strain through a fine mesh strainer. Place in the refrigerator until completely cooled.
4. Stir the peaches into the chilled custard base and process in an ice cream maker according to the manufacturer's instructions. Place in a parchment-lined bread pan in the freezer until set. Serve cold.
Paleo Mint Chocolate Chip Ice Cream
A classic pairing, mint and chocolate are two flavors that work extremely well together. In this coconut milk-based paleo ice cream, their flavors provide a refreshing and slightly sweet dessert. You can use miniature dark chocolate chips, or if those are difficult to find, just use a bar of dark chocolate and chop it into small pieces.
Ingredients
1 14.5-oz. can full-fat coconut milk
1/4 cup honey
1 tsp vanilla extract
1/2 tsp peppermint extract
3 egg yolks
1 cup dark chocolate chips
Instructions
1. Combine the coconut milk, honey, vanilla, peppermint, and egg yolks in a small saucepan. Bring to a low boil, whisking constantly. Remove from heat. Cover and place in the refrigerator for 1-2 hours to cool completely.
2. Pour the mixture into an ice cream maker and follow manufacturer's instructions. Add the chocolate chips during the last 5 minutes in the ice cream maker. Serve cold.
Mango Orange Paleo Sorbet
No ice cream maker is required to make this simple, bright Paleo sorbet. Frozen fruit acts as the base, and then top with coconut flakes, additional fruit, or any topping of your choosing. Frozen mango or pineapple both work well in this recipe with the orange juice. Add some ice to the sorbet to reach your desired consistency, if necessary.
Ingredients
2 cups frozen mango pieces
1/2 cup orange juice
1 tsp lemon juice
1 tsp lemon zest
Pinch of cinnamon
Instructions
1. In a large cup (if using an immersion blender) or a blender, combine ingredients and blend until smooth. Add ice if necessary to reach desired consistency. Serve immediately.
Best Paleo Ice Cream Recipes of 2022
3 Easy Paleo Banana Ice Cream Recipes (chocolate, vanilla and strawberry)
Paleo Ice Cream Truffles (yum!)
5 Ingredient Banana Ice Cream (easy recipe)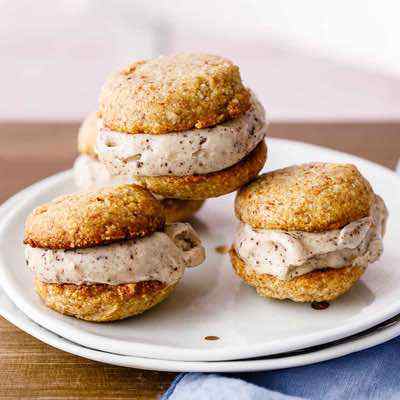 Paleo Almond Flour Cookie Ice Cream Sandwiches (ermahgerd!)
Classic Paleo Vanilla Ice Cream (dairy-free)
Fresh Strawberry Sorbet (refreshing and low calorie)
Dark Chocolate Dipped Raspberry Coconut Popsicles (try these!)
Dairy-Free Mint Chocolate Chip Ice Cream (Paleo Gluten Free Eats)
Paleo Coffee Ice Cream (The Roasted Root)
Paleo Chocolate Almond Butter Ice Cream (Paleo Newbie)
Paleo Strawberry Ice Cream (Real Food with Jessica)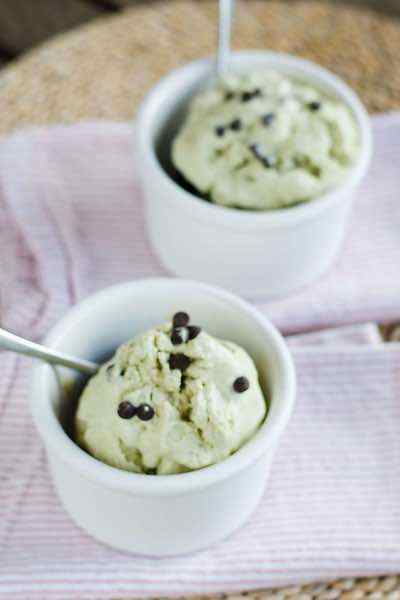 Pistachio Chocolate Chip Ice Cream (Cook Eat Paleo)
Paleo Pumpkin Ice Cream (The Clean Eating Couple)
Paleo Ice Cream Sandwiches (Olive You Whole)
Swiss Almond Paleo Ice Cream (Gourmande in the Kitchen)
Paleo Chocolate Salted Caramel Ice Cream (Primal Praline)
Paleo Maple Vanilla Ice Cream (Real Food with Dana)
Paleo Chocolate Chip Cookie Dough Ice Cream
One of the most popular ice cream flavors is chocolate chip cookie dough so we just had to start our list with this one, as it will satisfy the most sweet toothed caveman and cavewoman wannabes out there. The trick is that she's using a special recipe for chocolate chip cookie dough that is specifically for Paleo. With that in place it's just a matter of hatching a plan to make the ice cream without any dairy, and she's opting for coconut milk mixed with maple syrup to make it all work.
Easy Paleo Chocolate Ice Cream
Let's get down to basics. Chocolate ice cream is undoubtedly one of the most popular single-flavored ice creams out there, and shares company only with vanilla and strawberry. We'll cover strawberry next, but first let's pay homage to chocolate. If you ever get the hankering for a bowl of chocolate ice cream on a hot summer's day, this will allow you to partake in it without forsaking your Paleo eating desires. That's because it's using coconut milk, bananas, and cacao powder in just the right amounts to pull it off and fool you into thinking you're having the real thing.
Strawberry Ice Cream
Here's a beautiful strawberry ice cream that you can turn to when you want something sweet and fruity, but you don't want to be so bad that you feel guilty after eating it. The best part is that it uses easy ingredients like frozen strawberries and coconut milk so you don't have to take any elaborate steps to enjoy this. They even make the fresh strawberries optional garnishes and they don't factor into the actual ice cream base. They're using the popular method of coconut milk and a little sweetener to mimic ice cream's texture and taste.
Coconut Lime Ice Cream
If you're a fan of lime you'll definitely want to try this lime-infused ice cream. Like many of the recipes you'll find on this page it's going to get its coconut flavoring from the use of coconut milk. And to make sure this has the smoothness and silkiness of ice cream they're using an avocado. This also means you're getting all of the benefits that an avocado provides, and that regular ice cream surely doesn't provide, like potassium, fiber, healthy fat in the form of monounsaturated and polyunsaturated fat, and added protein. Oh, and of course there's lime juice used for natural lime flavor.
Chocolate Peanut Butter "Buckeye" Ice Cream
This recipe is giving a nod to the Buckeye state by trying to capture the essence of Buckeye candies that are made out of peanut butter and chocolate. The way she's figure out to bypass the peanut butter is to use sunbutter made from sunflower seeds. That's because peanuts aren't allowed on Paleo because they're a legume. No biggie, there's a good substitute for nearly everything you're not supposed to eat on the Paleo diet, making it one of the easiest diets in the world to follow.
Vanilla Hazelnut Ice Cream
Here's a super simple way to make a nice dish of vanilla hazelnut ice cream, without resorting to dairy or other stuff that will gunk up your system. This uses coconut milk as the main ingredient and goes a step further and uses coconut cream for added taste and texture. The hazelnut flavor comes from hazelnut butter, so you don't have to worry about preparing any nuts. Raw honey provides all the sweetness you could want, and you don't have to worry about any industrial-grade sugar, fructose, sucrose, or God knows what else being in there.
Moose Tracks Ice Cream
This is a very popular ice cream choice, and it would normally be a no-go on Paleo because you can't have peanut butter because you can't have legumes. They use a special almond butter cups recipe to circumvent the use of peanut butter cups, and it's game on. The end result is a bowl of legit Moose Tracks ice cream without having to compromise your goals and set yourself back. There's no dairy, and only high quality chocolate being used so you aren't subjecting yourself to big candy brands that pump their chocolate full of sugar and additives. The bonus is you don't feel gross after you eat a bowl of this.
Blood Orange "Dreamsicle" Ice Cream
Don't worry, there's no blood in this, but if you're not familiar with blood oranges it's high time you become acquainted. They have a unique flavor to them, and in this orange creamsicle inspired ice cream recipe they simply can't be beat. Like many Paleo friendly ice creams they're using full fat coconut milk to produce the creaminess of ice cream. The blood orange provides the orange flavor akin to an orange creamsicle, and you're in business. This is one creation that is great on a hot day, but can also be enjoyed year round when you want to reminisce.
Almond Joy Sunday
Love Almond Joys but can't have them because you're following the Paleo plan? Here's a way to circumvent having to eat a mass produced candy bar whose ingredients list contains such lovely things as copious amounts of corn syrup and other impure sugar sources, as well as partially hydrogenated oils, aka trans fat. This Almond Joy ripoff will give you the taste sensation you need without loading you full of stuff your body doesn't need, and doesn't know how to process, since it's not technically food. There are so many fillers and additives in an Almond Joy that it's no wonder it looks and tastes so good, it's all chemically doctored to do so.
Coffee Ice Cream with Salty-Sweet Almonds
Early man didn't know what he was missing when it comes to coffee flavored ice cream. There's a bit of a debate over whether coffee is strictly Paleo, but if you've decided that it's OK on occasion then take full advantage of this recipe because it's using a cold-brewed coffee and it let's you play around with how much you want to add so you can really get your coffee fix with this. The pairing of crunchy and nutty salty and sweet almonds works wonderfully, and also does a good job of adding healthy fats to the equation.
Lemon-Kissed Blueberry Ice Cream
This recipe is nice because they made it a point to use organic coconut milk, which brings it closer to the type of food that would have been eaten before the Neolithic era came and messed everything up. This incorporates a good amount of fruit and fruit juices, so you might want to enjoy this on a day when you haven't had too much fruit, and want to cover it in one sitting. Paleo relies mostly on a mix of meat and vegetables, with fruit playing a peripheral role, but still being important due to its antioxidants and fiber.
5-Minute Chocolate Banana Ice Cream
We like things that don't take up a lot of time, but come out tasting great. This is one of them. The cool part about this recipe is that they give you a 4 minute option to just have banana ice cream, or you can go deluxe, spend an extra minute and whip up chocolate banana ice cream. If you're a chocolate fiend like we are you'll likely tack on the extra minute and add the cocoa powder. Can't get much simpler than 2 ingredients and no ice cream maker needed.
Raspberry Swirl Coconut Ice Cream
Coconut ice cream is pretty popular in the world of Paleo ice cream, and it's because coconut milk does such a decent job of filling in for all the non-Paleo stuff you see in regular ice cream. Here they've included coconut cream, which really helps to pull off the diary switcheroo. By swirling raspberries throughout you're sure to get a nice bit of sweet and tart goodness with each bite of coconut ice cream. This leaves you with a light and satisfied feeling, rather than feeling weighed down and gross with potential indigestion from typical ice cream.
Paleo Chocolate Fudge Swirl Ice Cream
If fudge swirl ice cream was one of your favorite flavors before you went Paleo, it's time to bring it back to the table and start enjoying it again. You won't be disappointed because Paleo kitchen artists have been able to come up with amazing ways to bring you chocolate fudge, so it's just a matter of swirling it through the ice cream so that you get them both in every bite. They provide both the necessary recipe for the fudge, as well as the ice cream and then show you how to put them all together so you can enjoy this tonight if you want.
Raspberry Bliss
If you're a big fan of raspberries you'll likely become a big fan of this ice cream. It's a unique blend of raspberries (of course), macadamia nuts, and bananas. The nuts provide a nice amount of healthy fats, the raspberries load you up with antioxidants, and the bananas give you fiber and potassium so rather than setting you back, this ice cream is actually moving you forward. They give you the option of adding chocolate nibs to this to make it truly blissful. As an added bonus there's a recipe for a basic chocolate ice cream recipe on the same page
Instant Pumpkin Pie Ice Cream
When like fast recipes, and nothing says fast like instant. They cut some corners here by using pumpkin puree for the pumpkin flavoring, a banana for added flavor and texture, and the ever-present coconut milk that you should basically keep a supply of if you like ice cream because it's used in just about every Paleo ice cream recipe worth trying. Instant really boils down to 15-20 minutes or so, which is still a record time for making ice cream from scratch. Because of its pumpkin essence this is a great ice cream to serve during the holiday season, or anytime in the fall.
Mint Chocolate Chip Ice Cream
No ice cream list would be complete without mint chocolate chip. It's one of the most popular flavors because of the cool feeling it leaves in your mouth, and the special way that mint and chocolate go together. There are two versions of this recipe provided, and you'll want to go with the dairy free version of course, to stay within Paleo guidelines. It's completely Paleo friendly when you go with the suggestion of coconut milk, and sub in stevia, honey, or agave as your sweetener. Even the chocolate chips being used are dark chocolate.
Chai Ice Cream
If you used to enjoy the occasional chai latte before giving it up for your Paleo pursuit, here's a way to bring it back in ice cream form. This recipe capture everything you love about a chai latte, and turns it into a cool treat you can have to break up the monotony of eating meat and veggies all the time. This of course is using real chai tea for the chai flavoring, so you are getting the Real McCoy here, and nothing artificial. The rice milk may be a point of contention for Paleo sticklers, but you'll have to decide how you feel about using rice products.
Maple and Chocolate-Bacon Crunch Ice Cream
Here's an ice cream recipe that caters to the bacon lover in all of us. That's right, they went and added bacon to this recipe just to show that when you cut out the dairy and the sugar you leave room for things like bacon. Don't ask us how it works, but it just does, and this is one primal-inspired dish that you won't soon forget. The savoriness of bacon combines well with the chocolate, and of course it goes well with maple syrup just think of the last pancakes you had where you dipped your bacon in the syrup.
Paleo Ice Cream Truffles
Nothing's quite as cute as a truffle, and you probably thought your truffle eating days were over when you decided to go Paleo. Think again, and give these little guys a try. They're completely Paleo friendly, right down to have no dairy and no artificially sweet things. The beauty of these truffles is that this only uses a short list of simple ingredients. It does use a pretty clever way to make these extra good, so you'll have to check it out to see what they've done special to separate this from the other ice cream options you have.
Rose Water, Saffron & Pistachio Ice Cream
This is perhaps one of the more eclectic mixes of ingredients on our page of Paleo ice cream recipes, but it may have one of the best payoffs when you actually make it and eat it. The use of rose water is unique enough by itself, but they've paired it with saffron and pistachio, so your taste buds are in for quite an experience, without jeopardizing your healthy lifestyle. The nice thing is that this is a great finisher for tons of different types of meals, so you can have it whenever you'd like to cap things off properly.
Almond Butter and Jelly Ice Cream
This is a pretty cool recipe because it is trying to bring the joy of a peanut butter and jelly sandwich to ice cream. It has the task of not using peanut butter because they're legumes and therefore not allowed. It also needs to provide the taste of jelly without using sugar. As you can see they're using almond butter in lieu of peanut butter, and the jelly flavor comes from strawberries, and your choice of all natural sweetener.
Cherry Garcia Ice Cream
Think Ben and Jerry are making ice cream according to Paleo standards? Nope. Their Cherry Garcia ice cream is full of things that you simply wouldn't want to touch while on Paleo. Luckily they've come up with this amazing duplicate that brings you all the things you really like about the Cherry Garcia flavor, but without using any dairy products, or using any artificial flavors or industrial fillers. Perhaps one day we'll see more Paleo friendly ice cream options in the freezer section of the supermarket, but these days you'll just have to make it on your own until the rest of the world catches up.
Strawberry Brownie Sundae
Not fair, they're using brownies in this ice cream sundae so they're winning over the brownie crowd plus the ice cream crowd. And they're over delivering by providing recipes for both that cuts out all the junk that you'd find in a traditional brownie and ice cream recipe, and subs in all natural ingredients that are in line with the Paleo path. In true sundae form they're topping this ice cream with fresh strawberries, the aforementioned brownies, and chocolate syrup. But this is one sundae that won't leave you incapacitated after you eat it.
Avocado Paleo Ice Cream
It's such a smart idea to use avocados in Paleo friendly ice cream because they provide just the right consistency for ice cream, and have so much going on in the way of nutrition that it serves quite a few purposes all at once. You're essentially blending up frozen fruits along with an avocado in hopes that this will bring you to ice cream textured bliss. They've used pineapples and raspberries, two Paleo fruits that you can enjoy as you'd like. Just remember that fruit is not a major player in the Paleo diet so make sure it takes a backseat to veggies and meats.
Paleo Apple Pie Ice Cream
They say nothing's more American than Apple Pie. And because standard apple pie is loaded with things that the body just can't digest properly, it's no wonder that America is one of the leading countries with an obesity problem. But here's a healthy compromise that takes all of the goodness of apple pie, and leaves out the bad. The finished product is an ice cream that is like having Apple Pie a la Mode, all in one bowl. Coconut gets the go ahead instead of any cream or milk so it's dairy free but you won't even know. This is a Paleo dish you can share with non-Paleo friends and they won't even complain.
Creamy Peach Sorbet
This is one of only two sorbets to make our list, and we know that they're technically not ice cream, but they were so good we just couldn't resist. And after all, sorbet is right next to the ice cream in the frozen aisle, so why not include them here. This one uses the trusted coconut milk to give it that creaminess that you expect from sorbet, and the peaches work great because they're sweet, but not too sweet, and are definitely one of the fruits you can enjoy on Paleo. Yes, there are actually some fruits you can't have on Paleo. Be sure to check our page of foods you can have on Paleo for more details.
Banana Ice Cream with Toasted Walnuts and Chocolate Swirl
You'll often see bananas used in Paleo versions of ice cream because it has the right consistency. If you simply mash up a banana enough it starts to get all creamy, and when you freeze it it almost looks like ice cream all by itself. When you start adding things like coconut milk to the equation, as this recipe does, you are only making it more and more like real ice cream. The use of toasted walnuts here means that you're getting a nice serving of healthy fats, and the chocolate swirl goes pretty far in making this seem like a classic serving of ice cream. It almost has that banana split feel to it.
Paleo Honey Roasted Macadamia Nut Ice Cream
Macadamia nuts show up a lot in Paleo recipes. Maybe that's because they taste so great, and they are completely allowed according to the guidelines. The reason Macadamia nuts are still shied away from on most diets is because of their fat content, but Paleo eaters know that the fat they contain is the kind your body needs to function at its best, and actually serves to help you lose weight. By making them honey roasted they are making them even more delicious, while still sticking to fundamental Paleo tenets. Arrowroot powder is one ingredient that you won't often see in ice cream recipes, but it works here to help bind things together.
Primal Salted Caramel Ice Cream
You can tell that this is primal in nature because of the ingredients they're using. No iodized salt here, they're using sea salt which is far better for the body and provides minerals it needs. They are also not using any caramel in this, but rather replicating it from other ingredients as to avoid the use of refined sugar that is found in caramel sold in stores. What this all leads to is an ice cream treat that you can enjoy without the guilt, especially if you used to like getting the caramel sundaes from McDonald's before you decided to start eating Paleo.
Strawberry Coco-Banana Ice Cream
This is one of those recipes that has all of its main ingredients listed in the title. The coco refers to coconut, not cocoa, so don't be surprised by the lack of chocolate. This is a fruity treat that serves up the best of strawberry ice cream as well as infusing coconut flavors and banana flavors at the same time. The best part is that all of these ingredients are good for you, so the stigma of ice cream being unhealthy can get flipped on its head when you're doing Paleo. You should still go easy on it, because fruit is not something you want to overdo.
Banana Split Ice Cream Cake
We just had to include this recipe because it simply looks amazing. They've figured out how to make little mini banana split ice cream cakes so that you get all of the wonderful flavors of a banana split in one place. They've also cracked the code on how to do it all with no dairy to speak of and no wheat or grain products used in the crust. As if this wasn't enough they give you a bunch of options for toppings so that you can customize these to your own liking while still keeping it pretty healthy and staying within the confines of what's OK on Paleo.
Paleo Blackberry Rosewater Ice Cream
This is another ice cream recipe that uses rose water in it. It's best to make up your mind on how you feel about rose water before using it in a recipe so that you know whether you will like it or not once it's finished. Here they give you the option of adding more if you know you like it. The way it goes together with the blackberries used here is something special, and it was a good idea on their part to put them in the same dish. It uses coconut milk for the ice cream, and it gets its sweetness from honey, so this is an ice cream that is right on track with your Paleo lifestyle.