I find that the combination of honey and garlic never fails when it comes to chicken, so if you haven't tried it yet, you're going to absolutely enjoy the flavors of this recipe.
I used boneless chicken breasts, but you could also use boneless chicken thighs if you prefer dark meat.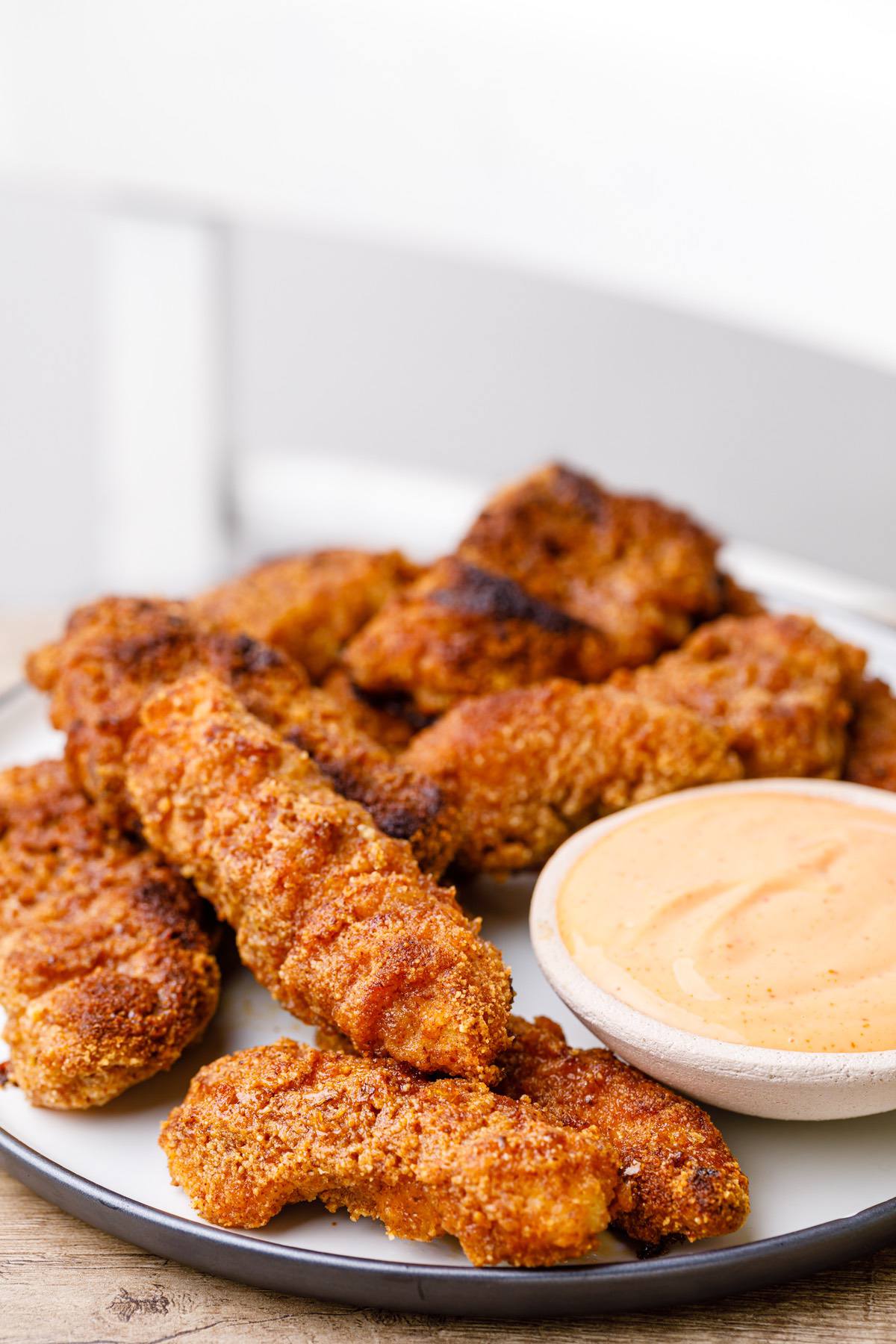 (You may also like: Homemade Crispy Paleo Chicken Nuggets)
---
For the chicken fingers:

1 pound skinless boneless chicken breasts, cut into strips
2 eggs
¼ cup arrowroot flour
1 ½ cups almond flour
¼ tsp cayenne pepper
salt, black pepper to taste
olive oil spray

For the honey garlic sauce:

1/3 cup honey
4 garlic cloves, minced

For the sriracha dipping sauces:

½ cup homemade or store- bough paleo mayonnaise
1 tbsp paleo sriracha sauce
To make the sriracha dipping sauce, in a bowl combine the mayonnaise and sriracha sauce.
Refrigerate until ready to use.
Preheat oven to 400°F.
Season the chicken with salt and black pepper to taste.
Place the arrowroot flour in a shallow bowl and set aside.
In another bowl lightly beat the eggs.
Set aside.
Add the almond flour and cayenne pepper to a third bowl and mix to combine.
Coat the chicken finger in arrowroot flour then dip in eggs.
Then coat in almond flour mixture.
Repeat this for all the chicken fingers, placing them on a baking sheet lined with parchment paper.
Spray the fingers with olive oil spray.
Bake in preheated oven for 25-30 minutes or until golden and crispy.
Meanwhile, make the honey garlic sauce.
In a saucepan add the honey and garlic and stir to combine.
Bring to a boil over medium heat.
Remove from the heat and set aside.
When the chicken has finished baking remove it from the oven.
Brush the chicken with honey garlic sauce.
Return to the oven and broil for 2-5 minutes or until caramelized.
Serve with sriracha dipping sauce.