---
I have only made fruit leather with a Silpat baking sheet, since it seems to be the easiest to remove from the pan and offers good results. Parchment paper is also supposed to work. You do not need to spread the pureed fruit too thin in the pan, or it will get crispy instead of chewy. Before undertaking this project, you should note that it does take a long time to bake, around 6-7 hours. Therefore I usually make fruit roll-ups as a weekend project, when I can prepare the fruit, throw it in the oven and go about doing other things the rest of the day until it's time to take it out. Though it takes awhile, I believe it is well worth the results.
When the time is getting close to six hours, check the fruit leather more regularly because if it overcooks it will end up as fruit chips instead of shapeable leather. Baking times can vary because of oven differences, and how low your oven temperature can be set. You want to set it as low as possible, which might slightly extend the baking time.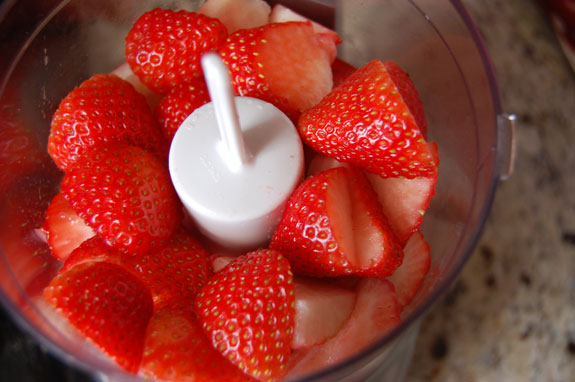 You can use many different types of fruit; just make sure it is ripe to get the best flavor. Obviously using fruit that is in season will produce the tastiest results. Once you get comfortable with making your own fruit roll-ups, start experimenting with additional spices and garnishes. Cinnamon, mint, or citrus can be added in different levels to make interesting varieties.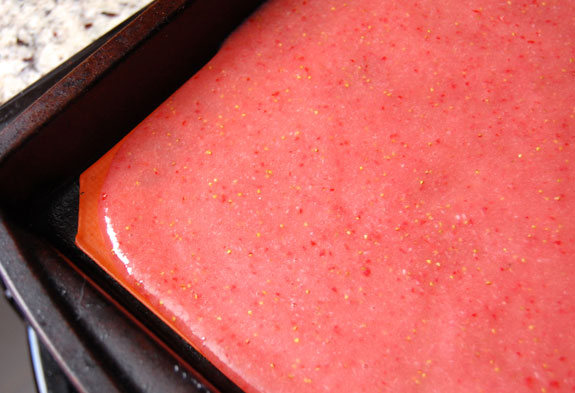 Since the homemade option of fruit roll-ups is much lower in sugar, this is a great snack option for kids. Strawberries lend a natural sweetness to this version. It is also handy to have around for a snack on the go.
---
4 cups strawberries, hulled and chopped
2 tbsp honey
Preheat the oven to 170 degrees F or the lowest oven temperature setting. Line a baking sheet with a Silpat mat. Place strawberries in a medium saucepan and cook on low heat until soft. Add in the honey and stir to combine.
Use an immersion blender to puree the strawberries in the saucepan, or transfer to a blender and puree until smooth. Pour the mixture onto the Silpat-lined baking sheet and spread evenly with a spatula. Bake for 6-7 hours, until it peels away from the parchment.
Once cooled, peel the fruit leather off the mat and use a scissors to cut the fruit leather into strips. Roll up to serve, and store in an airtight container.