---
My friend Andrea has a long and sordid past with Nutella. At 16 on a class trip to Germany, she and I lived on Nutella and pretzels for about five days, having early on in the trip blown our money on traditional Dutch clogs and giant Nutcracker soldiers. Years later, Andrea completed her first Ironwoman competition and texted me one night a day or two later: "I've been eating gummy bears dipped in Nutella all day" with a picture of a gummy bear stuck on top of a heaping spoonful of Nutella. For her bachelorette part two years ago our first stop was the Nutella bar at our local Eataly.
This girl loves her Nutella.
I didn't tell her this was "healthy" Nutella – I was afraid she'd be too skeptical. I can't blame her: Nutella is one of those delectable, indulgent treats that no one eats in order to be healthy. But when her response to her first bite was, "Hmmm…surprisingly tasty…" I knew that was actually pretty high praise from her. So I explained…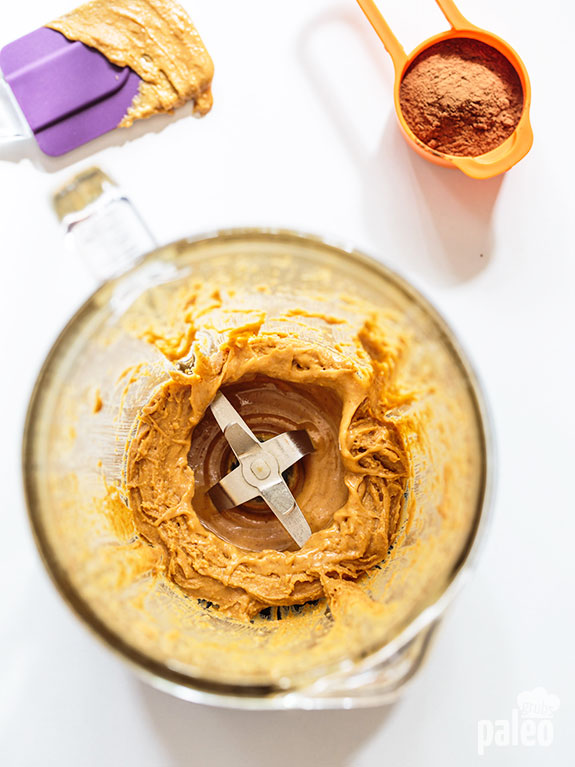 Nutella is basically ground up hazelnuts, chocolate, and sugar. But this recipe does things slightly differently. I'm not going to tell you this is as healthy as a plate of steamed broccoli (what is?) but if you love Nutella like Andrea does, you can trade up a step or two or three on the healthy ladder with this recipe.
Hazelnuts: just like any nut, they've got the protein thing going for them. Good all around. Then, this recipe uses cacao powder instead of already made chocolate. Cacao powder comes straight from the cacao bean, before it's roasted and mixed with more fat (which would make it chocolate) so it has a rich, dark chocolately flavor with hints of coffee. Just like other beans, it has anti-oxidant powers to boot!
But the best substitute in this recipe is definitely the maple syrup which is used instead of sugar. Yes, technically maple syrup is still sugar, broadly speaking, but maple syrup metabolizes much more slowly than cane sugar and generally has a few more nutrient goodies in it.
Now…when you're buying your maple syrup, you have to be careful. Check your labels! If "corn sugar" is anywhere in the ingredients, it is NOT real maple syrup! Your bottle should say 100% real maple syrup and it should, generally, be rated Grade A. There are other acceptable grades of maple syrup, but you're pretty unlikely to stumble across them at the grocery store. Also know that the darker the syrup is, the sweeter it will be, so go easy if you have super dark syrup on hand.
So when I explained this all to Andrea – that this was a healthier version of Nutella – she had only one question: "When can you get me another jar of this stuff?" Success!
---
2/3 cup hazelnuts
¼ teaspoon salt
1 cup cacao powder
½ cup coconut oil
1/3 cup + 1 tablespoon maple syrup
Soak the hazelnuts in water overnight, then drain and rinse well.
Put hazelnuts in a high speed blender or food processor and blend until smooth, then add salt and pulse to combine. Add cocoa powder and coconut oil and blend to combine. If necessary scrape down sides of the jar. Add maple syrup and blend to form a paste. If by any chance the mixture separates, add warm water, 1 tablespoon at a time, while blender is running to bring the mixture back together.
Place the Nutella in a jar and store in a refrigerator for two weeks. Serve with apple slices as a snack.