You know those meals that just need a side of garlic bread to make them complete? It's like, they just don't feel right unless there's a crispy piece of warm garlic bread next to them. Here's my own personal rundown:
Spaghetti and Meatballs (and other pasta dishes)
Lasagna (and other casserole-type dishes)
Chili (and thick stews)
Caesar Salad (and many other salads)
I've also been known to use leftover garlic bread as bread for sandwiches, or just having some as a snack to hold me over to dinner.
As you might have noticed, I'm a garlic bread fan.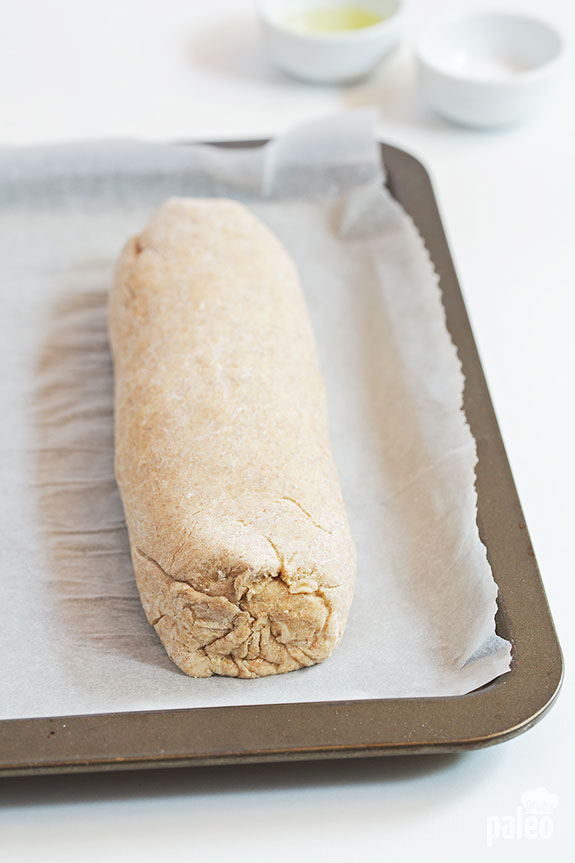 The only problem is that I was raised on that frozen kind found in supermarkets nationwide. Have you seen this stuff? It comes in the form of a long brick that you pop in the oven. A few minutes later it comes out as the perfect garlic bread with a crispy outer and chewy inner, with tons of butter and garlic flavor.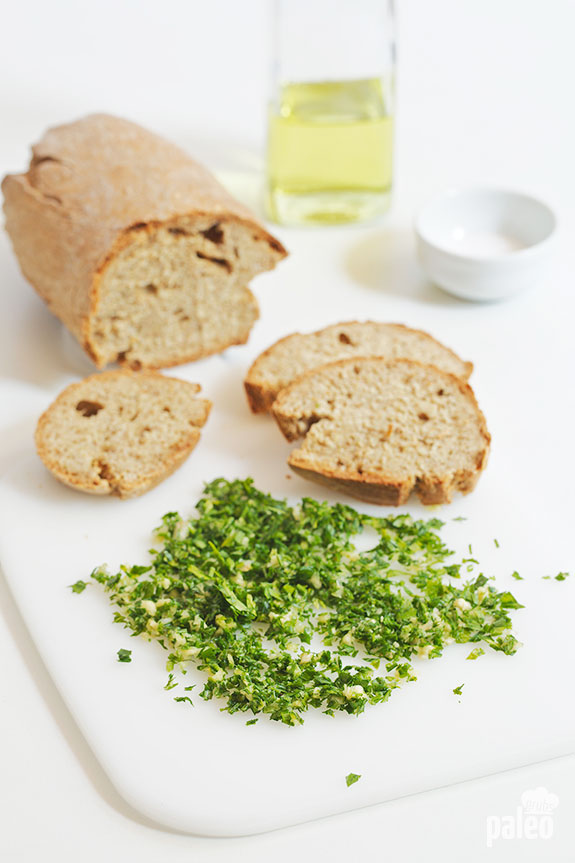 The only problem is that to pull this off they have to put a thick slab of garlicky butter on top of the bread made with low-grade all-purpose flour. So while the taste may be addictive, it's not exactly the healthiest thing to add to your meal.
So imagine what it was like to think that I'd never be able to have it anymore after starting with Paleo. Then the light came on the day I realized that Paleo wasn't about cutting things out of your life, but figuring out how to make your favorites in a new, healthier way. Here's what I came up with for garlic bread that tastes a whole lot like the "real thing".
Almond flour gives the bread the heft that's necessary, but almond flour by itself isn't enough to pull it off. It needs the assistance of sesame seed flour, a flour that doesn't get a ton of attention, but is definitely something you should have in your Paleo pantry. I've found that psyllium husk powder works to give it that finishing touch and just the right texture and also aids in digestion for an added bonus.
When you think about it, once you solve the bread problem of garlic bread, the rest is kind of easy. Garlic is totally Paleo, so it's just a matter of replacing butter with some olive oil and you've got a really tasty sidekick to any meal that is just begging for it.
---
For the bread

1 cup almond flour
½ cup sesame seeds flour
3 egg whites
5 tbsp psyllium husk powder
1 tsp baking powder
1 tsp baking soda
½ tsp salt
2 tbsp apple cider vinegar
¾ cup boiling water

The rest of ingredients

4 garlic cloves, minced
½ cup olive oil
½ cup chopped fresh parsley
Preheat the oven to 350 F.
To make the bread, combine the almond flour, sesame flour, psyllium husk, baking powder and baking soda in a large bowl. Add the egg whites and apple cider vinegar and mix well to combine. Add the boiling water and mix until dough firms up. If needed add more boiling water, a tablespoon at a time. Divide the dough into 2 balls. Shape each piece into a baguette and place into a pan lined with parchment paper.
Bake for 50-55 minutes or until browned and crust feels hard to the touch. Remove from the oven and let cool completely before slicing.
In the meantime, preheat oven to 450 F. In a small bowl place the olive oil , minced garlic and parsley and mix with a fork to combine. Cut the baguettes into ½ '' thick slices and place them on a baking sheet lined with parchment paper. Brush them with garlic mixture and bake for 10 minutes or until golden.