---
Coconut milk is a wonderful alternative for people who are lactose intolerant or allergic to soy – or for people following the Paleo diet. Coconut milk also carries certain health benefits. The high fat content of coconut milk is composed of short and medium chain fatty acids, which contain lauric acid. Lauric acid is effective at ridding the body of viruses thanks to its antibacterial and antiviral properties. In addition, coconut milk contains magnesium, potassium, and phosphorous.
Coconut milk also works well in soups, stews, desserts of course, or even baked goods. I always used to buy coconut milk in a can – that is, until I learned how easy it was to make at home. Furthermore, by making the milk at home I can be sure that there are no unwanted additives in the milk I am consuming.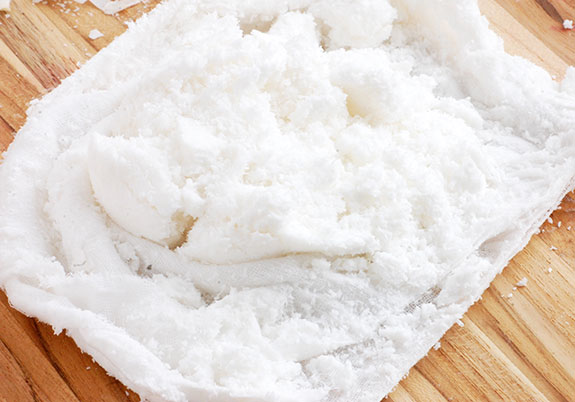 The first step to making your very own coconut milk is to place the shredded coconut flakes and hot water into a blender. Make sure to use unsweetened fresh shredded coconut, and the water should be hot – not quite boiling. Pour the water over the coconut and allow it to rest for a few minutes. This will soften the coconut for the next step, which is to blend. Blend the mixture on high for 1-2 minutes until it looks milky.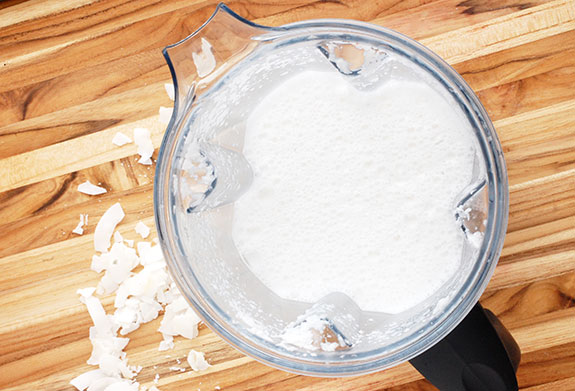 From the blender, pour the coconut mixture into a nut milk bag while holding the bag over a bowl. I prefer a nut milk bag because it is less messy and yields a bit more milk, but you could also use several layers of cheesecloth instead. Try to squeeze out as much milk as you possibly can. The process will leave coconut pulp in the bag, which you can discard of (or you can make coconut flour with it if you own a dehydrator!). Place the milk into a jar or another airtight container. It will keep for up to four days in the refrigerator, and might separate – but just give it a shake before serving. That's all there is to it! Your first bottle of coconut milk will be ready to enjoy.
---
3 cups unsweetened shredded coconut
4 cups hot water
Place the shredded coconut and hot water into a blender. Let sit for 2-3 minutes to soften, then blend for 1-2 minutes until the mixture is milky.
Pour the mixture into a nut milk bag or cheesecloth over a bowl. Squeeze as much milk out of the bag as possible. Discard of the leftover pulp. Transfer the milk to an airtight bottle or container and store in the refrigerator.