Paleo-Approved Sauce, No Cooking Needed
I love eating zucchini and make it a point to incorporate it into so many different paleo meals. I use it in salads, I spiralize them into veggie noodles to make delicious soups, and I even like to make tortillas out of zucchini. As a lifelong lover of barbecue though, something about grilled foods just resonates with me. Grilled zucchini is no exception, combining my love of the grill with my love of this healthy green veggie. Much like many other green veggies, zucchini is loaded with nutrients and antioxidants that have protective properties against diseases such as cancer. (1)
Grilling is One of the Healthiest Cooking Methods
Did you know that grilling is one of the healthiest cooking methods? It uses dry heat and requires little to no oil, so you don't have to add unecessary calories to your dish. For those who aren't a big fan of vegetables, grilling them helps caramelize their natural sugars and can really transform their taste and texture. Try grilling potatoes, onions, zucchini and carrots if you haven't already. Fruits such as pineapple and peaches are also fabulous when grilled.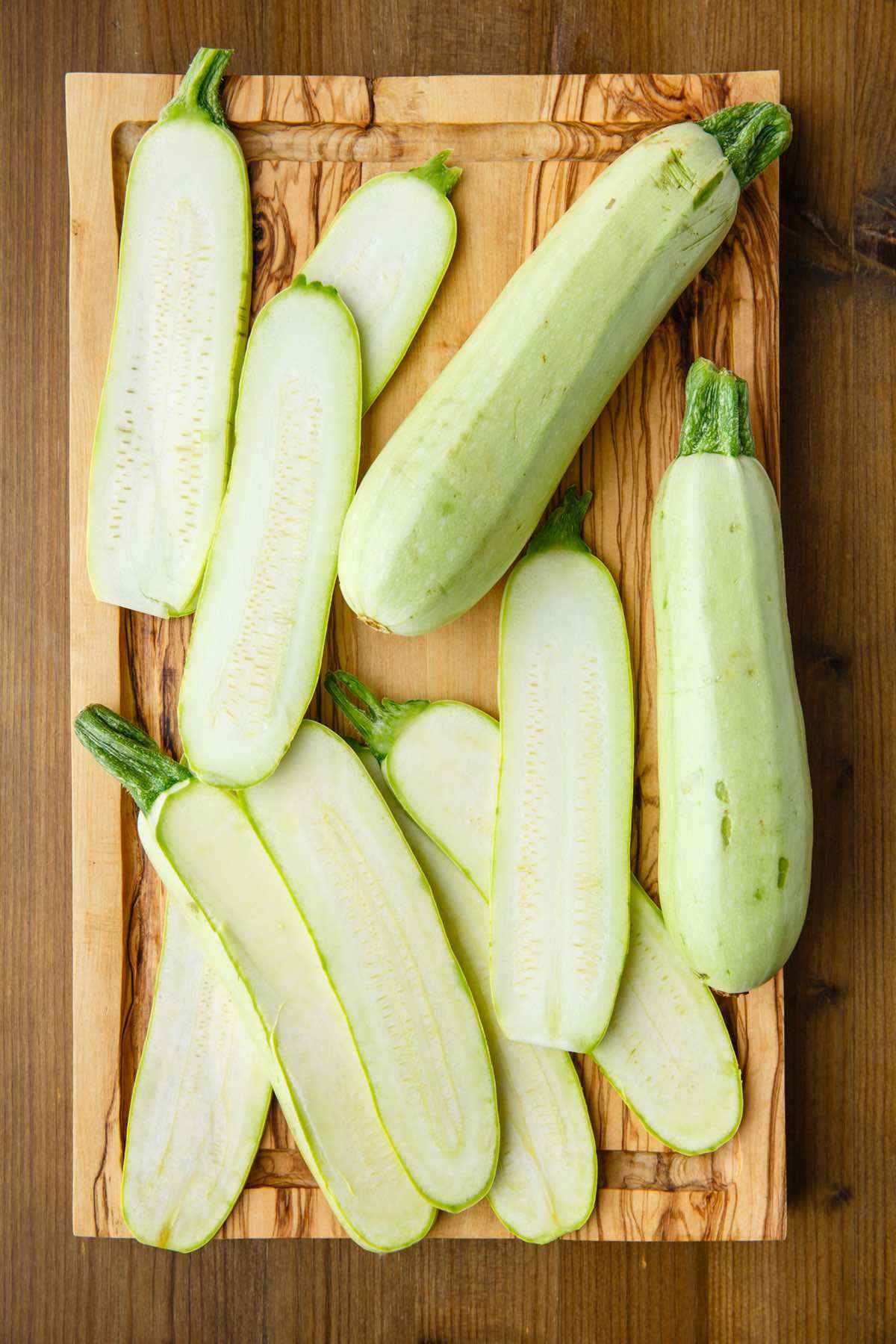 While grilled zucchini is enjoyable enough on its own, when you add in a salsa verde sauce, it becomes a meal that's out-of-this-world good. The salsa verde in this recipe makes a sauce that has a distinct dill flavoring thanks to the use of cornichons and chopped dill. It doesn't stop there though; by adding even more potent flavoring from the immune system boosting garlic cloves.
This salsa verde also uses anchovy fillets to add a nice and salty flavor to the sauce as well, so there's no need to add more salt. Finally, to round it all out, the recipe calls for the addition of lemon juice and dijon mustard to add some tanginess to the sauce. All of these ingredients add up to make an unbelievable combination of distinct flavors, and when drizzled on the grilled zucchinis, make for an outstanding paleo meal.
My favorite thing about this recipe is that it's incredibly easy to prepare a tasty paleo-approved meal in no time at all. In order to make the sauce, just process the ingredients and season it with salt and pepper until it has just the right taste that you're looking for. Once the sauce is ready, it's a simple matter of quickly grilling the zucchini and then drizzling it with the salsa verde. This is just one great example out of many on how making your own homemade paleo sauces really helps to enhance a meal.
After you try out this salsa verde, if you're looking for even more great paleo-friendly homemade salsas, dips, and sauces to try out. These are excellent if you're just getting started:
---
zucchini 4 large, trimmed and sliced lengthwise into 1/4-inch-thick slices
1 ½ tbsp olive oil
salt

Salsa verde

3 tbsp olive oil
2 garlic clove
2 chopped cornichons
1 tbsp capers
2 anchovies filets
½ cup flat-leaf parsley
1 tbsp dill chopped
½ lemon, zested and juiced
1 tbsp dijon mustard
salt, black pepper to taste
Heat a griddle pan over high heat. Brush the pan with ½ tablespoon of olive oil.
Brush the zucchini slices with 1 tbsp of olive oil and sprinkle with salt.
Grill the zucchini in batches for 4-5 minutes until really charred and softened.
To make the salsa verde place the garlic, cornichons, capers and anchovies in a food processor and pulse until roughly chopped.
Add the parsley, dill, lemon zest and juice, Dijon mustard, 3 tbsp of olive oil, 1-2 tbsp of water and pulse a few times to roughly chop the herbs.
Season to taste with salt and black pepper.
Drizzle the zucchini with salsa verde and serve.