---
Shakshuka is actually a recipe that is traditionally made with spicy and chunky tomato sauce. It's a North African-based dish that has a lot of flavor and is sure to impress. (There is a recipe for the traditional version in the new Paleo Grubs cookbook.) This recipe, on the other hand, adds a twist. Instead of tomatoes, green vegetables are used for the base of the skillet. It is similar in the way that the vegetables are sautéed, and then eggs are cracked over the top.
For the greens in this version of shakshuka, I decided to use spinach, zucchini, and jalapeno. It's actually a fun play on color – try to see what else you can incorporate. Tomatillos, leeks, green peppers, or anything green would be great, whatever ingredients are the freshest and of the best quality. There are so many possibilities. To help add bulk and flavor to the skillet I also included onions and garlic.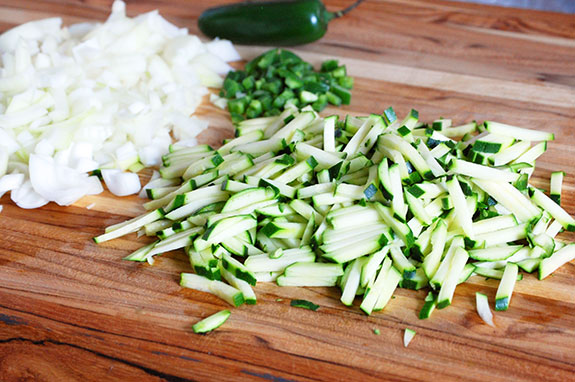 Use a cast iron skillet or a pan that can easily be transferred from the stove to the oven. The vegetables are all sautéed together in the skillet and flavored with a little oregano and cumin. Once the spinach is wilted, lightly pat down the mixture so that it makes a sort of bed for the eggs. Make a few wells in the mixture and crack an egg into each. Finish the skillet in the oven until the eggs are set to your liking.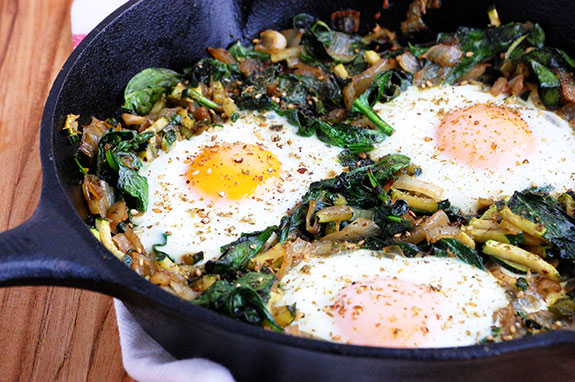 To serve the dish, I topped it with a generous sprinkling of za'atar. This spice blend includes thyme, sesame seeds, and dried sumac. It adds just the right finish to the simple and delicious meal.
---
1 tbsp extra virgin olive oil
1 small yellow onion, diced
3 cloves garlic, minced
1 jalapeno, diced
2 zucchini, julienned
2 cups fresh spinach, tightly packed
1 tsp dried oregano
1 tsp cumin
Salt and freshly ground pepper, to taste
Za'atar, optional
3-4 eggs
Preheat the oven to 375 degrees F. Heat the olive in a skillet over medium heat. Add the onion and sauté for 5-7 minutes until soft. Add the garlic and jalapeno and sauté for an additional 3 minutes.
Stir in the zucchini, oregano, and cumin. Season with salt and pepper to taste. One the zucchini is soft, stir in the spinach and wilt. Scrape down the sides and pat down the mixture. Make 3-4 small wells and crack an egg into each. Transfer the skillet to the oven. Bake for 7-10 minutes, or until the eggs are set. Serve immediately.