---
I would not recommend that you start making breadsticks every week or anything; that's not the point to following the Paleo diet. But this is a great recipe to have around for special occasions. Perhaps serve some garlic breadsticks alongside spaghetti squash pasta with meat sauce. The breadsticks are perfect for mopping up any extra sauce left over on your plate.
This is one of the first Paleo bread recipes I have made with a good workable dough. You want dough that won't stick to your hands and can easily be kneaded. You might have to add a bit more coconut flour to the recipe to get the right consistency, depending on how it's behaving. But let the dough rest for a minute or two before kneading, in order to allow the coconut flour to properly soak up the eggs.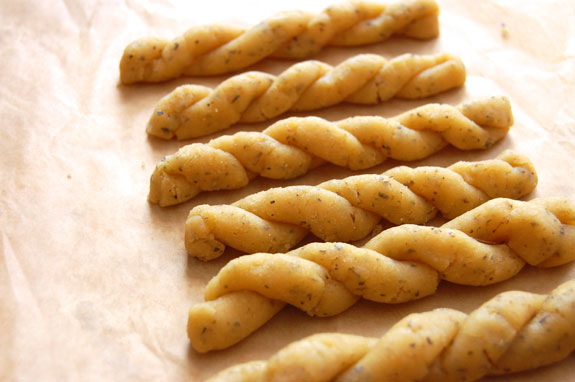 A fun aspect to this recipe is that you can get your kids involved in shaping the breadsticks. They can roll out and play with the dough. Spell out letters, make different shapes, or braid your breadsticks. Then they can enjoy the treat when it's ready warm out of the oven. Serve with a marinara dipping sauce as an added bonus.
You could also transform this recipe into a sweet dessert. Instead of garlic, basil, oregano, and onion powder, you could mix in cinnamon, nutmeg, and top with coconut flakes. I haven't attempted this yet but have been pondering the idea for awhile; let us know if you try it out!
---
1 1/3 cups almond flour
1/2 tsp salt
2 tbsp coconut oil, melted
3 tbsp coconut flour
1 clove garlic, minced
3 eggs, divided
1 tsp dried basil
1/2 tsp onion powder
1/2 tsp oregano
1/2 tsp baking powder
Ghee, for brushing
Whisk two eggs together in a small bowl and set aside. In a separate bowl, add the almond flour, baking powder, salt, and coconut oil and stir. Add the beaten eggs and stir to combine.
Add the coconut flour into the bowl, one tablespoon at a time. After each tablespoon let the dough rest for a minute as the flour absorbs. Add the next tablespoon and repeat until you have dough that can be easily kneaded.
Preheat the oven to 350 degrees F. Line a baking sheet with parchment paper. Roll out the dough onto a separate piece of parchment paper. Working in small handfuls, roll the dough into a long rope. Twist the dough into your shape of choice and place on the baking sheet. Bake for 10 minutes.
Whisk the remaining egg and add a dash of water. Remove the breadsticks from the oven and brush with the egg wash, and then the minced garlic, basil, onion powder and oregano. Return to the oven and bake for 4-5 minutes more, until golden. Brush with melted ghee before serving.