Summer is the season to soak up the sun, take part in outdoor activities, and eat foods that are in line with the season. This soup is made with summer in mind, with a flavor that beckons you to take a break and enjoy a special meal.
No summer soup would be complete without its assortment of vegetables, and this soup is definitely packed with them. Cauliflower, peppers, squash, leeks, collard greens, and sweet potatoes are the lineup of veggies designed to tantalize your taste buds.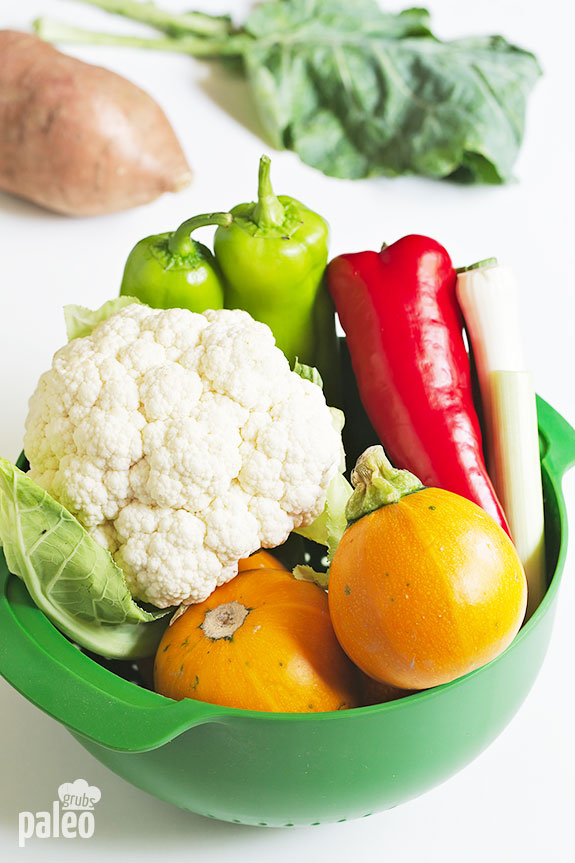 Even though gazpacho is one of the best soups to have in the summer thanks to its being served chilled, this soup is served warm but still manages to keep you feeling cool. It doesn't have to be piping hot, but it's best when it's at a nice warm temperature.
The pesto that you serve up with this soup is the real scene stealer. It's made with walnuts and plenty of basil so it has a very authentic pesto flavor but opts for walnuts over pine nuts. When you have it along with the other vegetables in this soup it works great and somehow manages to bring out their flavor even more. Not to mention that basil is loaded with antioxidants so it's boosting the overall health of the meal.
If you can, try to pick up the vegetables from your local farmer's market. That way you'll be getting veggies that are freshly picked and haven't traveled far. You'll also be helping to support your local farmers and getting a higher quality product. If you can go a step further and get it organic that's ideal.
If you can't, it's no big deal, as these vegetables can be found in grocery stores all year round, so it's a soup you can have no matter what time of year it is and what's in season. I've made this in the middle of winter and it's just as satisfying then as it is in the summer.
When compared to store bought soup in cans or boxes this soup is so much healthier for you. Consider that you don't need to add any preservatives to it when you make it from scratch. The soups found in stores are made to last for months on the shelves, which means it's going to have additives that the body doesn't need in it. Making soup fresh may seem daunting at first, but it's really not hard when you have the method down.
And once you get good at making soup you'll always have a tasty meal that just minutes away for those times when you want something lighter.
---
For the soup

1 cup cauliflower florets
½ cup red pepper
½ cup green pepper
1 medium yellow summer squash, cubed
1 medium leek, chopped
2 cups chopped collard greens
½ medium sweet potato, cubed
2 tbsp olive oil
salt, pepper to taste

For the walnut "pesto"

2 garlic cloves
1/8 cup olive oil
1/8 cup walnuts
1 ounce basil leaves
salt, pepper to taste
To prepare the pesto, place the walnuts in a pan and toast them over medium heat, stirring occasionally, for 10 minutes. Wash and dry basil leaves. Place all ingredients in a blender and mix until smooth. Season with salt and pepper to taste.
In a large pot, heat the olive oil over medium heat. Add the leek, red and green peppers and cook for 5 minutes. Add the cauliflower, sweet potato, collard greens and 3 cups of hot water. Bring to a boil. Reduce heat and simmer, uncovered, for 10 minutes.
Add the summer squash and simmer for 20 minutes more or until vegetables are tender. Season to taste with salt and pepper and serve warm with pesto.