Salad
22 Tasty Paleo Fruit Salads
Fruit salad can be an excellent, paleo-friendly way to satisfy your sweet tooth without going sugar crazy. Fruit is naturally sweet, and there are so many ways you can dress it and combine the flavors. Try some of these!
---
1. Stone Fruit Salad With Vanilla Honey Syrup
I'm a huge fan of vanilla, and I especially love it with some of what I consider to be the more elegant fruits, like peaches, nectarines, and plums in this fruit salad (personally, I would add a handful of pitted dark cherries!). The honey vanilla syrup is absolutely delicious and really pushes this salad over the edge of awesome.
---

Photo: Great Food And Lifestyle
2. Fruit Salad With Lime Sauce
This fruit salad is filling enough that you could eat it for breakfast, and as you can see from the pictures, it's fun for kids to make! With an added does of protein from the creamy cashew coconut sauce flavored with lime and maple, it's a bit more substantial than most.
---
Ginger goes beautifully with fruit, and this green ginger melon salad with honeydew and fresh chopped mint is the perfect example. It's not overly sweet and has a burst of healing ginger flavor, while mint enhances the cooling properties of honeydew.
---
I'm not a huge fan of salad because I don't like chewing on leaves, but if you add fruit to a leafy salad, for some reason it becomes much more palatable. This one has curly kale, pomegranate arils, chopped banana, cucumber, and an optional (but perfect) topping of shredded coconut.
---
5. Watermelon, Strawberry, and Tomatillo Salad
This fruit salad does have a sweetness to it, but it's a more savory salad with watermelon, strawberries, tomatillos, shallot, mint leaves, olive oil, balsamic vinegar, and ground black pepper. My favorite part of this is the balsamic vinegar, which is awesome with the fruit!
---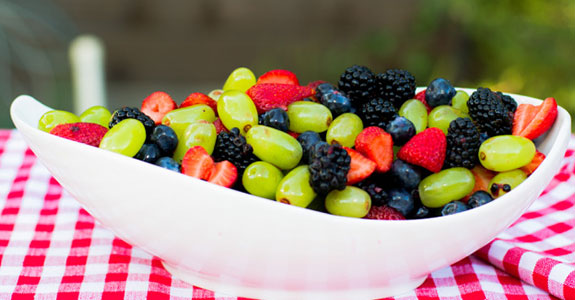 Photo: Cooking Madly
Personally, I'm unimpressed by most plain fruit salads. I mean, I like fruit, but it's fruit in a bowl—okay? But if you add a dressing—like this fantastic honey lime dressing on this mixed fruit salad, then you're just taking it to the next level of sweet, fruity awesome.
---
For a zesty change to your fruit salad routine, try this sweet heat salad with assorted citrus fruits like grapefruit, blood orange, or whatever you've got. You'll mix honey with red pepper flakes for a sweet and hot dressing that compliments the fruit perfectly. Or you could use maple!
---
This salad is presented as a kids' St. Patrick's Day treat, but hey, if you like fruit and you like the color green, why not enjoy it any time? You'll just need kiwis, green pear, and green grapes. You can skip the shamrock shaping if you're not bothered by round kiwi (and who would be?).
---
9. Watermelon Salad With Blackberries and Basil
I love basil with watermelon, and I pretty much only eat it that way since I have a basil plant. I love this version with blackberries, lime juice, and an optional drizzle of honey or maple syrup. You'd only need to add that if your fruit is less sweet, so taste it first.
---

Photo: Neurotic Mommy
10. Jumbo Fruit Cups With Coconut Yogurt
These fruit cups make a sort of parfait with your favorite fruits and coconut yogurt. It's hardly a recipe, really, because it's so simple—but sometimes we all just need ideas, right? So break out your coconut yogurt and if you're feeling frisky, top with a few chocolate chips.
---
11. Vanilla Honey Fruit Salad With Brownie Bark
This fruit salad is lovely served with brownie bark "chips" you can dip into it. What a unique idea! I especially love the vanilla bean honey drizzled over the fruit, which I imagine makes especially scoopable for the brownie bark chips. Chocolate and fruit? Yum.
---
With such pretty jewel-tone ruby red colors in this salad, how could you not drop what you're doing right now and make it?! This salad has raspberries, currants, pomegranate seeds, and a luscious dressing made from honey and yellow mustard.
---
With this salad, it's all about the presentation. You'll scoop out whole apples to make beautifully little edible cups, and use a melon baller to shape kiwis and berries into "bubbles" to fill up the center of the apple. You can change up the fruits in this recipe to use your favorites.
---

Photo: Scrambled Chefs
14. Orange Pomegranate Salad With Strawberries
This salad looks Christmasy to me for some reason. Maybe it's the pomegranate and citrus, which are usually winter fruits. In any case, it's sweet and delicious, and features a whole handful of fresh mint leaves for a refreshing and herbal flavor you'll love with the orange.
---
This blogger knows where I'm coming from—it's all about the disappointment of ordering a fruit salad in a moment of desperation at a diner (because it's certainly paleo, right?) and finding that it's nothing but cantaloupe and green grapes. So give this "non-lame" fruit salad a try!
---
Mangos, kiwi, strawberries, and blueberries are dressing with zingy lime juice and spicy chili powder. If you're feeling adventurous and want your fruit salad a little bit boozy, you can add an ounce of silver tequila or white rum.
---
17. Sweet and Smoky Tropical Fruit Salad
This fruit salad is made with papaya, mango, strawberries, honey, fresh lime juice, chili powder, and lime zest. The flavors and colors will have you thinking you're eating this on a tropical beach vacation, watching the sunset.
---

Photo: It's a Love/Love Thing
With honey and ground ginger, this fruit salad is full of tropical flavors. You'll use melon, mango, clementines, and banana. I'm not a huge melon fan, so I can imagine replace the melon with pineapple and tossing a handful of shredded coconut into the bowl.
---
19. Vanilla Bean Coconut Cream
While this isn't a fruit salad, I'm including it because it's a lovely topping or dip for fruit salad, and it's just gently sweetened with pure maple syrup and flavored with vanilla bean and vanilla extract. This is especially kid friendly, as almost any dip can be!
---
20. Honey Lime and Poppyseed Fruit Salad
This fruit salad is simple, but beautifully speckled by the poppyseeds in the honey-vanilla-lime dressing. The vanilla extract plays with the fruity flavors, while the lime and honey add both sweetness and tartness.
---
21. Mint Pistachio Fruit Salad
This salad is enhanced with the crunchy-salty-nutty flavor of pistachios, not to mention the lovely pale green color complimenting oranges and purples. I love the addition of mint leaves to this salad, too!
---

Photo: A Calculated Whisk
This fresh fruit salsa is made from kiwi, jicama, strawberries, lime juice, sea salt, and a dash of ground cayenne pepper. You can play with the heat level by adjusting the amount of cayenne you add, and you could also try it with other chile powders like chipotle.