It's All About the Seasoning
Before you start air frying your chicken, you need your homemade seasoning mixture. There's going to be two components used to season the drumsticks — the first is a mixture of almond flour, smoked paprika, garlic powder, cayenne powder, salt, and pepper followed by a delicious layer of shredded coconut. Where traditional fried food recipes rely on using things like vegetable oil, which can cause inflammation and increase your risk of cardiovascular disease (1), this recipe actually provides quite a few great health benefits.
The mixture of herbs and spices could actually play a role in preventing and even helping to treat certain cancers. (2) That is in addition to the fantastic amount of flavor they add to your chicken which makes it a complete win-win situation for fried food lovers. After dipping your drumsticks in eggs and coating them with the seasoning, you'll then once again dip them in the egg mixture before coating them with the finely shredded coconut. If you've never tried coconut flavored chicken before then you are in for a real treat once you make this recipe.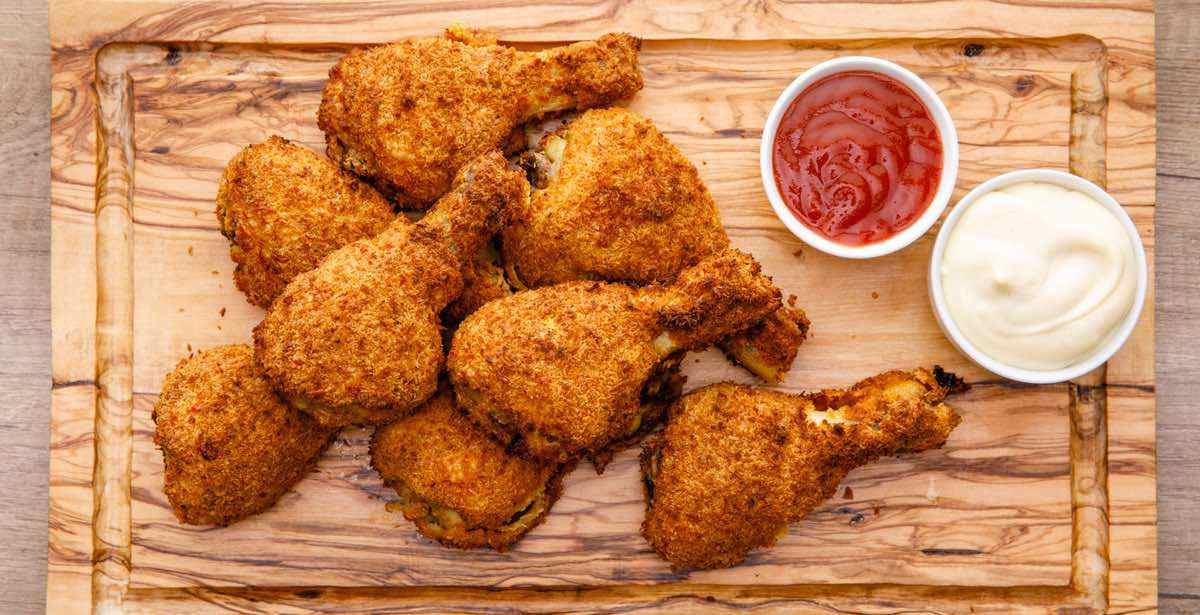 Of course, this recipe wouldn't be possible without using an air fryer. It makes it possible to fully enjoy delicious fried chicken meals just like this in a completely healthy and paleo-friendly way. The number one air fryer that I recommend, and the one that I personally use, can be purchased directly from Amazon by clicking here. You can use it to air fry everything from sweet potato coins (chips, anyone?) and fries to pork rinds, if you dare.
P.S. – There's definitely more than one way to enjoy tasty fried chicken style recipes that are totally paleo-friendly. Here are some more excellent fried chicken recipes to give you some ideas:
---
2 pounds chicken drumstick
1 cup almond flour
1 ½ cup unsweetened finely shredded coconut
3 eggs, beaten
½ tsp smoked paprika
½ tsp garlic powder
½ tsp cayenne pepper
1 tbsp olive oil
salt, black pepper
Generously season the drumsticks with salt and black pepper.
In a shallow plate add the almond flour, smoked paprika, garlic powder, cayenne pepper and good pinch of salt and black pepper. Mix to combine.
Beat the eggs in a small bowl. Season with pinch of salt.
Place the shredded coconut in a shallow dish.
Dip each chicken drumstick in the eggs then dredge in the almond flour mixture.
Dip each drumstick into the eggs again, followed by the shredded coconut.
Place the drumsticks on a chopping board and brush with olive oil.
Preheat a Philips air fryer to 360°F.
Place the drumsticks in a single layer in the fry basket and insert into the air fryer.
Cook for 18 minutes. Remove the drumsticks from the basket.
Repeat this process with the remaining drumsticks.
Serve warm.