Traditional pesto is made similar to this recipe, but often contains Parmesan or Romano cheese. Since Paleo folks don't go for cheese, we've taken that out of this recipe but we promise you won't miss a thing. With the fresh, bright basil, the strong garlic, and the smooth olive oil, plus a little salt, you won't miss a thing – and neither will anyone you serve this to.
The word "pesto" in Italian actually means "to pound" or "crush" and although we use a food processor here, you could theoretically make this by hand using a mortar and pestle (same Latin root: "to pound"!) to crush all the ingredients into a paste. I highly recommend the food processor. I've done it by hand and the results were a rather chunky pesto and a hand cramp. So, to get a really smooth, even texture, pull out that food processor.
And, technically, pesto is any pounded concoction of ingredients so when you're in Italy (as I hope we will all be at some point in our lives!), if you see "pesto" on a menu, don't automatically assume it will be the bright green, basil-based sauce we think of as pesto in the English-speaking world. If you want what we think of as pesto, look specifically for "pesto all Genovese" – pesto from Genoa. Because that's where this recipe of green goodness came from.
If you're looking for pine nuts in the grocery store and can't find them, they often aren't with the other nuts. Sometimes they are in the baking aisle, the condiment aisle, or the spice aisle. So you might have to ask. And, sometimes they are referred to by their Italian name: pignoli. So if you see a little bag of pignoli, those are pine nuts! And, in case you're wondering, yes, pine nuts are in fact from pine trees! But don't expect to go out to the nearest pine tree in your neighborhood to get a few pine nuts. Only certain species of pines grow seeds that are big enough to be edible. So the grocery store is still probably your best bet.
Now let me share with you a few ways that I enjoy this basil pine nuts pesto. It's a great dip for parties, paired with sliced veggies. Don't go too thin on the slice and possibly lighten up a smidge on the olive oil in the recipe because you don't want the dip to slide right off your veggie stick! I've also discovered that non-Paleo folks love dipping pretzels in pesto, so if you have a "mixed crowd" of Paleo and non-Paleo folks, this is a great dip that everyone can enjoy.
I also love it on sandwiches. I make my Paleo bread and load it up with any kind of meat – chicken and turkey are my favorite, but it's also great on roast beef – and slather on some basil and pine nuts pesto to really kick up the flavor of the sandwich. Basically, anywhere you'd put mayonnaise, pesto is a great, flavorful alternative. Finally, I love a steaming plate of zucchini pasta, especially when it has shrimp or scallops with it, tossed with this pesto.
So basically any meal that goes well with a burst of fresh, garlicky flavor will be great for this basil and pine nuts pesto. Enjoy!
---
2 garlic cloves, chopped
2 cups fresh basil leaves, packed
¼ cup pine nuts, lightly toasted
½ cup olive oil
1 tsp freshly squeezed lemon juice
salt to taste
Place the basil, garlic, pine nuts and lemon juice in a blender or food processor and process until finely chopped.
While the motor is running, gradually add the olive oil and process until combined. Season to taste with salt.
Use right away or transfer to a jar, cover with thin layer of olive oil and store in a refrigerator.
If you want to freeze the pesto, just put the pesto into ice cube trays. Freeze until solid, then transfer cubes to a freezer bag for up to 3 months.
More Good Paleo-friendly Pesto Recipes
Pistachio Basil Paleo Pesto
A slightly sweeter version of paleo pesto, this pistachio basil pesto is best paired with spaghetti squash noodles and roasted tomatoes. Shelled pistachios add a nice bold flavor to this unique variety of chunky pesto. It is easiest to buy the pistachios already shelled in order to save on time.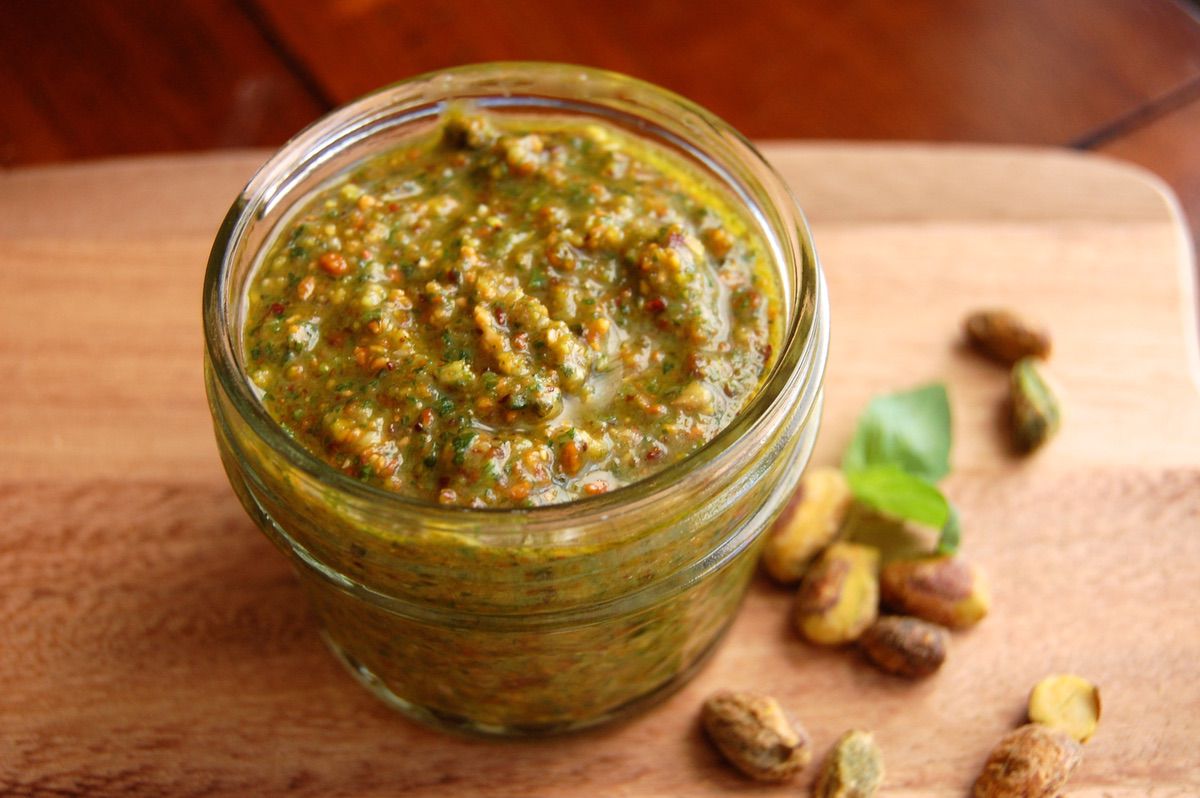 Ingredients
2 garlic cloves
1/2 cup pistachios, shelled
2 cups loosely packed basil
1 tbsp lemon juice
1/2 tsp salt
1/3 cup extra virgin olive oil
Instructions
1. Add the pistachios to a blender or food processor and pulse to break up into pieces. Add in the garlic, basil, lemon juice and salt and blend. Gradually add the olive oil and process until well combined.