Awesome Blueberry French Toast Casserole
7
The arrival of spring has seemed to renew our social calendar, and now we are planning for meals to be enjoyed outside on the patio for the first time in months. Spring presents a lot of opportunities for large gatherings, and for one of my favorite meals, brunch. Easter, Mother's Day, or Father's Day are all great occasions for preparing this healthy, Paleo-friendly French toast casserole. The bread soaks up the almond milk and cinnamon mixture when everything is baked together, providing a deliciously sweet start to the day.
I suggest making the bread at least day before preparing this recipe, to give the loaf proper time to cool. Or if you happen to have half a loaf of bread to use up, I can think of no better use. That is in fact why I originally created this recipe – looking for a use for leftover sandwich bread. There is a full tutorial on baking Paleo bread here.
Once all of the ingredients are mixed together, place your baking on the lower rack of the oven to bake. This way the top of the casserole shouldn't burn before the rest of it can cook through evenly. Once you remove the casserole from the oven, allow it to cool and set for 15-20 minutes before serving. This casserole would also travel well, in case you are heading to a brunch and need to reheat it quickly in the oven.
I served this casserole as breakfast for dinner, and then got to enjoy leftovers for actual breakfast the next few days as well as a sweet, decadent way to wake up. I really like the combination of French toast with blueberries, but you could easily introduce other kids of berries to this casserole. Once strawberry season rolls around I will definitely be trying that as a topping. For other toppings, you could stick to the classic maple syrup, or go with a coconut whipped cream.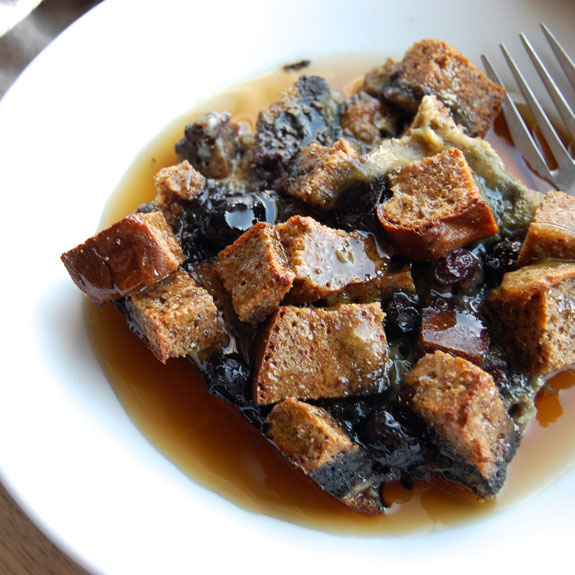 Blueberry French Toast Casserole
2014-04-15 16:46:25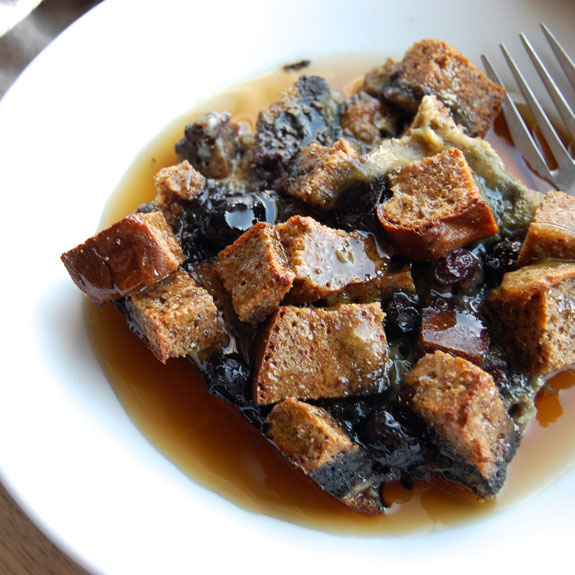 Ingredients
1 loaf Paleo Bread, cut into 1-inch cubes
2 cups frozen blueberries
5 eggs
1 cup almond milk
1/4 cup honey
1 tsp vanilla extract
1 tsp cinnamon
Pinch of nutmeg
Instructions
Preheat the oven to 350 degrees F. Grease an 8x8-inch baking dish with coconut oil spray. Place the bread and blueberries into the dish.
Whisk together the eggs, almond milk, honey, vanilla, and cinnamon in a medium bowl. Pour the egg mixture over the bread and blueberries. Lightly stir to coat. Bake for 35-45 minutes. Remove from the oven and allow the casserole to rest for 15 minutes before serving.
Notes
Servings: 4-6
Difficulty: Medium
Paleo Grubs https://paleogrubs.com/
Want more Paleo recipes? Take a look at the Paleo Grubs Book. With 470+ easy-to-prepare Paleo recipes in 17 comprehensive categories it is the only Paleo book you will ever need.
+ Make sure to sign up for our free newsletter to get our latest healthy recipes delivered weekly (it's free).