Tips
What You Can't Eat on the Paleo Diet
Knowing what not to eat on Paleo is sometimes easier than trying to determine what's OK. It can sometimes be hard to put yourself in the shoes of people that lived tens of thousands of years ago, when the world was a very different place. There are some key things that jump out at you right away as being definite no-gos. Others are more subtle and are the subject of some debate in the Paleo community.
---
Taking It All The Way: Anything Involving Agriculture and Cultivation
The true theory behind the Paleo diet is that the Neolithic era is when we really started mucking things up as far as nutrition goes. Paleo purists would reject anything that hints at being an invention of the Neolithic era, that time that spelled the end of the Paleolithic era and ended a mere 4,000 years ago. That's a bit too extreme for most to follow, and the vast majority of those that eat Paleo-inspired diets are not getting caught up to that degree, as there wouldn't be much to choose from for anyone living in or near a major metropolis.
The moniker of Paleolithic Diet leads to a lot of ambiguity of what you can and can't have, and causes debate within Paleo circles. On some foods you're going to have to make up your own mind how often you have them and in what amounts. The Paleo Era lasted for so long and includes so many changes, many of which we have no way of knowing about or accounting for, so it's all left to the individual and what feels right for them.
The Easy Stuff
These foods will stand out like a sore thumb when you're following a Paleo lifestyle, and are easy to spot and say no to. It's still good to have a strong why behind not eating it, so we'll lay it out for you..
Artificial Ingredients
Suffice it to say that if it wasn't around 200 years ago, it wasn't around 10,000 years ago. Many of the artificial ingredients commonly found in foods eaten daily by the majority of Americans were created in the last 100 years, some even more recently. Once you go down the rabbit hole on artificial ingredients you'll be blown away by just how much stuff is consumed that doesn't contain natural ingredients.
Common additives that are avoided on Paleo, and should be avoided in general for a healthier life: aspartame, calcium sorbate, monosodium glutamate (MSG), nitrates, potassium bromate, saccharin, sorbic acid, artificial colors, artificial sweeteners and GMOs.
Sodas
It's easy to understand the beverage of choice for early man: pure water. Today's sodas are rife with High Fructose Corn Syrup and other artificial ingredients, and have no nutritional value whatsoever. Often written off as empty carbs, they often contain caffeine which is not a natural substance for humans, and not a chemical that is consumed while following a Paleo way of life. Sodas are often linked to conditions like diabetes, high blood pressure, obesity, heart disease, and even cancer. If sodas are a part of your daily life you'll likely notice weight loss and feeling of well-being once you get past the headaches of caffeine withdrawal.
Partially Hydrogenated Oils
Early man just didn't have the capacity or the resources to try and figure out how to make oil sit on the shelf for months without spoiling. But today's major food corporations needed a way to do just that, and invented partially hydrogenated oils to extend the shelf life of foods. This has lead to many commonly available foods having trans fat in them. In response to public outcry on how unhealthy trans fats are, these companies have been forced to come up with new ways to either hide the trans fat from the Nutritional Information, or newly created oils that don't have trans fat, but are likely just as bad for the body and soul.
Junk Food
Paleolithic man was bent on survival, which didn't leave much time for food that leaves you feeling fat and gross. Junk food represents a quick snack designed to tantalize your taste buds with chemicals created in laboratories for that very purpose. These snacks are typically devoid of any nutrition, contain mostly fried corn or potatoes in one form or another, are heavily salted with industrial grade salt or are sweetened with ultra-sweet sweeteners like High Fructose Corn Syrup.
Fast Food
There definitely wasn't a Burger King competing next to every McDonald's in the time of Stone Age man, no matter what The Flintstone's would have you believe. Nothing that comes out of a fast food restaurant would be considered Paleo, and would actually be considered the opposite of Paleo for how much engineering goes into every morsel they create. There has been plenty of media attention as to just how bad fast food is for the body, including the documentary Super Size Me and the book Fast Food Nation. For Paleo followers these slingers of burgers and fries are to be avoided entirely.
Grains
Paleo diets cut out the grains, which is why they're often confused as being grain-free diets or gluten-free diets. By avoiding wheat you're cutting out breads, bagels, and plenty of other foods that are encouraged by the official Food Guide Pyramid endorsed by none other than the US Department of Agriculture. Grains represent one of the biggest tiers of that pyramid, with meats forming the tiniest sliver, which means the Paleo diet is going against much of what your brain has been pummeled with since you were a kid. Many have found that by just cutting out the wheat they feel better, have more energy, lose weight, and have better digestion.
The Tricky Stuff
You might have to do a double take on some of these, and they're the harder ones to remember, and the ones most likely to trip you up because they find their way into the Standard American Diet all the time.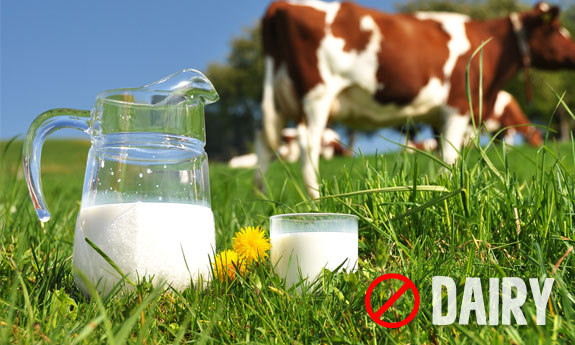 Dairy
Because it comes from animals, dairy seems like it would be on the approved list, but it isn't, at least if you want to be strictly Paleo. This is one item that causes some disagreement, but there's simply no way that early man was in the habit of drinking milk, or in a position to make dairy products like cheese and yogurt. By the very definition of the diet you would renounce these things as mistakes made by Neolithic man and strengthened by modern man.
It doesn't take much to see that many adult humans are lactose intolerant to some degree, and that humans are the only species bent on drinking another speices milk. We're also the only species that drinks any sort of milk after infancy. Human milk as a baby is clearly the natural way to go in regards to milk consumption, and the Paleo diet is all about getting back to the most natural time of our existence.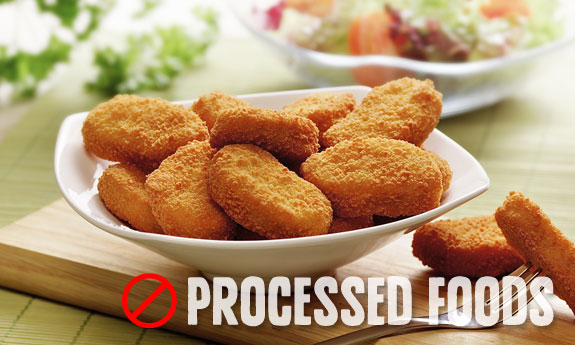 Processed Foods
How much a food has been processed is sometimes a blurry line. If you're buying it in a box, or if it won't spoil, it's probably been processed. The exception to this is canned food, which technically wouldn't be Paleo because they didn't can their food back then. This is one of the hardest aspects of the Paleo Diet to keep in mind because processed foods account for a large majority of the food you find in the supermarket or grocery store. Ideally you'd want to avoid the big food stores like this and buy your meats from a butcher, and your fruits and vegetables from a farmer's market. The butcher is as close as you can come to going out and killing the animals yourself, and a farmer's market is as close as you can come to growing your own food with few pesticides and herbicides, at least for city-dwellers.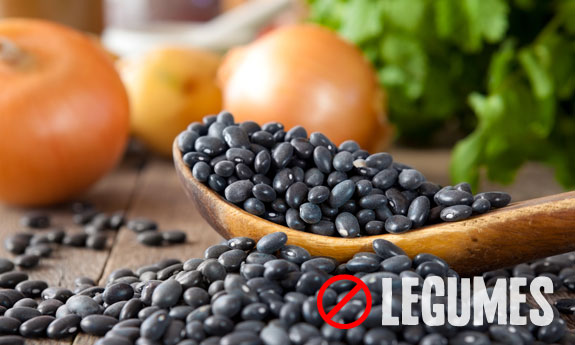 Legumes
This one is tough because legumes come from the earth so you'd think it'd be OK and get the green light. This rule puts the kibosh on such ubiquitous foods as beans and peanuts, and on foods often considered healthy like peas and lentils. It's the phytic acid that's being nixed here, and is the same reason why you're not going to be eating grains when eating Paleo.
This is one thing that is sometimes hard to come to terms with when eating according to the Paleo guidelines. Foods that are generally thought of as healthy and promoted in several other diet plans, like peanut butter in The Abs Diet or lentils in The Slow Carb Diet, are a no-go on Paleo. You have to be very sure to understand why these foods aren't recommended for you, so that you don't cave in and eat them, causing you to feel bad about yourself or to give up entirely.
Phytic acid is referred to as an antinutrient, which means it's going to cause some of the nutrients you do take in to be improperly absorbed by the body, thus negating their intake in the first place. The problem with many of the most popular foods eaten in our society is that they nullify the good things that are eaten and don't provide much nutrition themselves, making them doubly bad.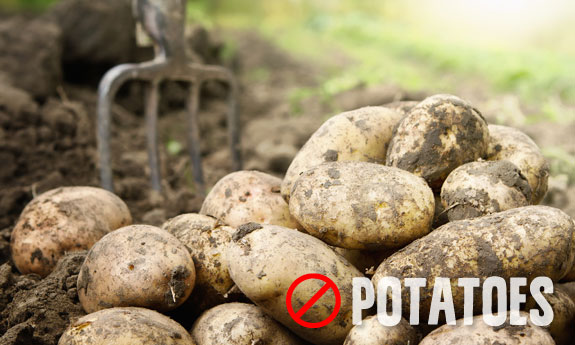 Potatoes
Potatoes are such a staple food in America that this one might be hard to avoid. It's also hard to wrap your head around why you can't have it. Since it's grown in the ground it would only seem natural that early man would have stumbled upon some wild-growing potatoes. But as it turns out it takes a good deal of cultivating to grow potatoes, so their popularity would have increased only in the Neolithic era, when man stopped hunting and gathering and started staying in one place longer, growing food around him and raising livestock.
Pseudograins
There are food items like Quinoa that aren't quite a grain, but function much like a grain and cause a lot of confusion as to whether or not you can have them. The official answer is no, but many Paleo followers will allow themselves to have some on occasion since it falls into a gray area of sorts. It's definitely a category of food you'll have to make your own mind up on, with buckwheat and amaranth being two others to keep your eye on.
---
This is by no means an exhaustive list of foods you can't eat on the Paleo Diet, but it will help you avoid some of the worst offenders. It's a two step process when following Paleo, side step the foods you aren't supposed to have while keeping yourself well nourished and feeling good with the foods that you are allowed and encouraged to eat. It can be tough going against modern society and turning back the clock, but it's not impossible when you have your facts straight.
Be sure to see our list of Paleo-approved foods to know what you can have.