Bread
24 Paleo Flatbreads for a Quick Meal
Everyone loves flatbread—it's a breakfast, a snack, a pizza crust, and so much more. Check out these amazing paleo flatbread recipes, including both sweet and savory versions.
---
1. Cinnamon Crunch Flatbread
This is the kind of flatbread you make when you want a real treat. It's deliciously crunchy and made with tapioca starch, potato starch, and coconut flour for an amazing texture. The crunchy cinnamon topping is made with coconut palm sugar, and this bread is so butter you won't be able to get enough.
---

Photo: Purely Twins
2. Plantain Flatbread
This grain-free flatbread is also egg-free, and it's so easy to make. The ingredient list is short and simple with a green plantain, baking soda, coconut oil, tahini or nut butter, water, and sea salt. You could enjoy this bread with dips, toppings, or just plain as a snack.
---
3. Paleo Italian Focaccia Bread
Focaccia is a heavenly Italian flatbread with variable toppings. This one is made with full-fat coconut milk and coconut flour, seasoned with salt, oregano, garlic powder, and olive oil and topped with mini cherry tomatoes and fresh rosemary. Delicious!
---
4. Irish Soda Flatbread
Love Irish soda bread? We make healthy versions every March at my house. This version is a flatbread made with almond flour, almond milk, apple cider vinegar, cashew butter, honey, raisins, and of course, baking soda.
---
5. Herb Coconut Flatbread
Made with coconut flour and egg, this simple coconut flatbread is seasoned with basil, oregano, sea salt, garlic powder, and nutritional yeast (or parmesan if you eat it). The recipe even includes a broccoli pesto in case you want something extra fancy for on top!
---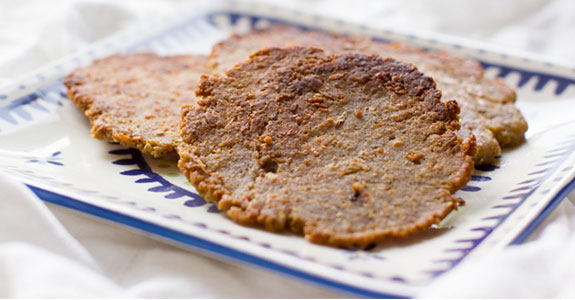 Photo: A Girl worth Saving
6. Primal Parmesan (or Nutritional Yeast) Flatbread
The only thing that makes this recipe primal and not paleo is the parmesan cheese, which you can easily replace with nutritional yeast. The flavors here are unique and tasty with crushed salted plantain chips as the main ingredient!
---
7. Fig and Prosciutto Flatbread Pizza
This flatbread pizza recipe is easily adapted for paleo by just leaving off the fontina cheese. You won't miss it, with all the fresh rosemary, arugula, fig jame, and prosciutto doing the flavor work! The flatbread base is made with almond flour and butter.
---
8. 3 Ingredient Paleo Flatbread
For a simple flatbread with just a few base ingredients, try this easy version made from coconut flour and egg whites. You can season it with your herbs of choice, such as basil, oregano, rosemary, red pepper flakes, garlic powder or flakes, and anything else you like.
---
9. Grain Free Turkish Flatbreads
Scroll down the recipe to check out this flatbread, made with almond meal, defatted sesame flour (or defatted coconut or almond flour), ground flaxseeds, nigella, salt, olive oil, eggs, and butter. It's delicious and made from different flavors that you may be used to.
---

Photo: 24 Carrot Kitchen
10. Easy Pizza Crust Flatbread
You can use it for a pizza crust, but you don't have to. This simple crust is tasty and makes an amazing flatbread. All you need is almond flour, tapioca flour, coconut flour, coconut oil, a flax egg (a chia egg would work, too), almond milk, and fine sea salt.
---
11. Caramelized Onion White Pizza Flatbread
This flatbread pizza has the best flavor. I had to make it the very first time I found the recipe! You'll make caramelized onions and a delicious white pizza sauce from cashew milk and nutritional yeast. The crust is deliciously seasoned and made from almond and coconut flours.
---
12. Caramelized Onion and Thyme Focaccia
Caramelized onions give this focaccia a deeply sweet and savory flavor. You'll need onions, olive oil, almond flour, butter, apple cider vinegar, nutritional yeast, fresh herbs, and a few other ingredients to make this simple and yummy snack, appetizer, or party dish.
---
13. BBQ Chicken, Bacon, and Pineapple Flatbread
You probably miss naan bread. Don't we all! This paleo naan is delicious and hardy tastes paleo thans to the yeast and the combination of almond flour and tapioca starch. Honey helps feed the yeas t and gives this bread a hint of sweetness. You'll want to slather it hot with ghee!
---

Photo: Heart Beet Kitchen
14. 4 Ingredient AIP Flatbread
If you want another recipe that comes with the best topping combination ever, try this one. You'll use this blogger's paleo cracker recipe and add grilled chicken, BBQ sauce, chopped cooked bacon, and pineapple chunks (you can leave off the jack cheese).
---
15. Cassava Flatbread or Pizza Crust
Suitable for the Autoimmune Protocol version of the paleo diet, this flatbread is tasty and easy. You'll need butternut squash flour (source provided), tapioca or arrowroot starch, olive oil, water, and salt. It's yummy topped with greens, shredded chicken, and radishes.
---
16. Mushroom and Leek Flatbread Pizza
This recipe is an instructional on making dough from a fresh cassava root, which you can use for flatbreads or pizza crusts. The dough is the same, but the method varies by what you're making.
---
17. Grain Free Flatbread
Here's an easier version of cassava flatbread, made from cassava flour instead of the fresh root. You'll also need a flax egg or an egg, olive oil, and the ingredients for a luscious cashew, nutritional yeast, and garlic sauce with toppings like mushrooms, leeks, oregano, and sea salt.
---

Photo: Forest and Fauna
18. Paleo Pita-Tortilla-Naan Bread
You can make this basic flatbread and flavor or season it however you want. You'll make it with almond flour, arrowroot, butter, egg, baking soda, and salt. The suggested toppings are a delicious spinach basil pesto and pear, roasted sweet potato, red onion, and more. Feel free to leave out the goat cheese.
---
19. Methi Thepla
Sometimes multi-purpose recipes are the best, because once you master them, you've got several different ways to use them. This starch-free flatbread is made with coconut flour, psyllium husk, sea salt, and hot water. It's a bit chewy and holds together really well.
---
20. Gingerbread Flatbread With White Chocolate Peppermint
Want a sweet flatbread? Try this holiday-ready gingerbread flatbread made with tapioca and coconut flours along with flaxseed meal, seasoned with cinnamon, allspice, ginger, and more. If you don't want to "cheat" with the white chocolate and peppermints, drizzle some sweetened coconut butter over the top.
---
21. Grain-Free Matzo
Matzo flatbread doesn't have to be off-limits because you've gone paleo. This version is made with blanched almond and coconut flours (starch-free, woohoo!), Celtic sea salt, egg, olive oil, and water. Be sure to cool it thoroughly after baking so it's nice and crisp.
---

Photo: African Bites
22. Bammy (Jamaican Cassave Flatbread)
Try some bammy. All you need is grated frozen cassava (defrosted), coconut milk, ghee, and coconut sugar (if you choose to use the sugar). You could also use coconut oil for frying instead of ghee (but don't use vegetable oil). These sweet and crispy breads are so tasty and make a great treat.
---
23. Olive and Rosemary Faux'caccia
At last, a flatbread made with cauliflower! It also uses almond, coconut, and tapioca flours along with olives and fresh herbs. Full-fat coconut milk, coconut oil, apple cider vinegar, and eggs form the fluffiest, crispiest delicious texture you ever thought you'd have paleo-style.
---
24. Perfect Paleo Flatbread
For a simple paleo flatbread that has a perfect texture and totally-not-paleo-like flavor, try this one with honey, yeast, egg, tapioca, almond, and coconut flours. You can top with with sweet toppings as a snack or breakfast, or keep it savory-style for lunch and dinner.