Well 'ello gov'na! Fancy some fish and chips?
OK, so my British accent is pure rubbish, but this classic dish made with Paleo ingredients is fit for the finest pubs anywhere.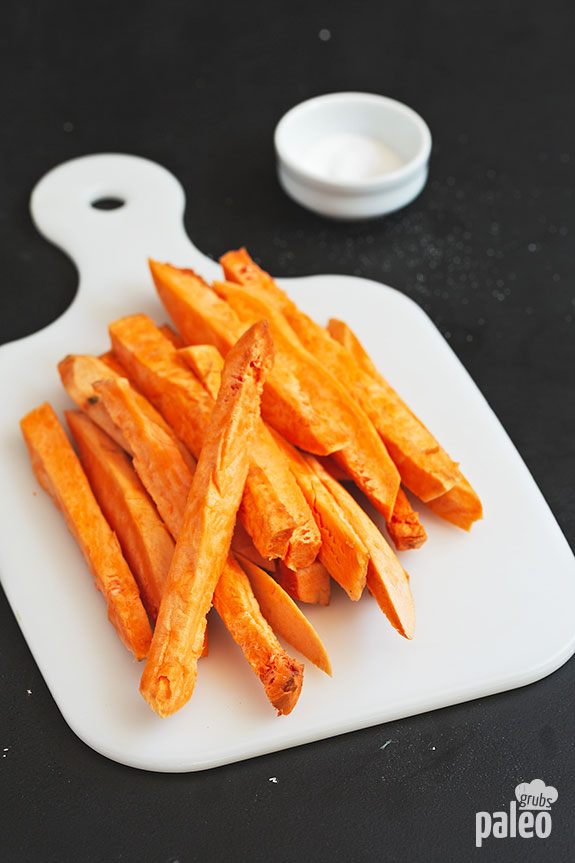 What's wrong with a traditional basket of fish and chips, from a Paleo perspective? Generally speaking, it's the breading on the fish, the oil that it's fried in, and the white potatoes used for the chips. The deep-fried nature of the dish give it a reputation for being an unhealthy meal, albeit a rather tasty one.
But if you fix those three things you're on track for a delicious, healthy meal. The protein from the fish combines with the antioxidants from the sweet potatoes and the avocado oil provides healthy fat.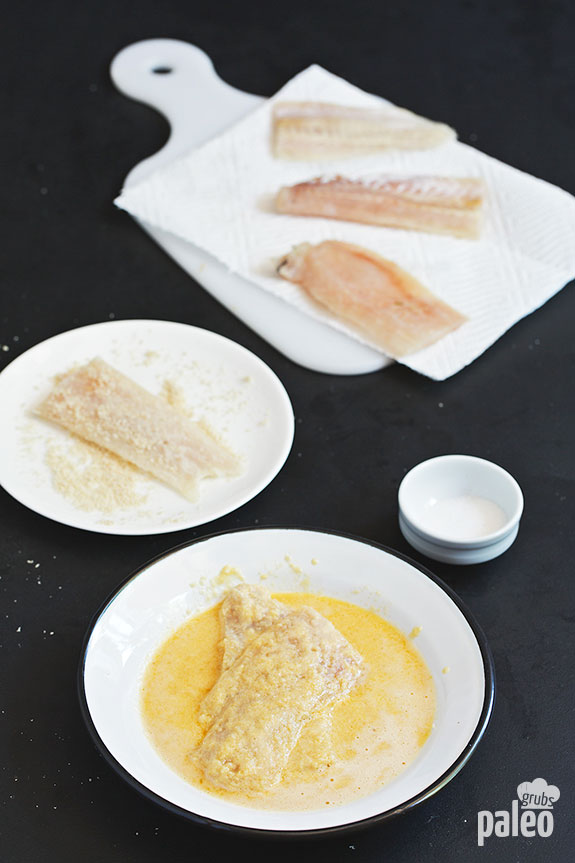 For the breading, all you need to do is swap out the all-purpose grain-based flour with a Paleo-friendly flour. Here we're using arrowroot flour because it gives the fish a nice light and crispy coating. It's pretty much just a crispy layer that melts in your mouth when you bite into it and provides a nice contrast with the soft and velvety fish underneath.
Use your choice of white fish fillet and these will turn out awesome. Stick with wild caught fish to avoid all of the chemicals and junk that come from farm-raised fish. Atlantic cod is a great choice that keeps with tradition, or try some haddock for a great flavor.
Sweet potatoes are often used as a white potato substitute, and that's what we're going with today. There's a natural sweetness to them that goes great with the fish, and that's lacking from regular white potatoes. Even though they're referred to as chips, Americans would call this fish and fries, and we're making some nice thick sweet potato fries to go along with the tender fish.
I've tested out a few different oils for frying up these bad boys, and the best results have come from avocado oil. Not only does it preserve a lightness that other oils failed to provide, it has healthy fat in it to make this an overall healthy meal. Lard is a good backup plan, but try avocado oil if you have it or if you can find it at your local store. It's worth it.
Serve it up with some tasty tartar sauce made the Paleo way, lemon wedges, and some malt vinegar if it's to your liking.
A trip to London has never been easier!
---
1 large sweet potato, peeled and sliced into ¼ inch wide strips
1 pound fish filets
½ cup sesame seeds flour
2 tablespoon arrowroot flour
1 egg
6 tablespoons sparkling water
1 teaspoon baking powder
salt to taste
avocado oil or lard for frying
1 lemon, cut into veggies
Preheat oven to 425 F.
Line a baking sheet with parchment paper. Place the sweet potato fries on prepared baking sheet, drizzle with 2 tablespoon of oil and sprinkle with salt. Toss well to coat. Arrange the fries in a single layer and bake in preheated oven for 15 minutes, then stir to cook on the other side. Cook for 10 minutes more.
Meanwhile, prepare the fish. In a plate mix 2 tablespoons of sesame seed flour, 1 tablespoon of arrowroot flour and pinch of salt. Mix well to combine. Cut the fish fillets into 5 inch long pieces and pat them dry well with paper towels. Season with salt and set aside.
To make the batter, in a shallow bowl add the egg, remaining sesame seeds and arrowroot flour, baking powder, small pinch of salt and sparkling water. Mix well to combine. Press each fish fillet into the arrowroot-sesame seed flour mixture and shake off the excess, then dip each one in the batter.
Pour oil to depth of 1/2 inch in a large skillet and heat it over medium-high heat just until it's nearly at the smoking point. Fry the fillets, in batches, 2 minutes per side or until golden brown. Remove cooked fillets from pan and place them on paper towels to drain.
Serve with sweet potato fries, lemon veggies and tartar sauce.