Featured
35 Paleo Family Style Dishes Everyone Will Love
Eating in a stressed state can lead to indigestion, and we've all heard that families who eat meals together are overall less affected by stress. So couldn't we improve our digestion and our entire lives by sitting down to family-style meals? I think we can. So take a look at these Paleo family style and family friendly recipes and pick a few out to try this week.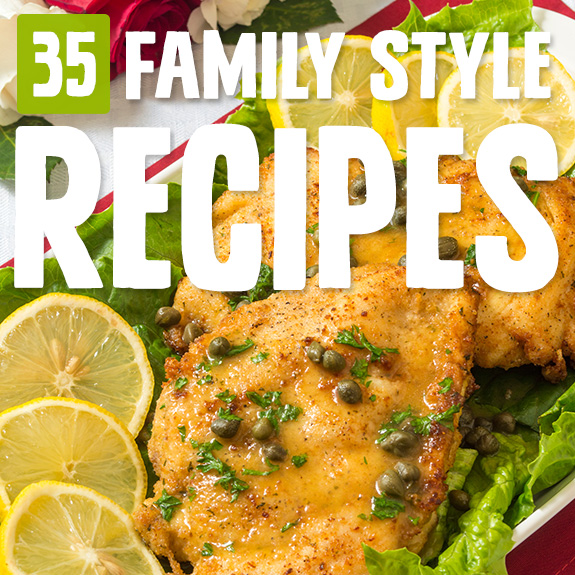 ---
1. Chicken Enchilada Stuffed Squash
Everyone loves chicken enchiladas, and serving in in spaghetti squash instead of wrapped in corn tortillas is a great way to make them paleo and up the nutrition. Also, kids love eating food stuffed in other food. Call them boats and you'll earn bonus points!
---

Photo: An Italian in my Kitchen
2. Italian Chicken and Tomato Skillet With Roasted Peppers
Skillet dishes should never be underestimated. The average family has busy evenings, at least during the week, and anyway, who doesn't love a dinner that's easy to make and uses fewer dishes? Nobody! So give this colorful dish a try.
---
3. Paleo Chocolate Maple Tahini Muffins
I love muffins, I love maple, and I love chocolate, and let's face it: tahini is amazing. So let's all agree that these family-friendly maple tahini muffins are perfect and we need to make them. You'll also need vanilla, coconut flour, eggs, and a few other typical baking ingredients.
---
4. Easy Chicken Piccata
Anything with "easy" in the title is a winner in my book. This chicken piccata is no exception with it's lovely lemony sauce, capers, and perfectly cooked chicken breasts. Take the paleo option and replace the cornstarch with arrowroot flour for the glaze.
---
5. Vietnamese Restaurant-Style Grilled Lemongrass Pork
Eating out is fun, but it's not always the healthiest option, the cheapest option, or the easiest option with the whole family, homework, bedtimes, etc. So stay in and make this lemongrass pork with shallots, honey, and lime. Replace the tamari with coconut aminos.
---

Photo: Real Food Whole Life
6. Weeknight Zucchini and Beef Ragout
You don't have to reserve this recipe for a weeknight, but you can rest assured that if you put it on your list, it'll be the perfect family meal for an evening when you're short on time. All you'll need is ground beef, onion, zucchini, carrots, cushed tomatoes, and seasonings.
---
7. Paleo Coconut Flour Pancakes
These pancakes are super healthy and rich in protein from all those eggs (pastured eggs are best!). You'll also need applesauce, coconut flour, baking powder, cinnamon, melted coconut oil or butter, vanilla, and whatever add-ins or toppings you like.
---
8. Paleo Chocolate Chip Fudge Brownies
These brownies are the perfect occasional dessert after a family dinner, and they're made from sunflower seed butter, coconut sugar, egg, cocoa powder, chocolate chips, vanilla, and, of course, love. Okay, the love is optional—but why wouldn't you add it?
---
9. Grilled Spatcock Chicken
Grilled chicken is a dish that's sure to please the whole family, and this one, Spatchcock style, is seasoned will with paprika, oregano, garlic powder, onion powder, lemon juice and zest, olive oil, and paleo barbecue sauce if you wish.
---

Photo: Food Fanatic
10. Paleo Carrot Cake Cookies
These cookies have all the classic flavors of carrot cake with none of the grains or refined sugars. You'll need almond meal, shredded coconut, cinnamon, coconut oil, maple syrup, shredded carrots, vanilla, and cashews for a creamy cashew-based frosting.
---
11. Grain Free Strawberry Shortcake
I have the best spring and summer memories of my dad making strawberry shortcake for us kids. I'd love a paleo version, and I think this recipe is just the ticket. You'll use grain free shortbread and a silky strawberry cashew cream with fresh berries.
---
12. Roasted Thyme Carrots
Carrots are a very family-friendly vegetable, because they're packed with vitamins and they have a slightly sweet taste, so kids just happen to love them. This recipe uses whole carrots, olive oil, fresh thyme, garlic powder, salt, and pepper. So easy and super tasty.
---
13. Lemon and Thyme Italian Wedding Soup
My husband is Italian, and I can tell you that if an Italian recipe isn't family friendly, I don't know what is. This delicious soup uses ground turkey and almond flour meatballs, grass-fed butter, onion, garlic, chicken, thyme, escarole, and other ingredients.
---

Photo: Deb's Pots
14. Sweet and Spicy Glazed Brussels Sprouts
These sprouts have such an awesome sweet and spicy flavor from coconut sugar and crushed red pepper flakes that the whole family is sure to enjoy them and demand that they're made every week. These are so good with balsamic vinegar!
---
15. Paleo Sweet and Sour Meatballs
Please believe me when I say that these meatballs are SO GOOD. They have the best Asian-style flavor with garlic, red pepper flakes, onion, coconut aminos, honey, orange juice, and tomato passata sauce. They are absolutely perfect for dinner with the family.
---
16. Low Carb Cinnamon Chicken
Let me tell you, I am ALL over this recipe. I'm a huge fan of cinnamon with meats and vegetables, and this one is also seasoned with thyme, salt, pepper, cayenne, coriander, garlic powder, and onion powder. Serve with vegetables or cauliflower rice for an easy and delicious meal.
---
17. Lemon and Thyme Chicken Drumsticks
Drumsticks are great for family dinners, and this recipe is super tasty with free-range, organic chicken, lemon zest, fresh thyme, olive oil, salt, pepper, and lemon juice. They'll do all their cooking in the oven, so you can get them set up in there and then make the other dishes while they're baking.
---

Photo: Hold the Grain
18. Breakfast Casserole
Wouldn't it be nice of the whole family could sit down and eat breakfast together every day? Maybe that isn't realistic for many families, but on the rare days we manage it (or not), this breakfast casserole is the perfect meal to serve. Bacon, coconut milk, sausage…yum!
---
19. Fried Pesto Potatoes and Bacon
This yummy side dish or easy lunch is made with diced potatoes, nitrate free bacon, pesto (paleo-style, so use homemade or cheese-free), olive oil, salt, and pepper. They're super easy to make and full of amazing bacon and basil flavors everyone will be talking about.
---
20. Shredded Chicken With Summer Veggies
This is my go-to lunch when I don't feel like cooking, summertime or not! I like to roast and shred a bunch of chicken breasts right after I buy them and then freeze plenty of the meat so I can pull it out and defrost it the day before a busy day. And then I make this salad!
---
21. Grapefruit Glazed Turkey Tenderloin
I'm a huge fan of citrus flavors with meats, so I'm pretty excited to give this dish a try. It's a bit sweet, a bit tangy, and full of flavor with grapefruit, cilantro, garlic, and honey. And that crispy part across the top if it? Let's just say I'm drooling over my screen right now.
---

Photo: Linda Wagner
22. Paleo Chicken Sweet Potato Bake
Here's a fun one-dish skillet back the whole family can enjoy. You'll need chicken breasts, sweet potatoes, assorted grape tomatoes (colorful ones are more fun), garlic, Italian seasoning, cracked red pepper, sea salt, and olive oil. Simple ingredients, fabulous flavor.
---
23. Grain Free Apple and Cranberry Crisp
This recipe is certainly a dessert, but a fine dessert at that. It's made with coconut maple sugar, maple syrup, cinnamon, cranberries, apples, almonds, almond flour, flax seed, and vanilla. I'd love a piece of this topped with some homemade, paleo-friendly coconut milk ice cream, wouldn't you?
---
24. Greek Marinated Lamb Chops
These lamb chops have the lovely flavor of red wine vinegar, marjoram, rosemary, oregano, parsley, sea salt, and finely ground black pepper. You could serve them with cauliflower rice, roasted vegetables, or any other side dishes you like. The point is you NEED to make these.
---
25. Paleo Pancakes
These yummy pancakes are perfect for easy Sunday mornings with fresh squeezed orange juice and maybe a bit of bacon on the side. You can make them with arrowroot powder, almond flour, almond butter, eggs, honey, almond milk, cinnamon, cloves, and nutmeg.
---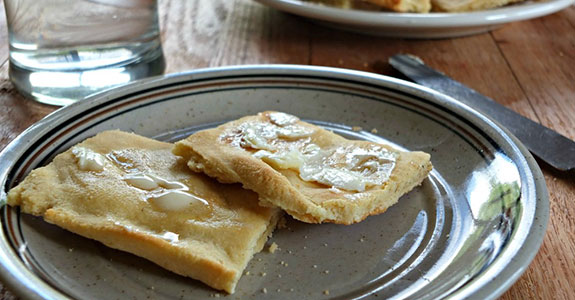 Photo: Cook It Up Paleo
26. Perfect Paleo Flatbread
This flatbread will fool even the most diehard wheat-eater with its pillowy softness and it's amazing yeasty flavor—despite the recipe being a flatbread, the yeast adds a necessary bready flavor and adds a bit of lift to help with the texture and taste, so it mimics "real" bread.
---
27. Paleo Banana Bread
Everyone loves banana bread, especially kids. Let them splurge a bit and eat this for breakfast just once…or maybe twice, because it's Monday morning and things are a little crazy. It's packed with eggs, so you'll know they're getting plenty of protein in the morning.
---
28. Healthy Chocolate Mint Truffles
These truffles may still be a treat, but they're a treat made without refined sugar or grains! You'll need dates, honey or maple syrup, vanilla, salt, cocoa powder, mint leaves, and coconut oil. The minty flavor is subtle and perfectly balances the sweet chocolate.
---
29. Frozen Mint Chocolate Whoopie Pies
Who loves Whoopie Pies? As a born and bred Pennsylvanian, I like to think I know more about Whoopie Pies than the average Joe or Jane. And while these are the traditional molasses-oatmeal-sweet-white-filling version, they're a healthier and tastier version, I think!
---

Photo: Kim's Cravings
30. Brad's Homemade Garden Salsa
There are few things better than gathering the family around the table with a bit batch of paleo chips or crackers, plantain chips, or anything else dippable and going at a bowl of delicious salsa. So try this version, with jalapeno, cilantro, cumin, garlic, and more.
---
31. Simple Paleo Chocolate Chip Cookies
Let's not pretend even for a minute that chocolate chip cookies don't top the list of family-friendly foods. They may be a dessert, but everyone loves them, and a little treat now and then is good for the soul. Try this awesome honey-sweetened recipe!
---
32. Honey Mustard and Rosemary Chicken
Honey mustard is a flavor everyone can appreciate—kids love it! This recipe is made with grainy mustard, Dijon mustard, honey, extra virgin olive oil, onion, chicken thighs and drumsticks, salt, pepper, and rosemary. It can be made either in the oven or on the barbecue.
---
33. Spicy Lamb and Bacon Meatballs
These meatballs make a great side dish or main dish scooped out over a pile of spaghetti squash, zucchini noodle, sweet potato noodles, or whatever else you like. This recipe also happens to have super nutrient-dense liver hiding in it, and you can't even taste it!
---

Photo: The Endless Meal
34. Creamy Chicken Lazone
This easy family-style chicken can be served with cauliflower rice for a no-fuss weeknight dinner. You'll need garlic powder, onion powder, chili powder, sea salt, fresh cracked black pepper, butter, chicken tenders, and full-fat coconut milk (to replace the heavy cream).
---
35. Paleo Crock Pot Roasted With Chimichurri
This recipe is unbelievably easy, as is petty much anything you make in a crock pot. You guys know how I feel about crock pots, so I don't even need to get into it. There's a recipe linked in the ingredients for an amazing chimichurri sauce that takes this roast to the next level.