Featured
11 Paleo-Friendly Empanadas
Where I used to live, there was a Venezuelan food cart that sold empanadas, and my favorite one was a green plantain and roasted garlic empanada. That one was to DIE for, let me tell you. I don't live in that city anymore, and that empanada wasn't paleo anyway, so I've been needing to fill that hole in my life. It's a good thing I've found all of these paleo empanada recipes to help me out!
---
1. Paleo Empanadas With 3-Ingredient Crust
These delicious empanadas are made with a crust that's crispy on the outside but still soft enough that it doesn't crumble apart in your hand: the secret is the combination of almond flour, tapioca flour, and coconut milk. Fill with spiced meat and you'll be in heaven.
---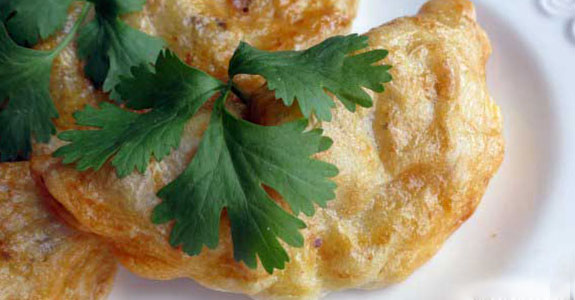 Photo: Paleo Cupboard
2. Almond Flour Empanadas
Made with blanched almond flour, these deliciously golden brown empanadas feature a filling made with ground beef, lard, onion, garlic, chili powder, cumin, sea salt, ground black pepper, red pepper flakes, cayenne, and tomato paste. They're bursting with flavor!
---
3. Paleo Empanadas With Yucca Crust
These empanadas have a unique crust made from yucca root and no pre-made flour. They're filled with ground beef, carrots, onions, parsley, and garlic sea salt with a few other seasonings, and the recipe contains a few notes for making this recipe AIP friendly.
---
4. Paleo Empanadas With Pork, Olives, and Eggs
Looking for a different filling than the usual ground beef. Instead, they're made with ground pork, garlic, onion, olives, and hard boiled eggs. The crust here is also interesting, with a blend of almond flour, tapioca flour, and sesame seed flour, which I've never used before!
---
5. Paleo Empanadas With Green Plantains
These empanadas have a shell made from green plantains, eggs, lard, cumin, garlic powder, and salt. They don't require any kind of added flour, and they have an awesome taste and texture that'll make you wonder what you've been missing all these years!
---

Photo: Cindy's Table
6. Beef and Green Chile Empanadas
For a beef empanada with extra flavor in the filling, try this one with green chiles, tomatoes, garlic, and onion. You can even made them with ground pork instead of beef, if you want to. This rust is made with almond meal and tapioca flour with flavor and texture.
---
7. Beef and Poblano Empanadas
Here's a coconut and tapioca dough empanadas filled with grass-fed beef, poblano peppers, cumin, oregano, chili powder, and lots of garlic. You can cook them with your favorite cooking fat, which can have a huge influence on the flavors you'll get to enjoy.
---
8. Spicy Mushroom Empanadas With Avocado Sauce
These empanadas are the king of flavor, with spicy delicious mushrooms, toasted pine nuts, nutritional yeast, kale or chard, basil, and cumin. The dough, interestingly enough, is made with shredded coconut flakes as well as almond flour and arrowroot powder. How unique!
---
9. Simple Paleo Empanadas
Here's a simple empanada with a spiced ground beef filling using pure tallow, onion, scallion, garlic, chili powder, cumin, and other seasonings. The shell is made with blanched almond flour, tapioca flour, and eggs, giving them a sturdy but flaky, buttery texture.
---

Photo: Mangia Paleo
10. Paleo Beef Chorizo Empanadas
I love a good chorizo empanada, and let me tell you—THIS is a good chorizo empanada. Filled with hard boiled eggs, chorizo, ground beef, red onion, tomato paste, and more, you'll definitely find these little gems worth the work of creating the almond and arrowroot flour dough.
---
11. AIP Paleo Empanadas
These empanadas are also AIP friendly, so you don't have to worry about making adjustments to the seasonings. They're made with grass-fed ground beef, garlic, onion, oregano, cilantro, chives, thyme, and green onions for a super savory and delicious flavor.