Featured
30 Egg Recipes You Will Want to Make Every Day
Ah, eggs. Eggs are a paleo favorite food because they're rich in protein, they go well with bacon, and they're an easy savory breakfast for paleo eaters. You can make eggs about a million different ways, and I'll show you a handful of those different ways in this list of paleo egg recipes. They range from frittatas to hashes to pancakes and beyond, and they're all healthy, refined sugar free, dairy free, and grain free. So come get your eggs on, friends.
---
1. Bacon Kimchi Cauliflower Fried Rice
With all the flavors cooked into this delicious "rice" dish, it's no wonder why it'll become your favorite spunky, easy dinner (or breakfast!). You'll make fried rice with cauliflower, bacon, garlic, kimchi, sesame seeds, read pepper flakes, and eggs. Douse it with a yummy kimchi juice and sesame oil sauce!
---

Photo: Healthy Recipes Blogs
2. Bacon Deviled Eggs
These deviled eggs are a twist on the classic because they're made with bacon! It's both crumbled into the filling and sprinkled over the top. Homemade paleo-friendly mayonnaise is creamy and delicious with Dijon mustard, black pepper, and smoked paprika.
---
3. Butternut Squash Rice With Bacon, Caramelized Onions, and Egg
Squash rice? Yes! This is an absolutely delicious meal for any time of day, and it's full of protein and healthy carbs to keep your body fueled. Besides the butternut squash, you have bacon, red onion, garlic powder, paprika, chicken broth, and hard-boiled eggs grated over the top.
---
4. Sweet Potato Hash With Brussels Sprouts, Apples, and Turkey
A protein-rich breakfast that can be adjusted to include your favorite ingredients, this has is also great for lunch or dinner. It's made with pink lady or granny smith apples, coconut oil, ground turkey, ghee, and more, and has eggs cooked right into the top of it.
---
5. Spicy Hash Brown Waffles With Green Onions
It might not look like it, but these hash brown waffles use eggs to bind them together, which also adds valuable protein your breakfast. They're flavored with chili flakes, garlic powder, black pepper, and green onion, and they only take a few minutes to make!
---

Photo: Mom Loves Baking
6. Ham and Egg Cups
Similar to the hash brown egg cups, these ham egg cups are incredibly easy to make with just two ingredients besides salt and pepper. You'll want to select a brand of ham that's paleo-friendly and made without unhealthy preservatives and fillers.
---
7. Sweet Potato Hash Brown Egg Nests
Made with combined russet potatoes and sweet potatoes, these eggs nests are cute, portable, and delicious with olive oil and just a hint of kosher salt. What a cool idea! This is an easy way to make breakfast for the whole family without a lot of fuss.

---
8. Paleo Cauliflower Crusted Frittata
Frittatas are en excellent way to enjoy eggs because they're hearty, easy to make, and can be filled with whatever yummy ingredients suit your fancy. This one is crusted with cauliflower "rice," and seasoned simply with garlic salt, garlic powder, black pepper, and red pepper flakes.
---
9. Scallion Frittata
This frittata is sure to fill you up with coconut cream or coconut milk, which adds healthy fats. A full cup for chopped scallions add an oniony flavor along with black pepper, butter or ghee (yum) and Himalayan coarse salt. An easy fifteen-minute breakfast!
---

Photo: Real Food Whole Life
10. Make-Ahead Kale and Sweet Potato Egg Cups
These egg cups are an easy breakfast to make in advance and heat individually from the freezer when you need them. Perfect for busy weekday mornings! You'll need olive oil, grated sweet potato, lacinto kale, salt, and eggs. Simple ingredients, simple nutrition.
---
11. Carnitas Sweet Potato Hash With Green Sriracha
This delicious hash is the perfect thing to serve for breakfast when you've got family or friends visiting for the week and want to impress them with your skills. The pork carnitas are flavored with cayenne, cumin, orange, and onion, and served with mixed bell peppers, fried eggs, and more.

---
12. Baked Sweet Potato and Egg Breakfast Boats
I love this idea so much. These can be enjoyed for breakfast, lunch, or dinner, and they're so much fun that even the kids will want to get in on the action (maybe minus the sriracha). You'll need a sweet potato, olive oil, bacon, eggs, hot sauce, and fresh herbs to garnish.
---
13. Sweet Potato Quiche
This dairy-free quiche is full of flavor, healthy fats, and greens with sausage, onion, sweet potatoes, eggs, coconut milk, your favorite greens, garlic powder, paprika, salt, and pepper. It makes an amazing breakfast, lunch, or dinner with a longer cook time but easy prep.
---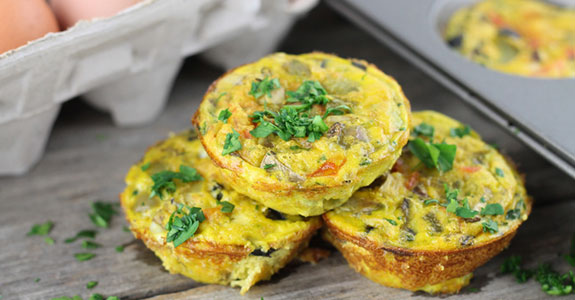 Photo: Define Fettle
14. Everything Breakfast Muffins
These muffins really are filled with anything you could possibly want in your breakfast. Try them with eggs, tomatoes, green pepper, onion, mushrooms, black olives, fat of choice (ghee, butter, bacon fat, etc.), sea salt, black pepper, garlic powder, and onion powder.
---
15. Chorizo Con Huevos
This spunky eggs and Mexican sausage dish is going to become your new favorite breakfast. It's super easy to make with Mexico chorizo, eggs, salt and pepper, white onion, avocado, and fresh cilantro. If you have paleo tortillas, you can serve those alongside it—if not, no problem!
---
16. Baked Eggs in Avocado
You can bake eggs in almost anything you can hollow out, and one of my very favorite baked eggs recipes is this one, with avocado. Its optional toppings include cilantro, bacon, chives, and let's be honest—just about anything else you can think of!
---
17. Paleo Cauliflower Fried Rice
This fried rice dish is made with cauliflower, onion, carrots, coconut oil, salt, ground ginger, garlic, coconut aminos, scrambled eggs, and diced green onions. It's super flavorful and obviously much healthier than your standard Chinese takeout fried rice.
---

Photo: Craving Nature
18. Herb, Beet, and Beet Green Frittata
Made with fresh beets, onion, greens, and chopped herbs like thyme, rosemary, and parsley, this sophisticated beet frittata feels perfect for a garden lunch or family picnic. It's tasty and nutritious, with lots if iron and other minerals in the beets and greens.
---
19. Cauliflower Coconut Aromatic Rice
This rice is protein-rich with diced chicken, bacon, and hard-boiled eggs. Still, it has a delicious coconut aromatic flavor with shredded coconut, turmeric, lemongrass, cinnamon, kaffir lime leaves, fresh herbs, and a cooking fat of your choice (ghee or bacon fat would be mine).
---
20. Paleo Breakfast Burrito
Breakfast burritos are the king of simple, portable, delicious breakfast foods. This paleo version is made with Paleo Wraps so they're grain free, and they're filled with eggs, green onion, tomato, avocado, cilantro, lime, and more. You can leave out the shredded cheese.
---
21. Roasted Cauliflower With Egg and Anchovy Dressing
What a unique dressing! It's made with eggs, minced garlic, anchovy fillets, Dijon mustard, red wine vinegar, olive oil, and salt and pepper, and it has a hearty, savory flavor that's perfect poured over the lighter pepper-roasted cauliflower dish. So yummy.
---

Photo: Hold the Grain
22. Butternut Squash Noodle Hash
Butternut squash noodles make an awesome breakfast, because they have a hint of sweetness to them but they're extremely nutritious with healthy carbs for your body. This has also features eggs cooked into the top, crushed red pepper, kale, ginger, and other seasonings.
---
23. Zucchini Noodles With Everything Pesto and Fried Eggs
This pesto is delicious and really does have it all: pine nuts, fresh herbs of choice, scallions, garlic, flaky sea salt, olive oil, lemon juice. The zucchini noodles are delicious with ghee and fresh ground pepper, and topped with two fried eggs.
---
24. Homemade Dairy-Free Eggnog
Homemade eggnog is easier than you'd expect, and this recipe is modestly sweetened and made with real food ingredients. You'll need organic eggs, maple syrup, almond milk, canned coconut milk, vanilla extract, and nutmeg. So delicious!
---
25. Stuffed Sweet Potatoes With Bacon and Egg
This stuffed sweet potato includes bacon, so you know that makes it absolutely fantastic. This is the perfect combination of protein and healthy carbs with sweet potatoes, bacon, eggs, salt, pepper, cayenne pepper, and parsley or garnish.
---

Photo: My Lavender Blues
26. Avocado Mash, Bacon Bits, and Shaped Eggs
Trying to get some nutrient-dense food into your little one? Try this recipe for mashed avocado, bacon, and eggs seasoned with garlic powder. Don't have little ones? Don't worry, I won't judge for you making your own eggs into adorable little star shapes.
---
27. 3 Ingredient Banana Pancakes
These easy pancakes are great for kids and adults alike, because they're essentially eggs sweetened with banana and cinnamon. You don't need any flour, sweetener, or anything else! Of course if you want to, you can still top them with butter and maple syrup…
---
28. Eggs in Squash Rings
Made with carnival or acorn squash, these yummy and beautiful squash rings are a delicious breakfast that'll surely keep you full until lunch, and they're a great diversion from your usual routine. Season with crushed red pepper and oregano. Don't forget the bacon!
---
29. Paleo Eggs Benedict With Cucumber Salsa and Avocado
This eggs benedict is rich and decadent, and it's a perfect way to treat yourself for the occasional weekend indulgence. The Hollandaise is made with egg yolks, butter, lemon, and cayenne pepper, while the base has Canadian bacon, avocado, arugula, and paleo bread.
---

Photo: Jans Sushi Bar
30. Eggs Blackstone
For a fun twist on eggs benedict, make these eggs blackstone with bacon, ghee, Tabasco sauce, egg yolks, lemon juice, and paleo-friendly fried green tomatoes. This breakfast is delicious and full of protein and healthy fats, and it's very filling, too!