Featured
42 Easy 30-Minute Paleo Meals & Snacks
Weeknights are busy for many families, and I bet you're here because you need a healthy paleo meal or dish you can put on the table in half an hour. Well, you've come to the right place!
---
1. Baked Salmon With Asian Cilantro Pesto
This delicious salmon meal uses sriracha almonds to make a zingy, Asian-inspired pesto sauce with cilantro, lime juice and zest, fresh garlic, fresh ginger, coconut aminos, rice vinegar, and bok choy leaves. This is a healthy meal you can whip up in a snap.
---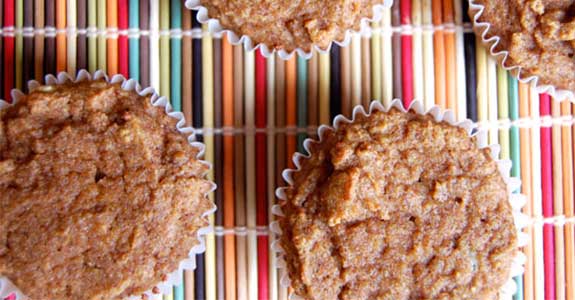 Bake up these delicious cinnamon apple muffins and fill your home with their aroma. In just 30 minutes they're warm and fully baked and ready to go. The perfect warm breakfast made in no time and baked while you're finishing getting ready for the day.
---
3. One Pot Mexican Beef and Vegetables
The only thing better than a meal done in 30 minutes or less is a meal done in 30 minutes or less that uses only one pot! Clean-up is quick with this delicious Mexican beef and vegetables dish made with plantain "rice," which is starchy and delicious but still grain-free!
---
4. Bacon and Orange Balsamic Asparagus Salad
This salad is made with mixed leafy greens, beautiful bacon, asparagus, butter, clementines, and slivered almonds (you can leave off the parmesan cheese unless you eat dairy). I especially love the saucy dressing with orange juice, balsamic vinegar, and maple syrup.
---
5. Grilled Mustard Chicken With Creamy Walnut Sauce
This spicy and savory grilled chicken is served with a creamy walnut sauce made from white wine mustard, walnuts, balsamic vinegar, and freshly cracked black pepper. Serve it with sea salt-sprinkled, blistered green beans done on the grill and tossed with mustard.
---

Photo: Delicious Meets Healthy
I don't know about you, but I definitely don't have time for a full breakfast in the morning. We're lucky if we have time to make oatmeal, and most morning it's green smoothies. These muffins are the solution! Make them in just a few minutes and have quick breakfasts all week.
---
7. Grilled Chicken Arugula Salad
This salad is served with fresh arugula, seedless grapes, red onion, walnuts, and grilled sliced chicken breasts. Drizzle it with an amazing honey balsamic vinaigrette with freshly ground black pepper—or make it a maple vinaigrette by using maple instead of honey.
---
8. Grilled Tri-Tip With Sicilian Herb Sauce
This steak is juicy and beautifully seasoned with kosher salt and ground black pepper. Serve it with a silky and elegant Sicilian herb sauce, made from fresh thyme, oregano, garlic, kosher salt, lemon juice, and extra-virgin olive oil.
---
These meatballs are healthy, satisfying, and done in 15 minutes. You'll serve up coriander and cumin seasoned chicken meatballs in a thick sauce with diced tomatoes and more chopped coriander.
---

Photo: Cotter Crunch
10. Toasted Coconut Banana Muffins
These little beauties are made with almond flour, chia, bananas, cinnamon, ginger, coconut oil, vanilla, shredded coconut, and a bit of honey or molasses (leave these out if you're avoiding sweeteners—the muffins will still be awesome!). I'd maybe even use maple syrup!
---
This chicken chow mein is AIP friendly and delicious over cauliflower rice. It gets its flavor from garlic, celery, water chestnuts, bamboo shoots, molasses, coconut aminos, and fresh cilantro and green onions.
---
12. Moroccan Spiced Carrot Pumpkin Soup
This nourishing and beautiful soup is made with onion, carrots, fresh ginger, cumin, cinnamon, turmeric, paprika, pumpkin puree, maple syrup, and a dairy free milk of your choice (coconut milk would be absolutely perfect in this recipe).
---
Don't know what to bring to the fall party? Need a quick treat? Try these easy and healthy raw carrot cake balls made with chopped pecans, coconut flour, shredded carrots, dates, honey, cinnamon, cloves, nutmeg, vanilla, and shredded coconut flakes. Super good!
---

Photo: Well Plated
14. Sweet Potato Turkey Burger
This turkey burger is enhanced with shredded sweet potatoes. You could serve it bunless with tomato, avocado, and your favorite toppings, or pop it into a paleo bun or Portobello bun. Your choice! Either way, this is a quick and easy weeknight meal you can have on the table in half an hour.
---
15. How to Make Cauliflower Rice
This cauliflower rice is a quick and easy base on which you can pile stews, vegetables, meats, salsas, and just about anything else. It's perfect for when you need a quick weeknight meal—whip up some fresh salsa or roasted some veggies and serve with "rice!"
---
These meatballs are perfectly flavored and with bell pepper, garlic, onion, cumin, and red pepper flakes. They're bound with coconut flour and eggs and fried in coconut oil, and then doused with a delicious sweet and sour sauce made from garlic, coconut aminos, honey, tomato sauce, and orange juice.
---
This is a super simple and healthy version of the beloved egg drop soup, and you can whip it up in less than half an hour. You'll need chicken broth, spinach, zucchini, eggs, ground ginger, and a bit of sea salt. I love the gingery flavor the broth takes on in this recipe.
---

Photo: Jay's Baking Me Crazy
Remember what I said about how breakfasts are a challenge in my house? Granola is a life-saver, and this is one of my favorite recipes. It's deliciously flavorful and cinnamony, and it's a great boost of energy in the morning before I hope on my bike to work. I need fuel for that, and this granola is it.
---
Taco soup is a great packable meal that's perfect for school or work lunches, and is so nourishing, too. It's suer to me a favorite with your favorite toppings and a seasoned meat mixture with green pepper, zucchini, garlic, onion, and stewed tomatoes. The black beans are optional, so for paleo, you'll leave them out.
---
Looking for something to snack on that won't give you a sugar rush or ruin your appetite for dinner later? Try healthy roasted nuts—roasted nut snacks can be expensive to buy prepared, and often have unnecessary sweeteners and preservatives. So try making your own with any of these recipes!
---
I'm pretty excited about this recipe. For one thing, it includes plantain chips (they're optional, but I'll be using my homemade ones). For another: jerk chicken! This spicy and amazing chicken with curry and allspice is served in a bowl with cauliflower rice and veggies. So good.
---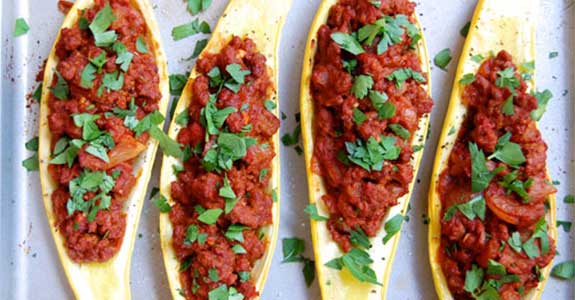 22. Paleo Stuffed Yellow Squash
Saute a few ingredients and then place them into the squash and in the oven they go for 25 minutes. You won't believe how easy it is to get a complete meal on the table, one that satisfies you and makes you glad that you're able to eat delicious food that's healthy for you.
---
23. Roasted Root Vegetables With Brussels Sprouts and Bacon
I love roasted vegetable dinners. We don't eat a lot of meat in our house (organic, pastured meat is pricey!) so many nights we just have roasted veggies with seasonings. This is one of my favorites, with or without the bacon. I love me some sweet potatoes.
---
24. Easy Baked Garlic Mushrooms
These garlicky mushrooms are a great side dish to any dinner, and is super flavorful with basil, oregano, butter, balsamic vinegar, crushed garlic, sea salt, and freshly ground black pepper. It's a great alternative to the usual side salad and is sure to be a crowd pleaser!
---
This salad is made with beef short rib, tomato, onion, mixed greens, and a yummy ginger sauce. Use olive oil for the salad, coconut sugar in the sauce, and coconut aminos to replace the soy. This would be a wonderful packed lunch to take to the office!
---

Photo: A Calculated Whisk
26. Grilled Pork Chops and Peaches
These pork chops are so delicious with ground cumin, allspice, and cardamom, and a soft and juicy-sweet grilled peach. I recommend serving them as suggested, with arugula or mixed greens and a ripe avocado pitted and sliced alongside. Protein, healthy fat, and delicious fruit.
---
27. Grilled Paleo Pizza
Ah, pizza. Who doesn't love it? Okay, maybe you're body doesn't love it, but I sure bet your taste buds are missing that goodness. So give this paleo pizza a try with an easy coconut flour and tapioca crust, your favorite red sauce, prosciutto, watercress, and whatever else you like on your good old slice of pizza.
---
28. Harissa Portobello Mushroom Tacos
These tacos are so good, you won't even think about the fact that you're eating them off a lettuce leaf. Really! With spicy harissa sauce, ripce avocado, chopped red onion, cashew cream, chopped tomatoes, cilantro, and crunchy collards, there won't be room in your mouth for even a bit of tortilla.
---
29. Broiled Parsley and Oregano Trout
This is a gourmet-quality dish that will impress your own family as well as guests! Stuff your trout with parsley and oregano and broil it until tender and delicious. It's perfect with lemon, garlic, salt, and extra virgin olive oil. I'd serve this alongside roasted veggies.
---

Photo: Garlic My Soul
This recipe is so simple, it's hardly a recipe! Make these pork chops with white truffle salt and spicy brown mustard for the easiest but tastiest flavor options and serve with roasted veggies or your favorite easy and quick-to-make side salad. Family-friendly, too!
---
This delicious chicken puttanesca is made with onion, garlic, cherry tomatoes, kalamata olives, and my absolute favorite herb—fresh basil! It makes a complete meal by itself, but would be really fantastic over some zucchini noodles if you're feeling ambitious.
---
32. Oven Baked Italian Meatballs With Marinara Sauce
Here's another saucy meat dish that would be excellent by itself or over zucchini noodles. Tasty Italian meatballs are baked with beef, pork, herbs, and a homemade sauce of crushed tomatoes, onion, olive oil, garlic, parsley, and black pepper. This recipe is kid-friendly, too!
---
This battered fish dish is a classic meal that's amazing served with sweet potato fries, and it only takes a few minutes to make! If you don't have enough time for sweet potato fries, any kind of quick-roasted veggie would be a lovely accompaniment to this battered fish.
---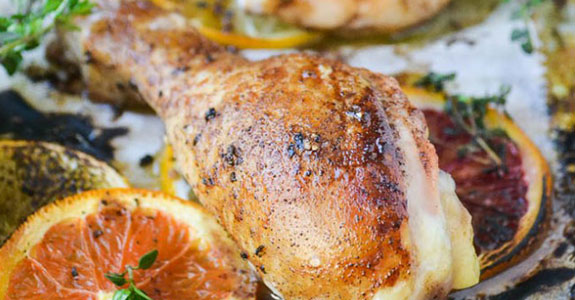 Photo: The View From Great Island
34. Roasted Chicken With Allspice and Citrus
I can't get over this recipe, and I actually think I need it for dinner tonight. Can you believe this is a meal you can make in half an hour?! You'll need chicken legs and breasts (or whatever your favorite parts are), a few varied citrus fruits, pomegranate molasses, allspice, and seasonings.
---
35. Cashew Chicken Cabbage Cups
These cashew chicken cups are served with with garlic, ginger, white onion, carrots, bell pepper, water chestnuts, and spicy red pepper flakes. They're so flavorful and spicy that the only logical vehicle is a crunchy, green, refreshing cabbage leaf!
---
36. Coconut Chicken Thai Curry
Curry makes an appearance at my kitchen table very often, especially on busy weeknights when I need to put something on the stove and simmer it for 20 minutes while I clean a very dishes or dust mop the floor. This recipe is adjustable depending on how spicy you like your dinners.
---
37. Chili Rubbed Flank Steak With Chimichurri on a Parsnip Puree
This spiced steak dish is amazing, and is a great way to add flavor to your steak when you don't have the best cut in the world (steak is not cheap!). I love the flavorful chimichurri sauce on this one and the silky smooth parsnip puree. We have a parnship-skeptic in my house, and this might just be the ticket.
---

Photo: Perchance To Cook
These lettuce wraps have the right flavors of an enchilada without all the cheese and sour cream. You'll love the easy-eating of a lettuce wrap and the lovely flavores of the seasoned ground turkey. To them with sliced avocado, chopped tomatoes, hot sauce, and salsa, as well as anything else you love.
---
39. Shortcut Beef and Vegetable Ragu
This meaty and vegetable rich sauce doesn't have to be served with wheaty pasta. Try it over spaghetti squash, or even zucchini noodles! It'll be the star of the show with its savory flavors from onions grass-fed ground beef, celery, mushrooms, and other perfect ingredients.
---
This Creole dish only needs one skillet, and is a healthy and tasty version of a southern classic. Cooked with coconut oil, garlic, red pepper flakes, shallots, and sautéed kale, this is an easy meal your whole family will love.
---

Photo: Immaculate Bites
41. Pan Grilled Pork Loin With Mango Salsa
This pork loin is tender and perfectly seasoned with fresh rosemary, minced garlic, paprika, cayenne pepper, white pepper, and a delicious mango avocado salsa. You can use coconut aminos in place of the soy sauce, and olive or coconut oil for the cooking oil.
---
42. Asian Chicken Lettuce Wraps
These lettuce wraps are made with Medjool dates (my favorite—the delicious caramely kind), fish sauce, chicken stock, ginger, garlic, Chinese five spice powder, red pepper flakes and a head of iceberg lettuce. Serve them with red pepper, lime, green onion, and a sprinkling of sesame seeds.