Appetizers
42 Out of This World Paleo Dips
I've recently become aware of how much I love dips. They can make the most boring or otherwise unappealing foods (let's be honest—carrot sticks, I'm looking at you) easily snackable. So check these out!
---
Baba ganoush is a traditional Middle Eastern dip made from roasted eggplant, olive oil, and seasonings. This Paleo version includes garlic, tahini, lemon juice, optional cayenne pepper, sea salt, and chopped fresh basil for amazingly fresh and delicious flavors with simple ingredients.
---
It's hard to believe a dip this good can be good for you. But when you take out all of the unhealthy ingredients and infuse Buffalo chicken dip with healthier alternatives the end result is a dip that you'll keep dipping into.
---
3. Paleo Vegan Speculoos Butter
Ever heard of Speculoos butter? It's made from a ginger shortbread cookie from the Netherlands mixed with sugar and oils. Not healthy at all, but definitely tasty. This vegan and Paleo version is made with tigernut flour and oil, vanilla, seasonings, maple syrup, and milk of choice.
---
Zucchini? In salsa? You bet! This salsa is made with ripe peaches, tomatoes, zucchini, scallions, garlic, and seasonings. The basil and mint give it a lovely herbal and fresh flavor that complements the sweet and juicy taste of the juice. Enjoy it over fish or other meats.
---
This is my favorite green salsa recipe, and I topped my enchiladas with it at dinner last night! You'll need tomatillos, jalapenos, fresh garlic, cumin, salt, red onion, and fresh cilantro (if, like me, you aren't a cilantro fan, you can use parsley or other herbs for a different flavor).
---

Photo: Healthful Pursuit
This smooth and creamy dip is made with avocado oil mayo and has a natural spicy kick to it. It's dairy-free and seasoned with garlic, capers, green onions, fresh parsley, hot sauce, chili powder, and sea salt. This would go well with either chips or raw veggies.
---
This recipe is a twist on the traditional baba ganoush, and uses fennel instead of eggplant for a unique and interesting flavor with almonds, garlic, lemon, anchovies, and olive oil. Sprinkle the top with coarse sea salt flakes and black pepper, and dig in!
---
This tasty pesto can be used as a dip or a spread as well as a traditional pesto sauce. Instead of basil, it's made from garlic scapes, kale, and pistachios to replace the usual pine nuts. It's totally dairy-free, and you won't even miss the Parmesan because the flavors are so intense.
---
9. Easiest Four Ingredient Guacamole
You can't talk about dips without talking about good old guacamole, right? Of course not! This one is easy and comes together with just avocados, garlic, lime juice, and salt. You can, of course, add more, but this basic guacamole is wonderful and creamy just as it is.
---

Photo: Great Food And Lifestyle
This sweet and spiced dip goes well with any fruit—not just apples! The creaminess of the cashews and pecans combined with coconut cream, maple syrup, cinnamon, vanilla, and cocoa powder? Yum! Make this tonight and I'll come help you eat it.
---
This mayo is amazing. It's perfectly Paleo with just eggs, olive oil, chipotle peppers, coconut vinegar, salt, garlic powder, and onion powder. It has a kick of spice because of the chipotle, so add it slowly if you're sensitive! I'd love this with baked sweet potato fries.
---
12. Grilled Eggplant and Zucchini Dip
This dip has a flavor that reminds me of baba ganoush with eggplant, olive oil, tahini, lemon, and garlic. But it has a heartier texture, as it isn't pureed and also has grilled zucchini, cumin, and fresh chopped parsley. This is a flexible recipe, so feel free to use other vegetables.
---
I love romesco sauce, and this recipe is amazing with soaked almonds, roasted red bell peppers, garlic, red wine vinegar, paprika, and other seasonings. Use it heated as a sauce, or as a hot or chilled dip for vegetables or Paleo chips, like sweet potato chips.
---

Photo: Great Food And Lifestyle
This succulent salsa is full of both sweet and savory flavors with mango, avocado, sweet Maui onion, cherry tomatoes, red wine vinegar, olive oil, sea salt, and, if you can handle the heat, a diced jalapeno pepper. I'd love a bowl of this with some sweet potato chips!
---
15. Sweet and Spicy Pineapple Salsa
Pineapple is one of my favorite fruits for savory dishes like this amazing salsa. It comes in rainbow colors with bright and tangy pineapple, diced tomatoes, spicy red onions, and other flavors. This would be perfect on sweet potato chips or over chicken or fish.
---
If you can get a hold of some green almonds, make this tapenade. It's savory and a bit sweet from the fresh orange juice, with garlic cloves, capers, mild peppadews, lemon juice, and extra virgin olive oil with a touch of salt. Use it as a spread or dip for fresh vegetables or Paleo bread/crackers.
---
You can make this super-green dip to accompany your vegetables, chips, and Paleo crackers with just avocados, lime juice. chopped fresh herbs, and coconut yogurt (to replace the sour cream). You can really change the flavor of this dip by the herbs you choose.
---

Photo: Philoso Kitchen
Cauliflower is a highly versatile vegetable, for sure. You know you can roast it, steam it, and use it as rice or "steaks." But have you ever thought about turning it into a dip? This dip is made from roasted cauliflower, garlic, olive oil, and pepper. Leave out the cheese if you wish—it's not necessary for the amazing flavor.
---
19. Tomato Orange and Garlic Aioli Sauces
Two for one?! That's right. On this page you get two different dipping sauces, and both are Paleo and made with real, whole ingredients like tomato paste, fresh orange juice, smoked paprika, mustard powder, lemon juice, olive oil, and crushed garlic cloves.
---
This dip has a secret. It features the usual avocado, salt, cilantro, red onion, and lime juice, but also an additional special ingredient: orange juice! The orange juice adds a lovely, bright sweetness to this dip that will leave guests trying to put their finger on (or in!) what's different.
---
This dip is perfect with the roasted carrots suggested on the recipe page, but you can also enjoy it with other vegetables or sweet potato/vegetable chips. It's made with avocados, fresh dill, fresh parsley, basil, olive oil, lemon juice, salt, and garlic powder.
---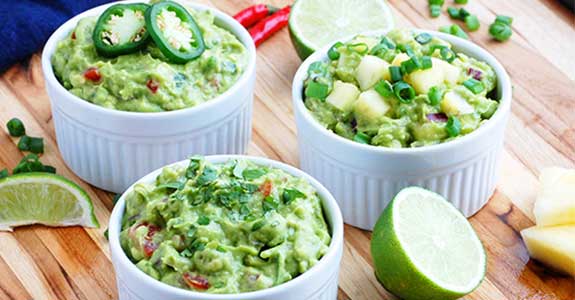 Whether you like original guacamole, spicy, or sweet, we've got you covered. Here's three ways to prepare some kick-butt guac for your next get together, or just for yourself. Try all three and see which one you like best!
---
23. Paleo Sun Dried Tomato Hummus
Missing hummus? Miss it no more! This recipe is for a bean-free hummus made with tahini, sundried tomatoes, garlic cloves, zucchini, lemon juice, coconut flour (this gives it a thickness and a hummus-like texture), and olive oil with seasonings.
---
24. Roasted Garlic and Chia Guacamole
What a perfect idea! This recipe uses chia seeds to make a heartier guacamole with roasted garlic (adding the whole bulb makes the flavor super wonderful), avocado, diced onion, lime juice and zest, and a teaspoon or so of chia seeds for nutrition and texture.
---
25. Sesame Orange Dipping Sauce
This sauce makes an amazing dip, but I wouldn't hesitate to use it as a sauce on chicken either! It's both savory and sweet with orange and optional maple syrup, red chili flakes, tahini, and garlic powder. You'll want to replace the tamari with coconut aminos.
---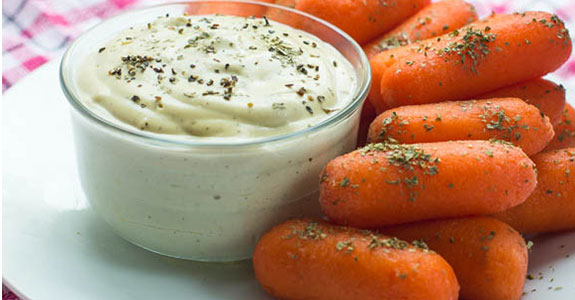 Photo: That Girl Cooks Healthy
Looking for a cheesy dip you can use for raw vegetables or chips? Look no further. This cashew-based dip uses nutritional yeast for a cheesy flavor without even a hint of dairy. Chives, black pepper, and Himalayan pink salt add the finishing touches to the flavors.
---
This dipping sauce is so easy to make with just a few ingredients. The best part? It's egg-free! There's nothing wrong with eggs, of course, but you can feel good knowing that this recipe is healthy for you while also being friendly to your friends on vegan, AIP, or otherwise egg-free diets.
---
28. Cheesy Garlic Pine Nut Dip
I love the subtle and lovely flavor of pine nuts, and I love cheese! But cheese isn't technically Paleo. So we have to find other ways to get that cheesy flavor—like with nutritional yeast! This dip uses nutritional yeast, garlic, and lemon juice to create an amazing flavor.
---
Love ranch dressing? It's especially popular with kids, and if it helps them eat their veggies, why not? Oh right…those nasty ingredients. Well, now you can make your own ranch dressing with homemade mayonnaise, parsley, dill, garlic, lemon juice, and almond milk.
---

Photo: Immaculate Bites
Looking for a cheesy dip you can use for raw vegetables or chips? Look no further. This cashew-based dip uses nutritional yeast for a cheesy flavor without even a hint of dairy. Chives, black pepper, and Himalayan pink salt add the finishing touches to the flavors.
---
Even if you're not a huge fan of the earthy flavor of beets, you should give this beet dip/spread a try. With apples and macadamia nuts, the flavor becomes milder and a bit more complex (not to mention the dip gets a protein boost from nuts!). You can't go wrong with all those nutrients.
---
What do vegans and Paleo eaters have in common? Not a lot. But they do both avoid dairy, which makes this "sour cream" recipe perfect. It's made with creamed cashews, lime juice or lemon juice (to mimic the tartness of cultured dairy), and a hint of salt.
---
33. Spicy Sweet Potato and Pumpkin Dip
This dip is amazing. It goes with anything! You can use either pumpkin or butternut squash (technically what's called for is the squash), and enjoy it either hot or cold with vegetables, Paleo crackers, vegetable chips, or anything your heart desires.
---

Photo: Cook Eat Paleo
34. Grilled Eggplant and Roasted Red Pepper Dip
Roasted red pepper is one of my favorite flavors for dips and sauces, so I'm pretty excited about this recipe. With eggplant, garlic, olive oil, lemon juice, and fresh chopped basil, you know it's going to be super savory and super good. It's super good for your body, too!
---
This dip is especially good with the Hawaiian pizza shrimp on the recipe page, but you can enjoy it any way you want. Sweet potato fries? Sure! Roast veggies? Sure! You'll need tomatoes in puree, sweet onion, garlic, and lots of fresh chopped herbs.
---
This beautiful tahini dip is made with beet puree added to it, which creates a lovely color and a super-nutritional dip or spread for vegetables or Paleo breads. Seasoned just with sea salt, black pepper, paprika, and lemon, it allows the beet and tahini flavors to shine.
---
Do your kids love ketchup? Want them to have a healthier version without corn syrup and preservatives? This ketchup is good enough for everyone to love, and it's made with whole ingredients, too. The secret is the balsamic vinegar, which adds an awesome savory flavor.
---

Photo: The Toasted Pine Nut
This yummy dip is perfect for summer vegetables either grilled or raw (or any way!). It's made from avocados blended with lime juice, sea salt, and pine nuts. The pine nuts add a really unique flavor to this dip, and I love that it has only four ingredients.
---
Use Paleo mayonnaise for this (homemade is best) and you'll be on your way to an amazing homemade curry dip with a cashew base. Cayenne pepper adds a bit of heat, so you can adjust it to your flavor preferences. The coconut milk in this is the perfect complement to the curry flavors.
---
40. Coconut Milk Caramel Sauce
Here's another sweet dip or sauce you can use with fruits. This caramel sauce is made with coconut milk, coconut sugar, vanilla extract, and a bit of coconut oil or butter (I'd make it with butter, but that's because I'm addicted to butter).
---

Photo: Kiip Fit
Cherries are one of my favorite fruits, and this salsa recipe takes advantage of their juicy sweetness and distinct flavors as a balance to hot and spicy jalapenos, red onions, and cilantro. Add oranges, green bell peppers, and lime juice, and you have a rainbow salsa everyone will love.
---
I highly recommend enjoying this mayo with the Paleo avocado fries in the recipe! You'll want to replace the Greek yogurt with coconut yogurt if you don't eat dairy (use the thickest yogurt possible). There's a bonus link to a recipe for homemade sriracha!