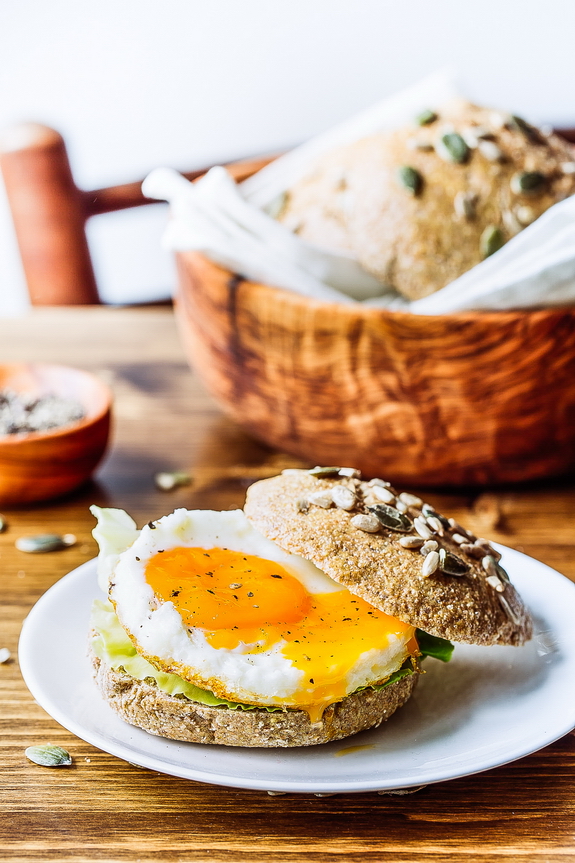 Most standard dinner rolls – and certainly, all restaurant dinner rolls, unless you happen to be one of those lucky people who lives near a Paleo restaurant – are chock full of wheat flour. Don't let the brown ones fool you – they are wheat, too. But my dinner rolls are different. They are Paleo.
What makes these dinner rolls Paleo? Well, instead of wheat four, this recipe calls for all sorts of other flours – almond, arrowroot, and coconut, to be exact. I like a mix of these three flours because then no single flavor standouts and each flour lends a different texture to the final product. You probably know what almond flour and coconut flour are, but if you're new to my blog, you might be wondering about arrowroot flour.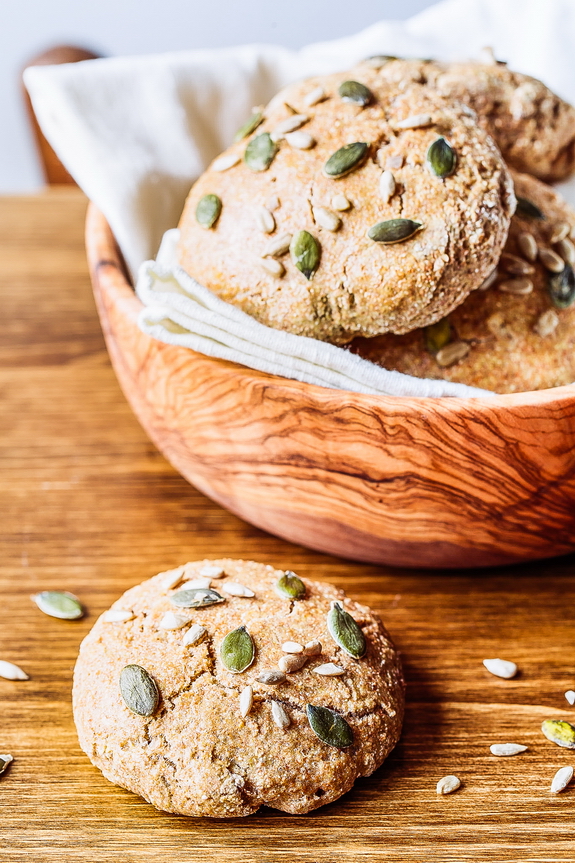 Arrowroot is the dried, powdered, flour-like substance obtained from the root of one of a few different kinds of plants that are common in the tropical areas of the Americas. It's been used for thousands of years as a thickener and a flour and – lucky for us – it's on the list of Paleo foods.
Pretty much everything else in this recipe is standard or self explanatory, but you might be a bit curious about the apple cider vinegar, unless you're familiar with Irish soda bread recipes. If you were a super lucky kid, you may have made a volcano out of baking soda and vinegar at some time in your life. Add a little red food coloring to those ingredients, and you've got lava! It makes a mess, but boy is it cool. But how does that relate to our dinner rolls?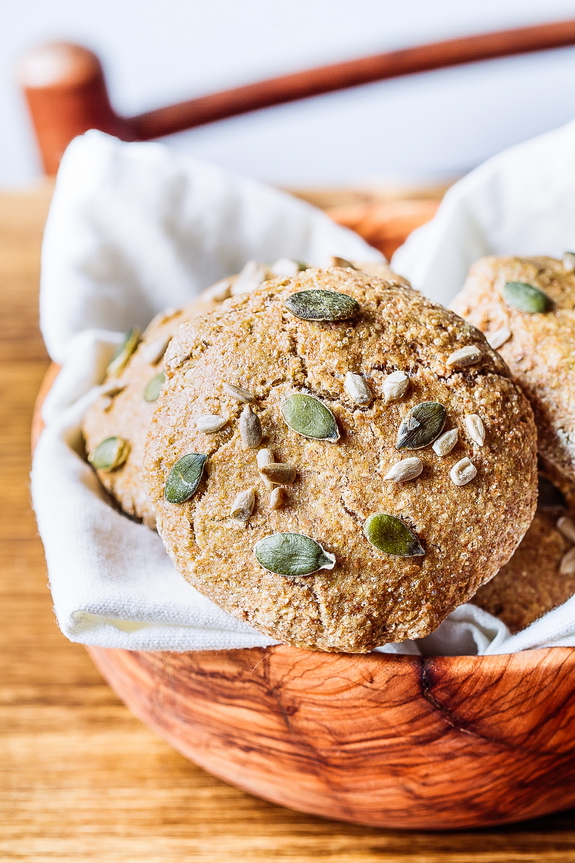 Here's a bit of science for you: when you combine baking soda and vinegar, a chemical reaction begins. The two combine and produce CO2 (better known to most of use as carbon dioxide, the stuff we exhale) and water. That's what makes your volcano erupt – it's like a shaken bottle of soda opening up. But when you bake with this combo, the CO2 gets trapped inside the dough and creates little air pockets. The result is that you get a light and fluffy bread – instead of something dense and rock hard. And you'll notice that this bread recipe doesn't have yeast in it – that's because yeast basically does the same thing and soda and vinegar – adds air and lightness – so we don't need it here.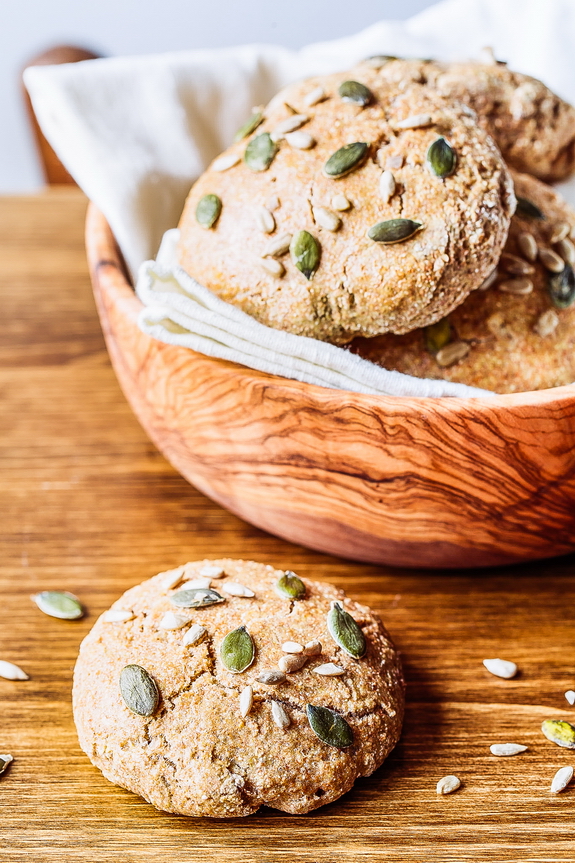 Now I'm sure I don't have to help you think of ways to devour your dinner rolls. But I'm going to anyway! I love them with a big bowl of meaty stew or maybe a hearty soup. But it's still summer (if barely) so it's too hot for stew and soup… but it's perfect grilling weather still! So light up the grill and make some of my Classic California Burgers. Enjoy your burger, complete with these Paleo dinner rolls as buns and add some Paleo cheese while you're at it.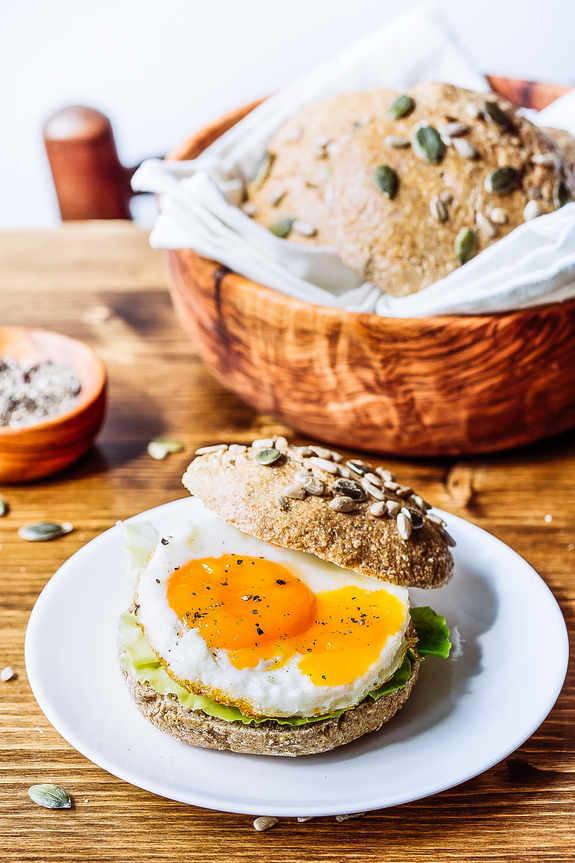 A "diet" where you can eat dinner rolls and burgers on buns with cheese? Um, yeah. That's why I eat Paleo.
(Make this next: Paleo Cinnamon Rolls)
---
¾ cup almond flour
½ cup arrowroot flour
3 tbsp coconut flour
3 eggs
1 tsp baking soda
¼ tsp salt
1 tbsp apple cider vinegar
1 tbsp coconut oil

For decoration

1 egg, beaten
1 tbsp pumpkin seeds
1 tbsp sunflower seeds
Preheat oven to 350 F.
In a bowl place the almond flour, arrowroot flour, coconut flour, salt and baking soda.
Mix to combine.
Add 3 eggs, apple cider vinegar and coconut oil and mix until soft, sticky dough is formed. (If needed, add 1-2 tbsp of water)
Line a baking sheet with parchment paper.
Divide the dough into 6 balls and place on the prepared baking sheet.
Flatten slightly to about ½-inch thick, brush with beaten egg and sprinkle with pumpkin and sunflower seeds.
Bake for 13 minutes in the middle of the oven.
Cool slightly and serve.