Bread
11 Fluffy and Chewy Paleo Dinner Rolls
One thing many paleo eaters crave at some point in time is a nice, soft, fluffy, slightly chewy dinner roll. The tricky thing here is texture, which means there's a blurry line between biscuits and rolls. But all of these paleo roll recipes are delicious, and you're sure to find one that works for your needs!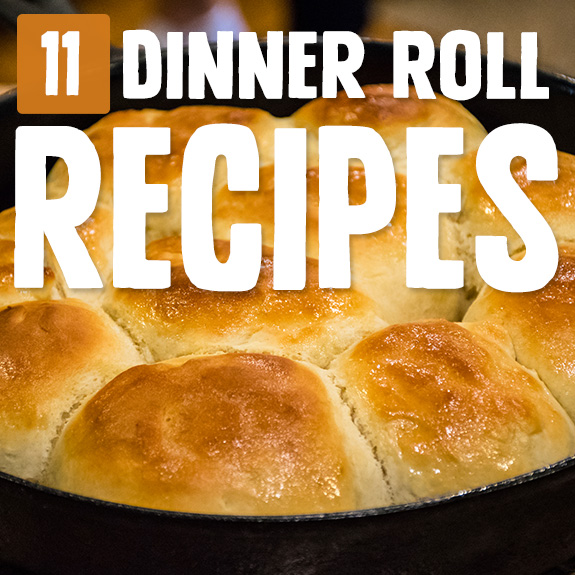 ---
1. Easy Paleo Biscuit Rolls
These soft and delicious dinner rolls are made from coconut flour, coconut oil or lard, eggs, cashew or coconut milk, and a bit of sea salt. They have a simple flavor that's great for sopping up soups or stews, or just having with a slick of grass-fed butter or ghee and a smear of chia jam.

---

Photo: Paleo Spirit
2. Nut-Free Paleo Dinner Rolls
Made with just tapioca flour, coconut flour, sea salt, olive oil, and egg, these rolls are perfect for those who can't eat nuts or yeast as well as grains. They have a soft, delicious texture with a flavor that resembles "real" bread! These are super yummy.
---
3. Nut-Free, Yeast Free Dinner Rolls
If you're serving guests with complicated dietary needs, or you've got those in your family, this is the perfect dinner roll recipe for you. Made with maple syrup, cassava flour, arrowroot, psyllium seed, apple cider vinegar and other simple ingredients, they're delicious and allergen-free.

---
4. Paleo Pumpkin Dinner Rolls
With the added nutritional value, moisture, and flavor of pumpkin, these rolls can be made sweet with a touch of cinnamon and raw honey and eaten with butter for breakfast, or they can be left savory without honey and used for autumn stews and soups. Yum!

---
5. Olive Oil Dinner Rolls
This recipe is one of those that I'm most excited to make. Just look at that beautiful texture in the picture where the rolls are broken open! Soft and chewy, for sure, and excellent with some butter getting all melty and delicious. This looks like a perfect breakfast to me as well as a dinner roll!

---

Photo: Holistically Engineered
6. Basil and Garlic Drop Biscuits
In the paleo world, the line between a roll and a biscuit can be a bit fuzzy. The texture expectations of everything change a bit, and you end up with these delicious rolls/biscuits made with garlic and basil, coconut milk, garlic butter, and lemon juice.
---
7. Vegan Paleo Dinner Rolls
Made with chia gel, tapioca flour, coconut flour, and coconut oil, these delicious rolls are suitable for your vegan dinner guests as well as your paleo family. They have a lovely herbal flavor from the dried oregano and garlic, but you could also experiment with other seasonings.

---
8. Paleo Rolls or Buns
This multi-functional recipe can be used as dinner rolls, or sliced open and made into a bun for burgers or sandwiches! The yummy ingredients include tapioca starch, coconut flour, ground chia seeds, arrowroot starch, almond flour, honey, herbs, and others.

---
9. Quick and Easy Paleo Buns
Here's another recipe that makes a fantastic roll you can eat on its own or turn into a bun for hamburgers. You'll need almond flour and arrowroot as the main flours, as well as garlic powder, honey, sesame seeds, and an oil of your choice. I'd go with coconut or melted ghee.

---

Photo: Against All Grain
10. Cashew Sandwich or Dinner Rolls
This is one of the most interesting roll recipes I've shared. Perhaps best suited for sandwiches, it's made from whole raw cashews, arrowroot powder, and coconut flour. Eggs are the main stabilizer her, making this recipe super high in protein.
---
11. Grain Free Garlic Rolls
These garlic rolls are totally packed with flavor from minced garlic to fried basil, oregano, and onion. The base is mainly tapioca flour with coconut flour, giving these rolls a fairly cohesive texture that's also the exact right amount of soft and chewy.