---
As a recipe, deviled eggs are extremely versatile. They can be dressed up or dressed down for all types of occasions. I have made classic deviled eggs with small variations many a time, but this new smoky version blew me away. In case you have not made them before, the classic version of the filling simply mixes egg yolks with mayonnaise, mustard, and salt. Usually chives or a small pinch of paprika are also added on top.
I have used the same method to hard boil eggs without fail every time. I place them in a pan and cover with cold water, then bring the water to a boil. Once boiling, I turn off the heat and let the eggs sit for 12 minutes (covered). Then I transfer them to an ice bath to cool. And that is the only cooking required for this recipe! Also, the eggs can be boiled ahead of time.
A significant amount of Spanish paprika, or pimentón, lends the smoky aspect to this dish. I first came across the idea on The Kitchn and knew I had to give it a try. The smoky deviled eggs in this recipe are suited to my personal spice level but can be easily be made your own. You can add more smokiness or spice to mash up with the yolks depending on your preference. Once the filling is mixed together you can add it back into the halved eggs.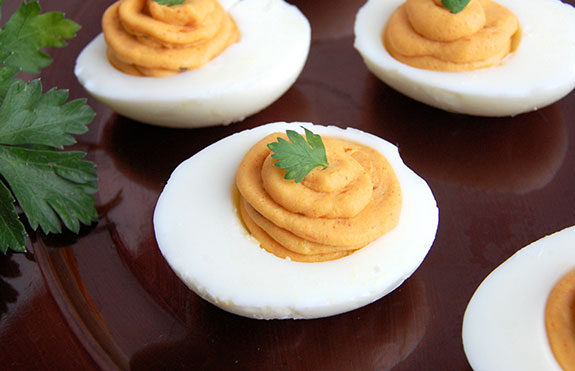 To make the filling a bit more presentable, use a bag to pipe the filling instead of using a spoon. You can just use a plastic bag by squeezing the filling into a corner, and then cutting off the edge of the corner. Fill the eggs and top with a bit of cilantro, then chill before serving. Be sure to grab one for yourself because these will be gone in a flash.
You can find recipes for Paleo may here
---
6 eggs
1/4 cup Paleo mayonnaise
3 tbsp sun-dried tomatoes, finely chopped
3/4 tsp smoked paprika
1/4 tsp salt
1 tbsp fresh cilantro, chopped
Place the eggs in a saucepan and cover with cold water. Place on the stove and bring to a boil. Once boiling, turn off the heat and cover. Let stand for 12 minutes. Drain and transfer the eggs to an ice bath for a minute to cool. Peel off the shells.
Slice the eggs in half and scoop the yolks into a bowl. Finely mash the yolks. Stir in the mayonnaise, sundried tomatoes, paprika, and salt. Mix well. Pipe into the egg white halves, top with cilantro, and refrigerate until ready to serve.