Recipe Lists
45 Creative Uses for Dates in Paleo Baking and Cooking
Dates are one of my very favorite paleo kitchen staples. They're a whole fruit sweetener that's rich in minerals, and because they're also sticky, you can use them to add a fudgy, chewy texture to any dessert or even bites in a salad. These paleo date recipes range from sweet to savory, and you'll love every single one.
---
1. Chorizo-Stuffed Bacon-Wrapped Dates With Roasted Pepper Sauce
Let's make one thing clear right out of the gate: dates are not only for sweet recipes! This savory dish has a fun sweet twist that tastes practically gourmet, with bacon-wrapped dates, roasted red peppers, garlic, onion, tomato puree, bacon, and chorizo.
---

Photo: Sprinkle of Green
2. Chocolate Orange Bliss Ball Truffles
Orange and chocolate are already a tasty combination, but when you add flavors like cinnamon, sea salt, and caramel-like dates, you get a fabulous truffle recipe that's easy to make and stores well in the fridge, so you can make a bunch and give them as gifts!
---
3. Coconut Almond Date Rolls
These treats remind me a little bit of other rolled recipes like bliss balls and energy bites, but they're definitely a truffle-esque dessert or healthy snack with almonds, shredded coconut, dates, coconut oil, sea salt, vanilla, cinnamon, and nutmeg. I'm loving all the spices in this recipe.
---
4. No Bake Banana Chocolate Chip Cookies
Something about bananas and chocolate just tastes magical. This recipe turns that combo into a chocolate chip cookie recipe that's delicious and healthy with overripe banana, chopped dates, cashew butter, vanilla, coconut flour, and mini dairy-free chocolate chips.
---
5. Chocolate Banana Power Smoothie
This smoothie involves deliciously caramelized bananas, which takes it from tasty to fantastic. You can replace the jaggery sugar with coconut sugar to make everything paleo. You'll also need cocoa powder, dates, almond milk, chocolate chips, and coconut oil.
---

Photo: Healthy Helper
6. 3 Ingredient Vegan Fudgesicle Bites
Made with just cocoa powder, dates, an sweet potatoes, these fudgy frozen bites are the ultimate healthy treat with lots of vitamins and antioxidants, like beta-carotene. And they're perfectly vegan, paleo, gluten free, and suitable for many other special diets.
---
7. Chocolate Chip Macadamia Nut Cookie Dough Bites
I don't know about you, but even after adopting a healthier eating style, I still love to eat cookie dough. So it's great to have this healthy cookie dough bite recipe that tastes amazing but is good for you! With dates, honey, and chocolate, this recipe is definitely a keeper.
---
8. Dark Chocolate Coated Double Stuffed Dates
Okay, forget anything I've ever said about other treats: THESE are the best bite-size desserts you can make with so few ingredients. All you need is Medjool dates, raw almonds, salted caramel cashew butter (recipe linked), and good quality dark chocolate.
---
9. Vegan Hot Chocolate
Using dates to sweeten your hot chocolate not only adds a slightly thick richness to the drink, but it gives it a caramelized kind of flavor that's so decadent. This hot chocolate is dairy free with almond milk, raw cacao powder, dates, maple syrup, vanilla, and cinnamon.
---

Photo: HappyGut
10. Coconut Rolled Date Balls
We seem to be on a simple-recipe roll right now, so let's keep it going with this simple 3-ingredient date ball recipe made from dates, walnuts, and unsweetened shredded coconut. The walnuts make a rich, protein-heavy base, with the shredded coconut is a light and tropical-flavored coating.
---
11. Hazelnut Nougat Bars
These bars are like a healthier version of all those delicious candy bars you used to enjoy with soft, chewy nougat fillings. Make them with raw cashews, medjool dates, vanilla powder, coconut cream, coconut butter, raw hazelnuts, dark chocolate, and coconut oil.
---
12. Chocolate Coconut Pudding
Pudding is one of the easiest desserts to make paloe-style, and you have so many choices of ingredients. One of my favorite pudding recipes is this one, with full-fate coconut milk, raw cacao powder, medjool dates, chia seeds, and toppings like ground coffee and cacao nibs.
---
13. Za'atar Roasted Cauliflower With Dates, Pine Nuts, and Thyme
The fresh herbs and spices in this simple dish really add the wow factor with so many delicious flavors. Of course, my favorite part is the addition of diced dates, which add a chewy, sweet component to the spices and caramelized cauliflower.
---

Photo: InHappenstance
14. Super Energy Bites
There are energy bites, and then there are energy bites…am I right? This recipe is sure to help you replenish your energy stores after a workout with key ingredients like dates, almonds, pistachios, cashew, cocoa powder, vanilla bean paste, and desiccated coconut.
---
15. Apple Date Pistachios Stuffed Lamb Roast
The stuffing for this lamb roast consists of ghee, pitted dates, raw pistachios, chopped fresh rosemary, salt, pepper, and apples. If that doesn't sound heavenly, I don't know what does! This perfectly roasted lamb is the perfect vehicle for all that goodness.
---
16. Chocolate Trail Mix Power Balls
These balls would be perfect for throwing in your hiking bag for a day on the trail. They're full of energizing ingredients to sustain you, like pumpkin seeds, sesame seeds, sunflower seeds, hazelnuts, dates, cocoa powder, almond butter, cinnamon, and more.
---
17. Hot Chocolate Smoothie Bowl
Smoothie bowls are my go-to right now, because it over 100 degrees as I'm writing this and I can't bear to eat anything warm. This smoothie bowl was my dessert last night, with almond milk, almond butter, dates, maca, banana, walnuts, gelatin, and lots of other superfood additions.
---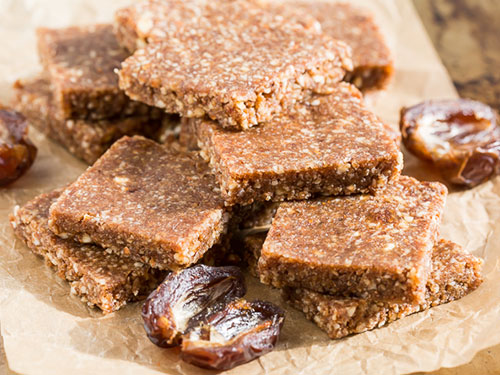 Photo: Get Inspired Everyday
18. Snickerdoodle Energy Bars
The first time I made snickerdoodles was in a 7th grade cooking class, and my cooking skills (and dietary recommendations) have come along way since then. But these energy bars hardly involve real skills, because they're easy and delicious with dates, nuts, cinnamon, vanilla, maple, and more.
---
19. Healthy 5 Ingredient Snickers Truffles
Love Snickers bars? Of course you do. But you haven't had one in awhile, so you need to check out this paleo version with soft dates, coconut butter, sea salt, roasted and salted cashews, and dark chocolate—use the highest percentage of cacao you can find (80% works well).
---
20. Fig and Date Breakfast Parfait
Pump up your usual breakfast with this gourmet parfait using yogurt of choice (coconut would be great), vanilla, monk fruit sweetener (could also use coconut sugar), date paste, dried figs, fresh raspberries, and chopped almonds. Drizzle some honey on top and call it perfect.
---
21. Vegan Chocolate Tarts With Pistachios
These raw tarts have a chewy chocolate crust made from dates, pistachios, and cocoa powder, and a creamy and gorgeously green filling of homemade pistachio cream. The cream is made with vanilla almond milk, soaked pistachios, sea salt, vanilla, and honey.
---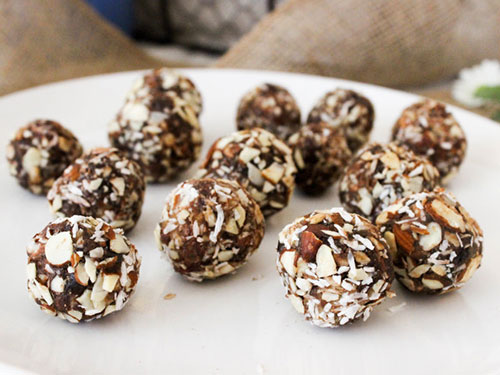 Photo: Good Habits and Guilty Pleasures
22. 5 Ingredient Coconut Almond Date Balls
Here's another round recipe for some spherical treats. These coconut almond date balls need only dates, shredded coconut, crushed almonds, cocoa powder, and either more almonds or chocolate (which one do you think I'd pick?). Seriously, these guys are so good.
---
23. Chocolate Snowball Cookies
These may look like an energy ball recipe, but they're actually baked snowball cookies made with cashew pulp, medjool dates, cocoa powder, shredded coconut, vanilla, cinnamon, nutmeg, cardamom, and a pinch of salt. Perfect for the holidays with those warming spices!
---
24. Chocolate Covered Brazilian Dates
These dates are stuffed with Brazil nuts, covered in chocolate, and dipped or sprinkled with hemp seeds for a crunchy, protein-rich coating that also acts as decoration. They're a fun twist on the usual almond stuffed dates, and they're extra pretty!
---
25. Dairy Free Coffee Creamer
You know those store-bought mixed coffee creamers with the flavorings and all the food additives? Yeah, let's get rid of those. Make this homemade coffee creamer instead, with creamed cashews, dates, vanilla, and cinnamon. Simple ingredients for a perfect cup of coffee.
---

Photo: Wholesomelicious
26. Dark Chocolate Covered Almonds Stuffed Dates
With roasted, salted almonds, dark chocolate, coconut oil, and optional toppings like sea salt, coconut flakes, chia seeds, and chopped nuts, these chocolate-covered dates are a simple but tasty treat. I've made them for parties before and they go fast, so bring double!
---
27. Pumpkin Stuffed Bacon Wrapped Dates
I can't get over the unique combination of flavors in this recipe, with seasoned pumpkin puree including pumpkin pie spice, optional coconut sugar, and sea salt. Stuff those dates with your pumpkin filling, wrap them in applewood smoked bacon, and you'll think you've died and gone to paleo heaven.
---
28. Mini Pumpkin Pies
Speaking of pumpkin, you can use dates to make the crust for these cute little mini pumpkin pies with vanilla, almond milk, maple syrup, pumpkin pie spice, and more. These would be great for portion control at holiday gatherings, or just whenever you need a treat!
---
29. Guilt Free Pecan Pie Cookies
Pecan pie is a major feature at holiday gatherings in my family, but I can't bring myself to touch the sickly-sweet slices with fake pie filling and high fructose corn syrup. I'd much rather have these sweet and simple pecan pie cookies with a date and nut maple filling and an almond flour shortbread base.
---

Photo: Skinny Fitalicious
30. Grain Free Chocolate Walnut Truffles
Because dates are naturally both sweet and sticky, they are perfect for homemade truffles as both a binder and a main ingredient. I love them in this chocolate mint truffle with walnuts, almonds, soaked dates, cocoa powder, maple syrup, and peppermint extract (or any other flavor extract you like!).
---
31. Cinnamon Apple Streusel Muffins
What is a muffin without a streusel topping? It's not even a real muffin, if you ask me. I really love these apple streusel muffins with cinnamon, applesauce, date paste, and ghee. The muffin base is made with almond flour, tapioca flour, and coconut flours, which you likely already have in your paleo pantry.
---
32. Kale Salad With Spiced Maple Cashews and Dates
This salad amazingly tasty with kale, dried dates, roasted cashews, maple syrup, garam masala, cayenne pepper, lemon juice, pomegranate molasses, extra virgin olive oil, and sea salt. Replace the agave nectar with honey so it's completely paleo, and enjoy the tasty pomegranate molasses dressing.
---
33. Paleo Green Pumpkin Pie Smoothie
Pumpkin pie doesn't always have to be orange! This green smoothie with pumpkin and warming spices like cinnamon and ginger is sweetened with delicious dates and boosted with raw cashews, full fate coconut milk, spinach, and grass-fed gelatin.
---

Photo: Well and Full
34. Raw Chocolate and Walnut Fudge Brownies
These brownies are a riff on a common paleo and raw recipe involving walnuts, medjool dates, raw cacao powder, and shredded coconut. They're super simple to make and require no baking, but you almost wouldn't know they're raw with their delicious fudgy texture.
---
35. Dairy Free No Churn Pumpkin Spice Ice Cream
This pumpkin pie in ice cream form is easy and fabulously creamy with any dairy. You'll need coconut cream or coconut milk, pitted dates (medjool is my favorite variety for the caramel flavor), pumpkin puree, pumpkin pie spice, vanilla extract and salt. Best part? You don't need an ice cream maker!
---
36. Nut Butter Pumpkin Truffles
These truffles taste like peanut butter, but they're actually made with paleo-friendly sunflower seed butter, pumpkin puree, medjool dates, melted coconut oil, cinnamon, sea salt, pumpkin pie spice, and melted chocolate chips for a chocolaty coating.
---
37. Raw Chocolate Covered Licorice
What a unique candy recipe! If you're a licorice lover but you haven't had it in awhile for lack of a paleo version, you'll love this recipe. The dates are flavored with anise extract and rolled into chewy sticks you can enjoy plain or coat with chocolate for an extra tasty treat.
---

Photo: Perchance to Cook
38. Sweet Summer Salad Bowls With Lemon-Honey Chicken
If you can't get enough fresh summer salad in your life, try this one with an amazing lemon honey chicken and a dressing to match, along with add-ins like shredded carrots, sliced almonds, dates, jicama, and white peaches. It's fresh and sweet, but super healthy, too.
---
39. Homemade Two Ingredient Date Syrup
Date syrup is a useful ingredient in lots of recipes, because it's a versatile sweetener with a sticky, great-for-binding texture and a flavor that's somewhere between brown sugar and caramel. This easy date syrup recipe requires only dates, hot water, and cinnamon.
---
40. Toasted Almond and Date Larabars
Larabars are a popular real food snack, but they can be expensive if you buy them often. Good thing they're made with just dates, nuts, and other fruits! You can easily make homemade Larabars using this recipe with just almonds, dates, and a sturdy food processor.
---
41. Strawberry Banana Smoothie
Dates are the perfect sweetener for this light and refreshing strawberry banana smoothie with almond milk, orange juice, strawberries, dates, cinnamon, vanilla, and frozen banana. You may not need all 3 dates, so being with one or two and give it a taste test for sweetness.
---

Photo: Mangia
42. Paleo Coconut Cream Pies
These coconut cream pies remind me a little bit of Whoopie Pies, at reat of my childhood. Of course, these version isn't stuffed with refined sugar and grains, but instead is made with cashew butter, ground flax, medjool dates, cinnamon, vanilla, and a tasty filling.
---
43. Triple Chocolate Raw Cheesecake With Caramel Crust
Personally, I love paleo cheesecakes even more than traditional cream cheese versions. Those creamed cashews, coconut milk, and raw chocolate? To die for. This one is frozen on top of a date and walnut chocolate crust with some coconut sugar for extra crunch.
---
44. No Churn Tahini Cardamom Ice Cream
This dairy free ice cream is super creamy with full fat coconut milk, date paste, tahini, and cardamom. It has a really simple ingredient profile because the coconut milk and tahini do some much for texture, making a perfect ice cream that can be made without an ice cream maker.
---
45. Coconut Mint Iced Mocha
Flavors of peppermint, chocolate, vanilla, and coffee blend in this refreshing iced drink to keep you cool on a hot afternoon and satisfy your sweet cravings at the same time. It's sweetened with dates, and you can adjust the number of dates depending on how sweet you want it.