One of the ingredients in this recipe is curry powder. That's actually kind of a trick ingredient. Yes, you can go to the store and get something that has the words "curry powder" written on it (remember to check your labels for non-Paleo friendly preservatives and stuff!). And it's fine if you'd like to use that. But, the word "curry" actually refers to a mix of spices – and that mix can be different, depending on your likes and dislikes.
I would really encourage you to try your hand at making your own curry powder mix. There are plenty of recipes on the internet, with subtle (and some not so subtle) variations. Like it spicier? Go for something with red pepper! Like it sweeter? Look for recipes with cinnamon. Other common ingredients are cumin (ground or seeds), ginger, and turmeric.
If it's your first time making your own curry powder mix, go with one that's middle of the road and looks popular. Next time, try another, or tweak the first one you made. Once you settle on "your" curry recipe, make a larger batch of it and store it in an airtight container. Then, you have a pre-made mix of your own, ready to go. And sure, it's great on chicken, like in this recipe, but it's great with a lot of other things too. Add a dash to a soup that needs a little pep or sprinkle over a bland salad to make it out of this world. Curries are all about flavor!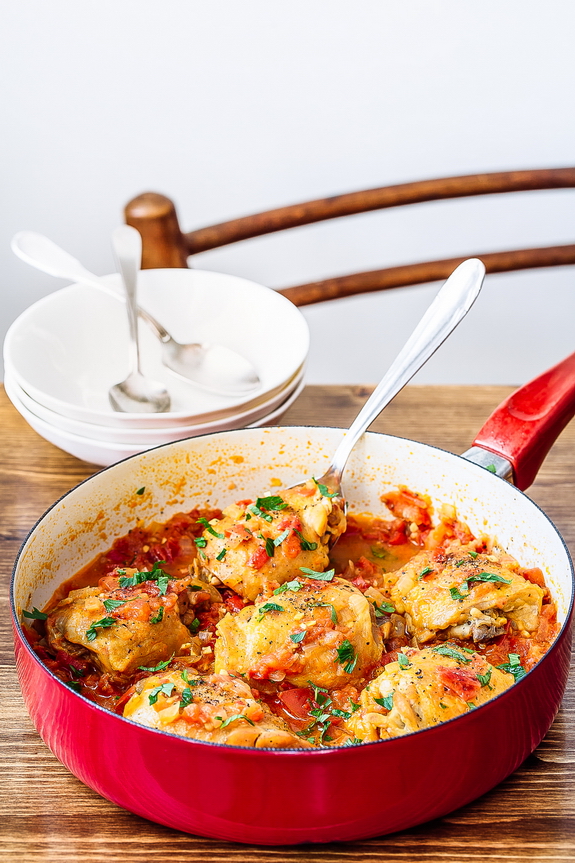 You'll notice I use chicken thighs and not breasts in this recipe. Chicken breasts seem like everyone's go-to chicken part so maybe this is strange to you, but let me explain: the thighs taste SO much better! The reason they taste better? They're higher in fat, and fat not only keeps the chicken moist (I really hate dried out chicken breasts) and fat is what carries flavor the best.
If you're new to Paleo, don't worry about the fat. When you're eating Paleo, that doesn't matter, as long as you're following the other Paleo guidelines. Isn't that exciting? More savory, delicious, moist, and satisfying food. Does anyone wonder why I love Paleo?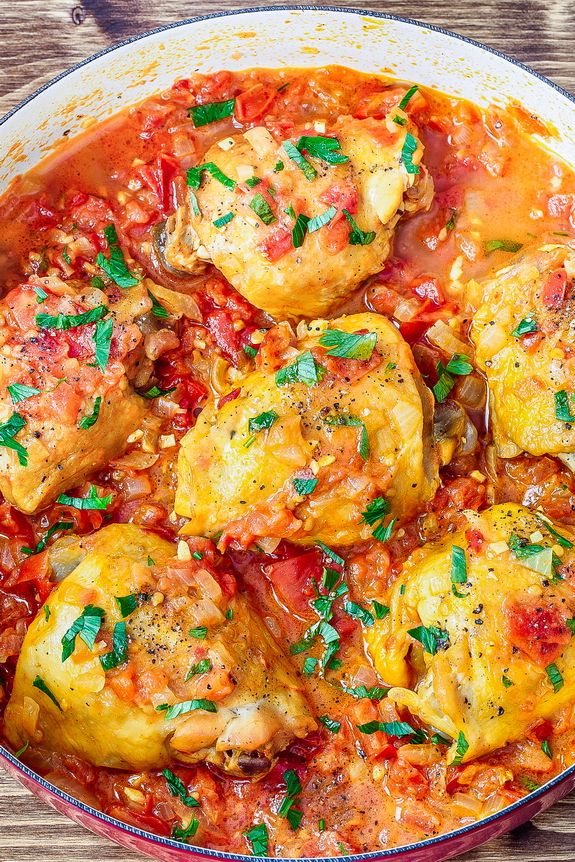 Often times, curries are served with a heaping bowl of rice, or maybe some naan bread on the side. But since this is a Paleo recipe, I have to alternatives for you. Instead of rice, you could try cauliflower rice. It will give you the chewy rice texture and with all that curry flavor, you'll never know the difference by taste. Or, you can try your hand at making my Paleo naan bread. See? There's a Paleo solution to every dining desire.
So pull out a heavy cooking dish, sear those chicken thighs on both sides until they are a little bit brown (hint: don't keep checking them or they won't brown!). This will render out some of the fat and add flavor to your dish in general.
Then once you get all your ingredients, including the chicken, back in the dish, drop on the cover, turn down the heat, and do something relaxing. Read a book. Meditate (if you can manage to concentrate as your house fills with the fragrance of curry…). Re-organize your spice drawer (yes, I find this relaxing).
And in a little less than an hour, you will have a hearty Paleo curry chicken dish, ready to enjoy.
(Make this next: Chicken Panang Curry with Cauliflower Rice)
---
1 ½ pound chicken thighs
2 ½ tbsp coconut oil
2 tsp curry powder
3 medium tomatoes, diced
1 medium onion, chopped
2 garlic cloves, minced
1 green chili, deseeded and chopped
2 tbsp chopped fresh cilantro or parsley
3 cups water
salt, black pepper to taste
Sprinkle chicken with salt and black pepper.
In a large skillet heat 1 ½ tbsp coconut oil over medium heat.
Add the chicken thighs and cook 3 minutes per side.
Remove the chicken from pan. Wipe the pan.
Add 1 tbsp coconut oil and heat over medium heat.
Add the onion and cook for 5 minutes.
Add the garlic and curry powder and cook for 1 minute, scraping the bottom (be careful not to burn the garlic).
Add the tomatoes, chili pepper and water.
Bring to a boil.
Return the chicken to the pan and reduce the heat to a simmer.
Cover with a lid and cook for 45 to 60 minutes.
Season to taste with salt and black pepper, sprinkle with cilantro and serve.
More Good Chicken Curry Recipes
Chicken Coconut Curry with Noodles
Coconut milk transforms this chicken coconut curry dish into a creamy curry with spaghetti squash noodles. Shredded chicken and kale are added to the curry to add bulk to the recipe and turn it into a dinner-worthy meal. This recipe produces a large amount of food, but the curry also tastes great as leftovers for the week.
Ingredients
1 medium spaghetti squash, halved and seeded
Extra virgin olive oil, for drizzling
1 lb. cooked chicken breasts, shredded
1 small bunch of kale, de-stemmed and chopped
1 small onion, thinly sliced
2 tsp marjoram
2 tsp garlic powder
1 tsp dried thyme
1 14-oz. can coconut milk
1/2 cup chicken broth
Salt and freshly ground pepper, to taste
1 tsp coconut oil, for the pan
Instructions
1. Preheat the oven to 400 degrees F. Place the squash in the microwave for 3-4 minutes to soften. Using a sharp knife, cut the squash in half lengthwise. Scoop out the seeds and discard. Place the halves, with the cut side up, on a rimmed baking sheet. Drizzle with olive oil and sprinkle with salt and pepper. Roast in the oven for 45-50 minutes, until you can poke the squash easily with a fork. Let it cool until you can handle it safely. Then scrape the insides with a fork to shred the squash into strands.
2. Meanwhile, melt the coconut oil in a large skillet over medium heat. Add the onion and sauté for 3-4 minutes. Stir in the shredded chicken. Next add the kale and cook for 4-5 minutes to wilt. Add the marjoram, thyme, garlic powder, and one teaspoon of salt and stir. Pour in the chicken broth and coconut milk and simmer for 5 minutes.
3. Add the spaghetti squash into the skillet and stir well to combine. Serve hot.