Dinner
23 Easy Paleo Crock Pot Recipes
There's something about a Crock Pot that is very reminiscent of the caveman days when they likely cooked their meals in a pot over an open fire. Cooking meat in a slow cooker is a great way to go because it comes out fall-off-the-bone tender and delicious. These recipes are something special, the best Paleo Crock Pot recipes we could find so that you can go do 21st century things while your prehistoric meal cooks up perfectly.
---

Photo: Stuff I Make My Husband
1. Crock Pot Chicken Musakhan
Here's a Palestinian dish which should introduce some new flavors to your taste buds, and is likely to make your regular line up when you try it. This recipe is not exactly traditional because it's made to be Paleo friendly, but you'll never notice the difference, especially if this is your first time having musakhan. The combination of chicken, saffron, and pine nuts means that you'll be getting lots of different tastes and textures to enjoy. Absent is the bread, since that wouldn't be very Paleo, as well as any other grains or dairy products.
---
2. "Stank-a-Dank" Crock Pot Pork Spare Ribs
Your entire household will know when these ribs are cooking because their aroma seems to permeate everything. But that's OK because they taste as good as they smell, and that will bring everyone rushing to the table. These are Asian-inspired and come out ready to eat right off the bone. Can't get more caveman than eating meat off the bone. They say that these work well when served over a variety of foods including bok choy, or a rice substitute like cauliflower. You simply must serve them with a veggie to account for their meatiness.
3. Crock-Pot Roast
No Crock Pot list would be complete without your traditional roast. The nice thing about a roast is that you cover all of your bases with one meal, and you don't have to make too many adjustments to make it a Paleo approved roast. The meat on this comes out amazing, and in place of the traditional potatoes they've included cauliflower, so you still have the white and orange with cauliflower and carrots, and a big hunk of meat. You'll be full for hours, but not that stuffed, uncomfortable full feeling you get when you eat potatoes with your roast.
4. Crock Pot Puerco Pibil
This is a Mexican dish that is traditionally slow-roasted, making it a perfect candidate for the slow cooker, and it also happens to be very Paleo friendly because it is very meat-centric. They're using pork shoulder here, which is in line with how the dish is made in contemporary times. There isn't much in the way of vegetables with this aside from the can of tomatoes it uses, so you'll probably want to serve it up with some broccoli or a nice spinach or kale salad. Because it takes 8 hours to cook you can either prepare it in the morning and come home to a meal, or let it simmer all night and have it for lunch or dinner the following day.
---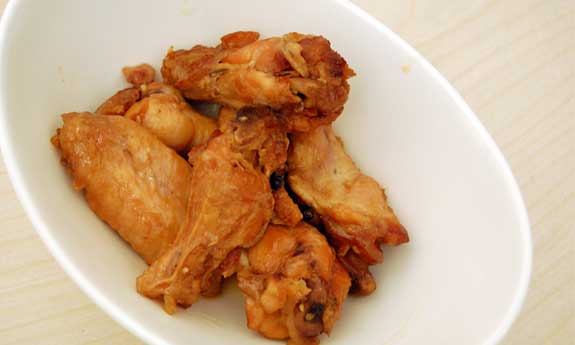 Photo: Off the Grain
5. Honey Garlic Chicken Wings in the Crock Pot
One of the bonuses of going Paleo is that you don't have to give up your chicken wings. However, you might not want to order chicken wings out in restaurants because you won't get to control the type of oil they're cooked in, and it will most likely be an oil that is not OK on Paleo. Here they're using olive oil, but the real draw is that you're using the slow cooker, so you don't have to babysit them while they're cooking. They come out looking like you'd expect, but they will be naked, i.e. without the batter so you don't have to feel like you're breaking any rules.
---
6. 3 Ingredient Hawaiian Pulled Pork
What's more caveman than a recipe with only 3 ingredients. You have to imagine that they just did what they could with what they had at the time. The Paleo way of eating is to keep things simple, turn back the clock several thousands of years and eat what we think they were eating before everything started getting cultivated. Pork, pineapple, ginger, those are the three ingredients in play here. Pineapple of course is being used as the Hawaiian flavoring, and it just so happens that this is a Paleo approved food. Can't go wrong with ginger and pork, as they're both OK for Paleo eaters, and they play nicely together, especially when simmering together for hours.
7. Slow Cooker Balsamic Chicken & Sausage
It's always nice to see a Paleo meal that actually looks like a meal when you're finished. Here they've paired chicken and sausage together, and served it alongside a pile of spaghetti squash, so it is going to look great on your plate. Some Paleo sticklers think that it's not a good idea to combine different meats in one recipe, because early man likely ate just one animal at a time, the catch of the day. But there had to be times when they caught more than one thing at a time, such as a fortuitous hunt where more than one type of animal crossed their path.
8. Crockpot Apple Pork Tenderloin
Pork tenderloin is definitely a Paleo food, and you can enjoy it easily with this recipe that puts the slow cooker through its paces. Apples and pork go together really well because you get the sweetness of the apple infused into the pork. And of course the pork comes out perfectly cooked and ready to melt in your mouth. While early man would have relied on wild boar, you don't have to go to extremes. Buying organic pork is about as close as we can get in our modern times to the kind of purity they had back then.
9. Crock Pot Carnitas
They've created a taste sensation here, and they've done it all with Paleo friendly foods. Pork loin always comes out tasting great from the slow cooker, and the use of oranges and limes means the citric acid is going to help tenderize the pork even more. They even manage to add some healthy fat to this, so it's going to taste even better and give your body what it needs to maintain a lean physique. They provide pretty detailed instructions for how to properly handle the ingredients to make this come out just right.
---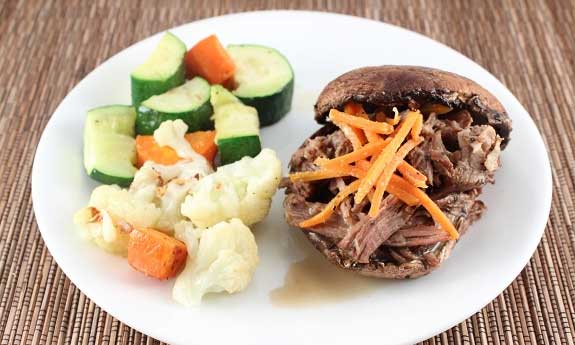 Photo: Living Low Carb
10. Italian Beef "Sandwiches"
If you feel like you've been missing out on sandwiches since giving up the bread, here's one way to get the feeling back. They've sandwiched beef between two big portabella mushroom caps so that you can get the feel of a big sandwich, without the bread. This is a Whole30 recipe, so it's going to be Paleo friendly with some additional specifications. They've served it up with even more vegetables so you're getting a load of nutrition and some meaty protein from the beef.
---
11. Paleo Savory Cinnamon Slow Cooker Chicken
You'll be getting a lot of savory meals when eating Paleo, and this one is focused on delivering a taste sensation to you. This shows you how to make the chicken, but be sure to get at least one side of veggies to help balance it out. They're showing peas and imitation mashed potatoes, which are likely made with cauliflower. There is a bit of debate on peas, with some of the top Paleo gurus saying they're OK sometimes, and other writing it off as a legume.
12. Greek Inspired Stuffed Chicken Breasts
This is a meal that you can serve to your significant other because it looks fancy but still follows the Paleo method of eating. They include feta cheese, but point out that it can easily be axed if you're not into dairy. As a Paleo-er you aren't using dairy product, so simply leave it out. That's one less ingredient to buy and one less step in the directions. The end result still tastes amazing and you end up with a spinach stuffed chicken breast fit for a five star restaurant, but that came out of the slow cooker.
13. Cranapple Crockpot Turkey Breast
When they say turkey breast they really mean turkey breast, like both breasts served in grand fashion, roasted whole and served next to the cranberries and apples it calls for. This is a great roast alternative if you want to switch things up away from chicken and beef. Be sure to cook a side of vegetables to go with this, as it is pretty fruit intensive and devoid of any veggies. Consider making "fauxtatoes" which end up looking like mashed potatoes but are really cauliflower masquerading as potatoes. This will complete the roast picture and go nicely with the sweet and tart flavors present here.
14. Easy Shredded Pork over Caramelized Plantains
Shredded pork just tastes good, especially when you have the perfect accompaniment for it. That's what they've figured out here, so you get a nice helping of tender pork over plantains that have undergone a caramelization process that gets them tasting amazing. They've even managed to make it more nutritious and delicious by adding slices of avocado to the top of it, adding essential healthy fats, potassium, and fiber that your body needs to function properly.
---

Photo: Life as a Plate
15. Paleo Crockpot Jambalaya Soup
On Paleo it's important to treat your taste buds to all of the different flavors out there, and a good Jambalaya will offer up several. Here they're using a nice mix of seasoning and spices, as well as some straight up Cajun spice to get the job done. They even show you how to make your own Cajun spice so you'll always have a supply at the ready. You'll be treated to some heat thanks to the use of hot sauce as well as andouille sausage. When all of these ingredients combine it comes pretty close to a traditional jambalaya, made Paleo style.
---
16. Coffee Braised Chile Beef
This is a recipe that keeps on giving. You can feel free to cook it as instructed with extra to spare if it's just you or just the two of you. That's because you can reheat this and repackage it in a way that makes it seem like a brand new meal. Two ways to present it are as a roast, or as a taco salad. You can be creative and come up with your own ideas, but there will be one constant: it's going to taste great thanks to the use of cocoa powder and coffee. These are two ingredients you don't see too often, but they work perfectly in a slow cooker recipe you'll definitely add to your collection.
17. Easiest Ever Lamb Roast
If you're new to Paleo and haven't incorporated more lamb into your diet, it can be a little off-putting at first. This is a great recipe to get you acclimated to it, because lamb features as one of the meats you can eat while doing Paleo. For many Americans lamb is only a once in awhile meat, and many other diet programs write it off because it's a fattier meat than lean beef and chicken breast. But on Paleo you're less concerned about the fat in meat, which opens the doors to more meat options. Here they've done a great job of keeping it simple while also making it taste really, really good.
18. Slow Cooker Kimchi Chicken
Kimchi is a staple side item in Korea, and it also finds its way into many main dishes as part of the recipe. Here they've managed to make a slow cooked chicken meal with it, so you're going to get some intense flavor and also some cabbage, because that's what it's calling for, cabbage kimchi. You'll notice that the kimchi only goes in for the last 20 minutes of cooking, and that's good because you'll still be able to eat the cabbage and it won't be just a pile of mush. It will also add a kick to the chicken so be ready.
19. Crock Pot Beef Tongue with Roasted Pepper Sauce
If tongue is something you didn't eat much of before doing Paleo you might have to broaden your horizon a bit. A few meat options that enter into the Paleo diet are organ meats and non-mainstream choices like beef tongue. When properly prepared you won't know that these meats are any different than the ones you're used to, and there's no way that ancient man would have let a nutritious and flavorful part of the animal go to waste. They provide a link where you can get grass-fed beef tongue delivered to your door.
---

Photo: Paleo Pot
20. Paleo Spaghetti and Meatballs
Adapting well-known favorites to the Paleo diet is key if you want to stick with it long term and not feel like you're missing out on the things you enjoy most. Take spaghetti and meatball. Classic meatballs typically involve bread of some sort, either bread crumbs or actual bread. And spaghetti is definitely not Paleo approved. So to work around that you need a recipe that makes meatballs grain free, and spaghetti wheat free. That's what they have here, and most of it is done in the Crock Pot so it's super easy.
---
21. Mirepoix Crock-Pot Chicken
If you want to sound fancy you can cook this up and no one will guess you've gone Paleo. But there had to be some French cavemen back in the day, right? Don't be intimidated, mirepoix is just a fancy way of saying celery, onions, and carrots. Cel-on-car just doesn't have the same ring to it. They've done a good job of keeping this Paleo and using the slow cooker to make it really easy. You'll get your share of vegetables and a big hunk of meat to keep you feeling satisfied for hours afterward, and it only requires a few minutes of prep work.
22. Corned Beef and Cabbage
The nice thing about going Paleo is you don't have to pass on the holiday festivities. This is an Irish-inspired meal that you may enjoy on St. Patty's day or any time of the year when you feel like it. Corned beef may ruffle the feathers of some Paleo purists because of the curing process, knowing full well that Paleolithic man was not curing their meats. But for most Paleo followers the use of meats like this are totally within the boundaries of what's OK and what's not. Of course cabbage is on the list of what's OK, and carrots too, so you can enjoy this, but try to avoid the green beer.
23. Honey Barbecue Pork Spare Ribs
Spare ribs tend to taste good no matter what you do to them, and here they've topped it with a honey barbecue sauce that you might want to make extra of for use on other meals. The way they serve these up with a bunch of asparagus is great, and shows a perfectly plated Paleo meal that will leave you feeling satisfied, and your taste buds saying thank you. The homemade BBQ sauce is free of any high fructose corn syrup, which is prevalent in many store bought bottles.
24. Hungarian Beef Stew
Check out how hearty and delicious this Hungarian beef stew looks. And to think that the Crock Pot helps out so much that you might feel a bit guilty for how much you don't actually have to do. Big cubes of stew meat mean you'll get your fill, and on top of that there's chunks of sweet potato just beckoning to melt in your mouth. When you combine meat and potatoes like this, you'll be satisfied long after the meal, but without the bloat or foggy thinking.
25. Crock Pot Coconut Curry Chicken
Curries make a great option if you're looking to fire up the Crock Pot. It's hard to mess it up when you use the slow cooker, which is nice if you're wanting a dish that you don't have to sit and watch cook. The coconut flavor that permeates the curry is just that extra push that makes this recipe stand out. And since it's a Paleo meal you can serve it up with a side of cauliflower rice and you'll be getting a serving of vegetables along with your creamy curry chicken.
26. Creole Pulled Chicken
Pulled chicken tastes great all by itself, but when you add in creole seasoning you're kicking things up a notch. The trick to a lot of Crock Pot recipes is that you're going to want to brown the meat before putting into the pot. That's because the slow cooker will do just that, cook the food slowly at a lower temperature. But browning the outside of the chicken or beef helps it taste better, and then you let the Crock Pot finish the cooking process nice and slow.
27. Squeaky Clean Beef Bourguignon
Using high quality ingredients is the key, and in this beef bourguignon she's making a tasty dish even tastier. You'll be amazed at how good it feels to eat a meal that only has good-for-you items in it. Part of Paleo is making sure you know what's going into your body, and that means using fresh vegetables and quality meats. Making your own food is also a huge step in the right direction because then you also know what is in it and how it was made.
28. Paleo Pork Chop Suey
This pork chop suey dish isn't made from pork chops, it's a chop suey made from pork stew meat. There are so many flavors here as well as lots of different textures which make it fun to eat. The sauce is what ties it all together, and if you're a chop suey fan you'll appreciate that it tastes just like the real thing while using only Paleo ingredients. Just another example of how you can eat pretty much anything with Paleo once it's made properly.
29. Indian Ground Lamb Curry
Here's an awesome entry-level Indian recipe if you've always wanted to try out Indian cooking but were intimidated by the new spices and seasonings. Sure, there's a pretty long list of ingredients, but she's measured everything out for you and made it easy to get everything ready for the slow cooker. Once it's all in it's just playing the waiting game until it's ready to eat. Just be aware that your whole home will smell delicious several hours before it's time to eat.
30. Salsa Verde Chicken
Salsa verde is a green colored salsa that is made quite different from regular red salsa made from tomatoes. In this chicken dish you're getting the unique flavor of salsa verde with the surprise flavor of pineapples. That's right, they've added in pineapple so it's going to have a tropical feel to it as well. The chicken they're using is chicken breast, so it's nice and lean and after it's been topped with cilantro and lime you just can't help but start eating it.
31. Crock Pot Chicken Soup
Curl up with a bowl of this nourishing chicken soup made in the Crock Pot. The only thing better than a hot bowl of chicken soup on a cold day is a hot bowl of chicken soup on a cold day that's waiting for you when you come in the door. It's comfort food at its finest because there's nothing in this soup that is unhealthy. The same cannot be said for canned or boxed soups found in stores. These are usually high in sodium and preservatives since they have to sit for so long.