---
I was hesitant about eating chili without all the extra fixings, but it turns out the cheese, sour cream, and bread aren't needed for it to be delicious. Instead of using beans, like in a traditional chili, I loaded up this recipe with extra veggies. Bell peppers, celery, and onions are all added for additional flavor. The most time-consuming part of this chili recipe is actually during the prep.
After everything is chopped and diced, the ground beef needs to be browned with the onion and garlic before being added to the crock pot. Some crock pots have a built-in option to brown the meat in the pot, but I just cooked the meat on the stove quickly and then transferred it. And as usual, I used my handy dandy crock pot liners for easy cleanup afterwards. Once everything is in the crock pot you just let the flavors meld for 8 hours.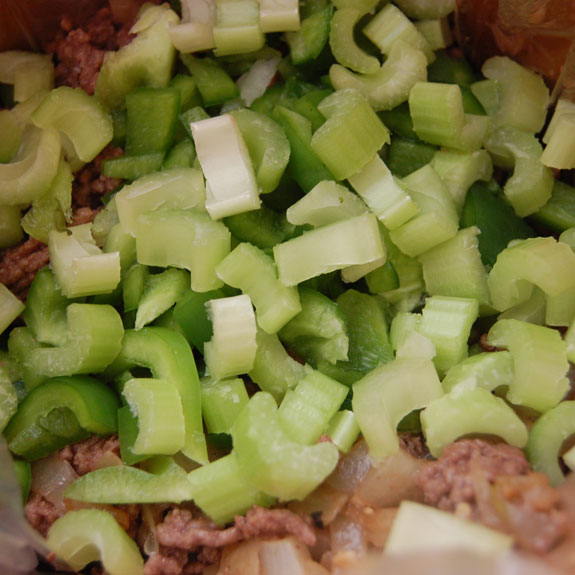 Similar to pulled pork, most people have certain preferences when it comes to what goes into their chili, so feel free to adjust some of the ingredients to your personal tastes. I highly recommend adding a little adobo sauce; it brings a unique depth of flavor to your bowl for a comforting, hearty chili.
---
2 lbs. ground beef
1 medium onion, diced
4 cloves garlic, minced
1 red bell pepper, diced
1 green bell pepper, diced
3 stalks celery, diced
1 tomato, diced
1/4 cup diced green chilies
28 oz. can crushed tomatoes
15 oz. can tomato sauce
2 tbsp chili powder
1 tbsp oregano
1/2 tbsp basil
1/2 tbsp cumin
1/2 tbsp adobo sauce
1 tsp salt
1 tsp pepper
1/2 tsp cayenne
In a large skillet, sauté the onions and garlic over medium heat. Add in the ground beef and cook until browned. Drain the excess fat and then transfer the meat mixture to the crock pot.
Add in the bell peppers, celery, and diced tomato. Top with remaining ingredients and spices and stir everything together. Cook on low for 6-7 hours. Serve warm.