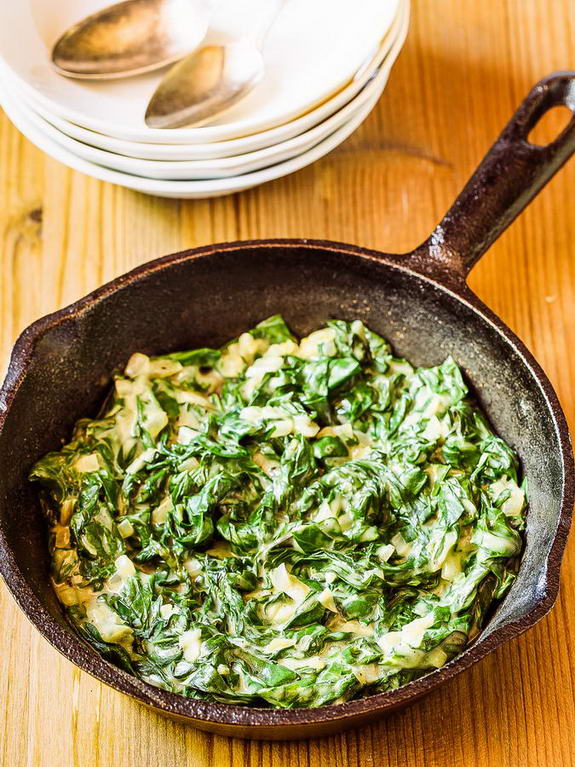 P.S. I use this Paleo-friendly super butter as a replacement for regular, non-Paleo butter. Love it!
I did a short and incredibly unscientific survey of a few friends and family members of how they preferred cooked spinach and the overwhelming response was creamed spinach. My friend Brad said, "it's sad, because you trick yourself into thinking it's healthy, because it's spinach, but the amount of cream and butter in creamed spinach probably outweighs the healthy parts of the spinach itself." By saying this, he basically opened the door and invited me right in to a conversation about the benefits of eating Paleo.
After I explained the basic concepts of Paleo, Brad then gleefully asked, "so I can eat as much fat as I want to?" I explained that fat, in itself, wasn't the target of Paleo recipes, and that instead, dairy was. Before he could ask how it was possible, then, to make creamed spinach, I went right ahead and told him how Paleo is about making a few simple substitutions in most recipes.
In this creamed spinach recipe, we substitute almond milk for cow's milk. Just make sure you're not using flavored almond milk! Unsweetened is the best in general, and I can't imagine that vanilla creamed spinach would be very good anyway.
One of the other substitutions in this recipe is that instead of regular butter, this recipe calls for ghee. Ghee is clarified butter. If your grocery store has an ethnic food area, it will usually be with the Indian food. But if you can't get ghee at the grocery store, you can either make it yourself or buy it online at a place like Thrive Market (https://thrivemarket.com/thrive-market-ghee). It costs a bit more than regular butter, but because it is clarified, you generally don't need as much.
The final and, I think, most important substitution, is that instead of using wheat flour or another commercial thickener, this recipe uses arrowroot flour. Arrowroot is a starchy vegetable that has been common in Central and South American cooking for centuries. It has a ton of uses and it works really well as a thickener for soups, stews, sauces, and spinach. And, it's gluten free, if that matters to you.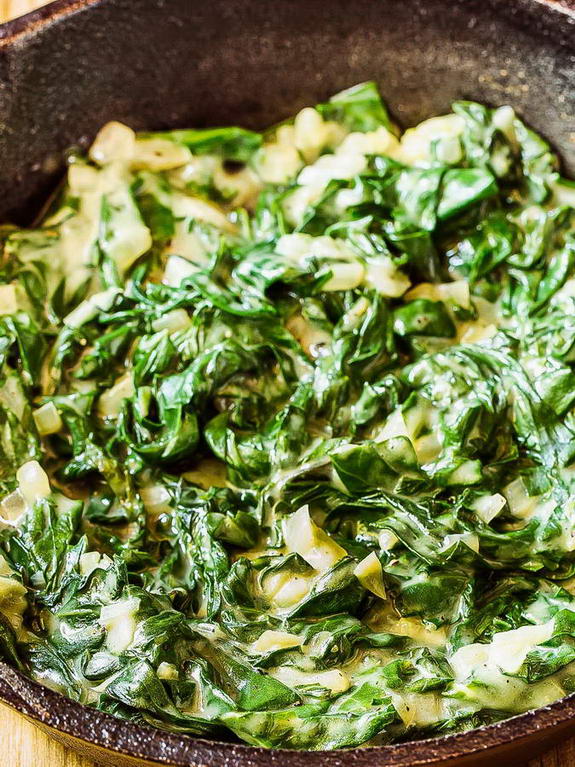 One quick note before I sign off: be careful with the nutmeg. A little goes a long way and remember that you can always add, but you can't take a away. The right amount of nutmeg will enhance the dish and your guests may not even be able to guess what that "extra something" is. But too much nutmeg makes this dish taste like spinach in a Christmas cookie sauce. Ew. So just goes easy at first, and add more, little by little, stirring thoroughly before tasting again, until you get it right.
I like to pair this creamed spinach with roasted chicken or a nice cut of beef, but it goes well with nearly anything. Enjoy this super tasty side and, just like Popeye used to say, you'll be strong to the finish, because you eat your spinach!
(Make this next: Creamy Paleo Parsnip Gratin)
---
1 pound fresh spinach, roughly chopped
1 small onion, finely chopped
2 tbsp Ghee
1 ½ tbsp arrowroot flour
1 ½ cup almond milk
fresh nutmeg, for grating
Heat 1 tbsp of ghee in a skillet over medium heat.
Add onion and cook for 5 minutes.
Add spinach and cook, stirring often, until just beginning to wilt, about 3-5 minutes.
Remove from heat and set aside.
In a small saucepan heat remaining ghee over medium heat.
Stir in arrowroot flour and cook for 1 minute.
Add almond milk, mix to combine and cook, stirring often, about 3-5 minutes or until sauce thicken.
Add pinch of ground nutmeg and mix.
Pour sauce over spinach and stir.
Cook, stirring often, about 2 minutes, then remove from heat.
Season to taste with salt, add more nutmeg if you like and serve.