---
This is not only a very good Paleo dessert; it's a delicious and healthy gluten free dessert for any diet. I really like to make fruit crisps because they are so simple; they are great for people who have just started out cooking. They also taste like a lot of time and effort went into them, whereas in reality all you have to do is pile ingredients in a pie dish and bake it.
The combination of flavors in this recipe turned out very well. Sweet pears go well with cinnamon and just a dash of ginger to add a spicy note. Tart cranberries balance the sweetness. Crunchy walnuts and coconut flakes contribute a top layer of texture for the crisp.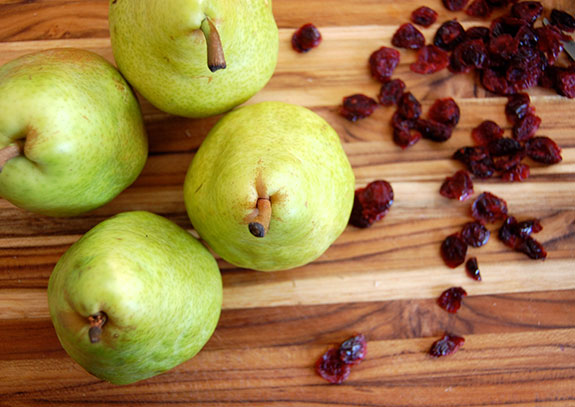 The pears can be as finely or roughly diced as you wish. Some people also prefer to leave the peel on since many of the nutrients are in the peel. That's definitely fine, and makes one less step. I prefer peeled pears because of the final texture; I like the filling to be very soft. Cranberries (dried or fresh) and honey also add balance to the filling, along with a dash of acidity from lemon juice. The walnut topping can also be as coarse or fine as you wish. If you would like something that more closely resembles a pie crust, place the topping ingredients into a food processor and blend until smooth.
The crisp is done baking when the filling is bubbling and the top crust is golden brown. I cannot recommend enough serving the pear crisp freshly out of the oven with a couple scoops of ice cream. It might take an extra step to make some Paleo-friendly ice cream, but the combination is divine. Warm, gooey pear filling, a golden crunchy topping, and cold sweet ice cream is what makes this dish not just a holiday treat but a treat for every day.
---
4 Bartlett pears, peeled and diced
1/2 cup dried unsweetened cranberries
1/4 cup honey
1 tbsp lemon juice
2 tsp cinnamon, divided
1/4 tsp ground ginger
2/3 cup walnuts, finely chopped
1/3 cup unsweetened coconut flakes, chopped
2 tbsp coconut oil, melted
1 tbsp ghee
1/4 tsp salt
Preheat the oven to 350 degrees F. Place the pears and cranberries in a 9-inch pie dish. Drizzle with honey and lemon juice, and sprinkle with one teaspoon of cinnamon and the ginger. Toss to coat.
In a small bowl, stir together the walnuts, coconut flakes, coconut oil, ghee, salt, and remaining teaspoon of cinnamon. Spoon the topping over the pear mixture. Bake for 40-45 minutes, until lightly browned and bubbling. Let rest for 5 minutes before serving.