And the cravings don't go away just because you've decided to dedicate yourself to healthy eating. After drooling over a package of premade dough in the supermarket, I finally decided that enough was enough. It was time to figure out a way to healthify cookie dough.
This simple recipe delivers in all ways. Not only are these cookie dough bites gluten-free and Paleo-friendly, but they're also totally vegan. That's right—no dairy or eggs here!
Why leave out the eggs? Swapping in coconut oil means that this cookie dough is totally safe to eat raw, and it keeps in the fridge for up to 5 days. That means both kids and grown-ups can safely indulge without worrying about salmonella.
Organic coconut oil also adds a hearty dose of healthy fats to these chocolate-covered treats. Plus, using almond flour instead of regular wheat flour packs in tons of protein and fiber. You might feel like you're indulging in a decadent dessert, but the truth is, these bites are nutritious enough to eat as an energizing snack.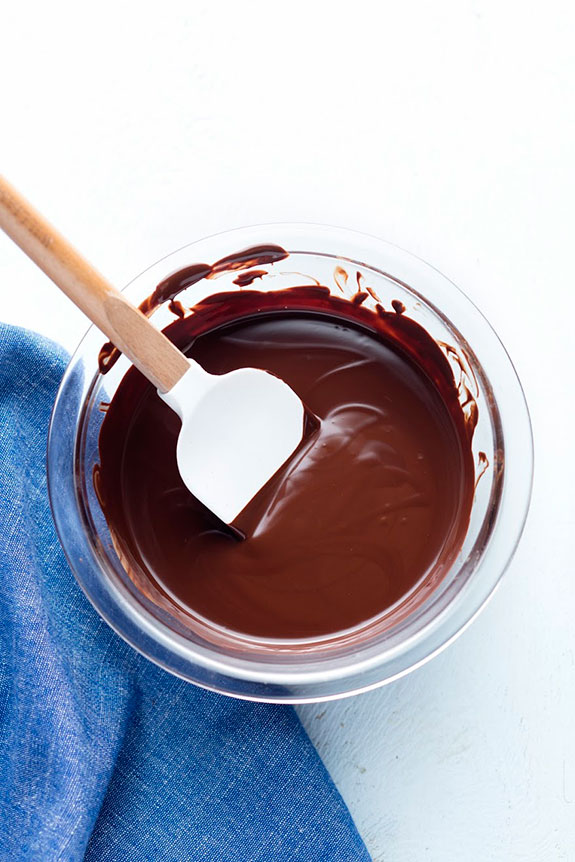 I love making this recipe, too—it's just so much fun! If you have children at home, get them involved. Little ones will love rolling the dough into balls, and older kids can help you melt the dark chocolate to pour over the top. If a few bites disappear before they make it into the fridge, that's okay—hey, that's why we're making this cookie dough in the first place, right?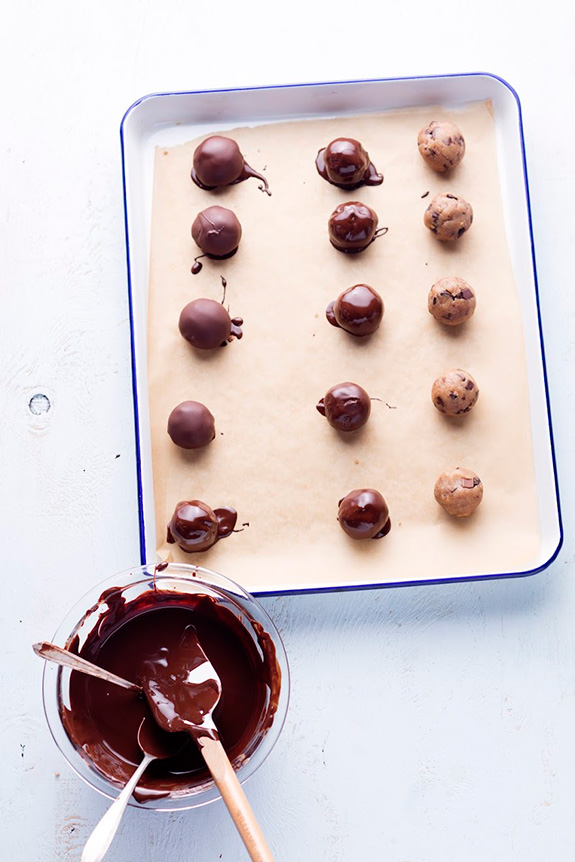 The best part about these cookie dough bites? They're one guilty pleasure that I never feel bad about indulging in. Full of healthy fats and fiber, and free of refined sugars, gluten, and dairy, these treats are truly healthy. So go ahead and enjoy one or two (or four)—there's no reason not to!
Photo Credit: Paul Delmont
---
For the bites
For the topping

12 ounces paleo-friendly dark chocolate
Line a baking sheet with parchment paper and set aside.
In a large bowl, whisk together almond flour and sea salt.
In a small bowl, whisk together coconut oil, maple syrup, and vanilla. Stir wet ingredients into dry ingredients until combined, then stir in chopped chocolate.
Roll batter into 1 1/2-inch balls, place them on lined baking sheet, and set them in fridge for 15 minutes to chill.
Meanwhile, in a medium-sized bowl over a pot of water, melt the chocolate for the topping. Take off heat and let cool slightly.
Remove cookie dough bites from fridge and pour chocolate over each bite to cover. Let cool. Store in fridge.