I am absolutely IN LOVE with cod fish and always looking for good cod recipes. I have tried many over the years and this one is my absolute favorite.
How to Make Cod Piccata
To get started, rinse off the fish and pat it dry with a paper towel. Then dredge it in almond flour to evenly coat the fillet. Almond flour does not stick to fish as well as white flour does, so a few flakes may fall off while cooking. Have everything else prepared before you start cooking the fish, because it comes together very quickly. Make sure the oils, chicken broth, lemon juice and capers are ready to go.
To cook the fish, make sure to use a large skillet with plenty of room, and maintain a steady medium-high heat. This prevents the fish from becoming soggy and helps the crust to properly brown.
Once the fish is nicely browned, remove it to a plate so you can make the sauce. (You could also put the cod in the oven to keep it warm while the sauce is reducing.) Add the chicken broth, lemon, and capers to the same skillet that the fish was cooked in, and use a metal spatula to scrape all the good tasty browned bits off the bottom of the pan. Then let the sauce reduce by about half, and the meal is ready to enjoy.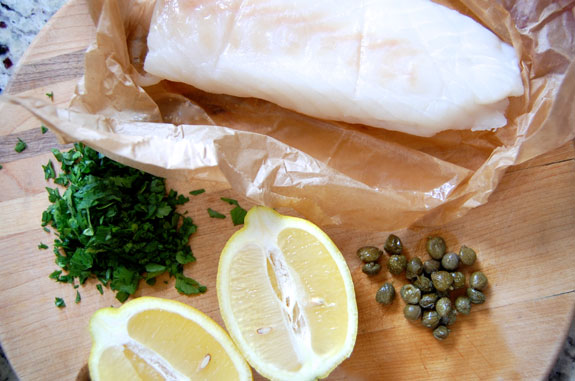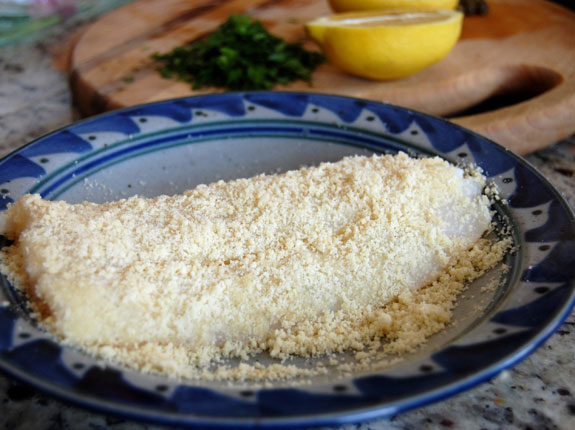 Eating healthy whole foods is easier with straightforward recipes such as this cod piccata. I've made this recipe large enough to feed at least two people, but it is not hard to cut in half for a single serving. Great for a weeknight dinner, you could pair the cod with some fresh spring asparagus to complement the lemon and make it a well-rounded meal.
---
1 lb. cod fillets
1/3 cup almond flour
1/2 tsp salt
2-3 tbsp extra virgin olive oil
2 tbsp grapeseed oil, divided
3/4 cup chicken stock
3 tbsp lemon juice
1/4 cup capers, drained
2 tbsp fresh parsley, chopped
Stir the almond flour and salt together in a shallow bowl. Rinse off the fish and pat dry with a paper towel. Dredge the fish in the almond flour mixture to coat.
Heat enough olive oil to coat the bottom of a large skillet over medium-high heat along with one tablespoon grapeseed oil. Working in batches, add the cod and cook for 2-3 minutes per side to brown. Remove to a plate and set aside.
Add the chicken stock, lemon juice, and capers to the same skillet and scrape any browned bits off the bottom. Simmer to reduce the sauce by almost half. Remove from heat and stir in the remaining tablespoon of grapeseed oil.
To serve, divide the cod onto plates, drizzle with the sauce, and sprinkle with parsley.