Tips
3 Morning Coconut Oil Rituals That Will Change Your Life (No. 3 is IMPORTANT)
Right when you wake up is the perfect time to set yourself up for having a great day, and coconut oil can play a big part in that process. With dozens of uses, coconut oil is the all-natural wonderfood that dovetails nicely with the Paleo diet plan and an all-natural lifestyle.
Coconut oil is one of the recommended oils on Paleo, and is a great alternative to some of the most commonly used unhealthy oils out there. But it goes much further than just being an ingredient in a recipe, it can be used both internally and externally for better health.
Paleo purists may point out that our Paleolithic ancestors wouldn't have had the wherewithal to create coconut oil from coconuts, but as long as you're going with a high quality coconut oil it will be free of impurities and not heavily processed. It's pretty close to something that could have been used many thousands of years ago. The best brands will be organic, unrefined, and cold-pressed, leaving all of the beneficial nutrients intact, and providing you with the best experience.
---
COCONUT OIL RITUAL #1: Take 1 Spoonful of Coconut Oil When You Wake Up to Boost Your Metabolism
Coconut oil contains medium-chain triglycerides (MCTs) that will help you feel more energized, curb your appetite, and get your metabolism revved up for your upcoming day. It's becoming more and more known that coconut oil benefits the body in several different ways and should be considered a health food.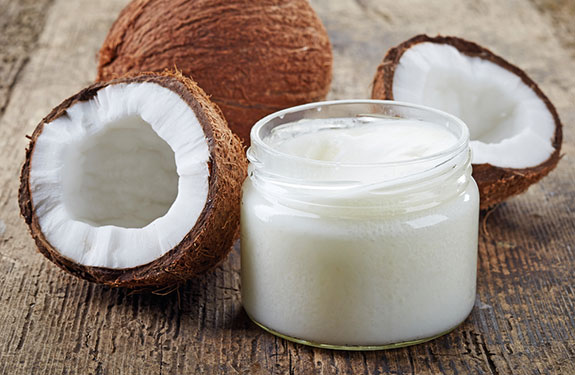 You can also take another spoonful of coconut oil in the late afternoon, right when you start to get hungry for dinner even though it's still hours away. It will help you get through the rest of your workday and will sustain you until it's time for dinner. If you've had sluggish weight loss results while on Paleo, this one step could be the difference maker, and after just 30 days of following this ritual you might notice rather effortless weight loss.
---
COCONUT OIL RITUAL #2: Wash Your Hair and Moisturize with Coconut Oil
Coconut oil makes a great moisturizer for your hair. Not only are you avoiding all of the chemical additives in store bought hair moisturizers, you're using something that's totally natural, and helps protect your hair from drying out. The process is just as easy as using a regular conditioner, and the coconut oil will leave your hair with the soft smell of coconut, without the need of any artificial scents added.
Mixing the coconut oil with water makes it easier to apply to your hair, and you don't need any other ingredients in order to get the job done. Watch as your hair soaks up the oil and has a lustrous, moisturized look. Those with frizzy, dry hair will benefit most from this step, and since it's all-natural you can use it every morning or as needed without worrying about built-up additives and impurities.


---
COCONUT OIL RITUAL #3: Pull with Coconut Oil Immediately When You Wakeup
Oil pulling is an age-old Ayurvedic practice, and coconut oil works great for the process. Right when you wake up, before you brush your teeth even, you simply take a spoonful of coconut oil and begin swishing it back and forth in your mouth, the way you'd use a mouthwash. You don't swallow it and you don't spit it, you just continue to swish it around in your mouth for 5 minutes all the way up to 20 minutes, whatever you have time for.
The antibacterial nature of coconut oil goes to work on killing germs in your mouth, and it gets the name oil pulling because the idea is that it is pulling toxins from your mouth before they get a chance to make their way to the rest of the body. Oil pulling proponents say it gives you more energy, helps fight bad breath, and can even whiten teeth. Coconut oil is such a good detox tool that it's listed in The Coconut Oil Secret as the "ultimate detox".