Featured
20 Creative Paleo Uses for Coconut Milk
Coconut milk is a staple in any paleo kitchen, and for good reason—it's a great way to add healthy fats and creaminess to your dishes without any diary, and the flavor of coconut works really well in lots of dishes, both savory and sweet. Check out these recipes using coconut milk to make ice creams, smoothies, soups, pudding, dips, sauces, and more.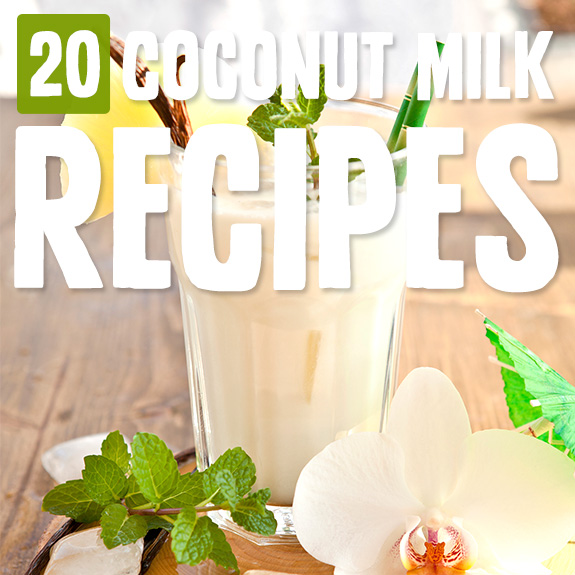 ---
1. Tropical Green Smoothie
Green smoothies are an easy and delicious way to get more greens and vegetables into your diet, especially if you're not a huge salad eater (I'm definitely not). This one has a lovely tropical flavor with spinach or kale, banana, orange, pineapple, avocado, coconut milk, and chia seeds.

---

Photo: Living Well Mom
2. Homemade Egg Nog
Egg Nog doesn't have to be something you feel guilty about drinking during the holidays. Try a real-food, nourishing egg nog made with organic eggs, maple syrup, almond milk, canned coconut milk (makes it super rich and delicious), vanilla extract, and a hint of nutmeg.
---
3. Quick and Easy Condensed Coconut Milk
Condensed milk is great in lots of sweet recipes, but the canned kind from the store is anything but good for your body. It's a good thing, though, that you can make your own with real ingredients! This one is rich and silky with cashews, creamed coconut, Himalayan pink salt, and a sweetener of your choice.

---
4. Coconut Milk Peppermint Hot Chocolate
Missing your winter dreamy hot chocolate? This is an extra simple recipe with full fat canned coconut milk, unprocessed cocoa powder, real maple syrup (Grade B is best), and a touch of peppermint extract. You could also do it amaretto style with almond extract!

---
5. Sesame Salmon Balls With Ginger Tahini Dipping Sauce
Coconut milk is great in dips and sauces because it has a natural thickness to it while staying smooth and pourable. These salmon balls with sesame seeds are the perfect vehicle to get a coconut milk dip with apple cider vinegar, raw honey, garlic, and more.

---

Photo: The Roasted Root
6. Creamy Kabocha Squash Mash
This easy squash mash is a lovely replacement for traditional mashed potatoes, or even sweet potatoes. You'll need a kabocha squash, full-fat coconut milk for lots of creaminess, a little honey, ground cinnamon, and sea salt. Kids love this mash, too!
---
7. Roasted Acorn Squash and Apple Soup
This delicious and velvety soup is swirly with full fat coconut milk, which makes it creamy without any dairy. Garlic, ginger, turmeric, celery, apples, and more help to richen the flavor of this soup while also keeping it appealingly light and refreshing. Delicious!

---
8. Scalloped Sweet Potatoes
Love scalloped potatoes? So does just about everyone. Why wouldn't you, with all that cheese and white potato goodness? This recipe is a healthier take, with sweet potatoes and a rich dairy-free sauce made from coconut and almond milk, garlic, and onion.

---
9. Cauliflower and Coconut Milk Soup
I've shared this beautiful soup before, and I can't help but share it again. The lovely color and richness is complemented by smooth and easy flavors like onion, cauliflower, coconut milk, vegetable stock, and a touch of nutmeg. This is a kid-friendly soup, too.

---

Photo: Wandering Root
10. Pink Himalayan Sea Salt Strawberry Orange Smoothie
Rich with almond butter and coconut milk, the light and refreshing flavors of this banana, strawberry, and orange smoothie shine through. Some flakes of Himalayan sea salt add minerals and nutrients while giving you a lovely flavor you won't be able to quite put your finger on.
---
11. Pumpkin Soup With Coconut Milk and Ginger
If you haven't discovered it yet, coconut milk is a great way to add creaminess and healthy fats to soups that would normally call for heavy cream or dairy milk. The coconut milk in this recipe also helps mellow out the ginger a bit, making it a family-friendly soup.

---
12. Paleo Baked Pears
This dessert is gooey and delicious with ripe pears, honey, cinnamon, nutmeg, coconut milk yogurt, vanilla bean paste, coconut sugar, and chopped nuts. If you don't have coconut milk yogurt, just skim the cream off the top of a coconut milk can.

---
13. Peach Smoothie
Peaches and cream is one of my favorite flavors, and this one is deliciously creamy without any dairy. You'll need coconut milk, banana, cinnamon, vanilla, maple or coconut water, and some optional boosters like hemp seeds or MCT oil to make your smoothie even healthier.

---

Photo: Naked Cuisine
14. Sopa de Pollo
This Latin-style chicken soup is made with cooking fats of your choice, garlic, tomatoes, chipottle powder, paprika, roasted red peppers, squash, sweet potato, lime, coconut milk, and other flavors that are nourishing to the body and oh-so-delicious.
---
15. Pumpkin Spice Chia Seed Pudding
This easy pudding is made with coconut milk and chia seeds as the base, with pumpkin puree, banana, raw honey, stevia, cinnamon, cloves, ginger, and nutmeg. Using a banana adds extra creaminess to this pudding while replacing some of the sweetener, too.

---
16. Blackberry Ice Cream
This berry-flavored ice cream is totally paleo-friendly and super simple with fresh blackberries, full-fat canned coconut milk, maple syrup, lemon juice, gelatin, and sea salt. The gelatin makes this ice cream healthier while also giving it more body and preventing ice crystals.

---
17. Coffee Smoothie
Coffee and coconut are a great flavor combination, and this smoothie gets extra creaminess from almond butter and a frozen banana. Chilled coffee gives it quick a kick, and if you'd like a chocolately mocha version, you can add cocoa powder as well. Yummy!

---

Photo: Bakerita
18. Paleo Caramel Sauce
This beautiful caramel sauce is a healthier alternative (though still a treat) to the corn syrup based ones you can buy at the store. it's made with coconut milk, coconut sugar, vanilla bean (look at those specks!), coconut oil, and a flaky sea salt to bring out the flavors.
---
19. Paleo Cauliflower Rice Pudding
Yes, you can make dessert out of cauliflower! Don't believe me? Try this delicious recipe that's just as sweet and dreamy as typical rice pudding with coconut cream, almond milk, egg, cinnamon, stevia and whatever toppings you want like fresh berries or nuts.
---
20. Vegan Coconut Ice Cream
This paleo and vegan ice cream is made with coconut milk, coconut sugar (use in place of the sugar), sea salt, vanilla, fresh peaches, fresh figs, coconut oil, and toasted pecans. You could use other nuts if you don't have pecans lying around—use what you think is yummiest!