If you're looking for more gluten-free, dairy-free and low carb tortillas to try, also give my Homemade Spinach Tortillas a go.
How to make Coconut Flour Tortillas
The thing that makes these homemade tortillas so good is the fact they're made with completely healthy ingredients. You won't find any inflammation causing refined wheat flour in this recipe! Instead, these low carb tortillas primarily use two distinct paleo friendly baking ingredients–arrowroot flour and coconut flour.
Arrowroot flour is a starchy flour that is terrific for giving your recipes a slightly chewy texture, similar to tapioca. It's an excellent option for anyone who is looking to keep their baked goods gluten and grain free, and it's particularly useful for people following a paleo diet. And while refined wheat flour has been linked to inflammation in the gut (1), arrowroot has been shown to help ease digestion, especially in infants.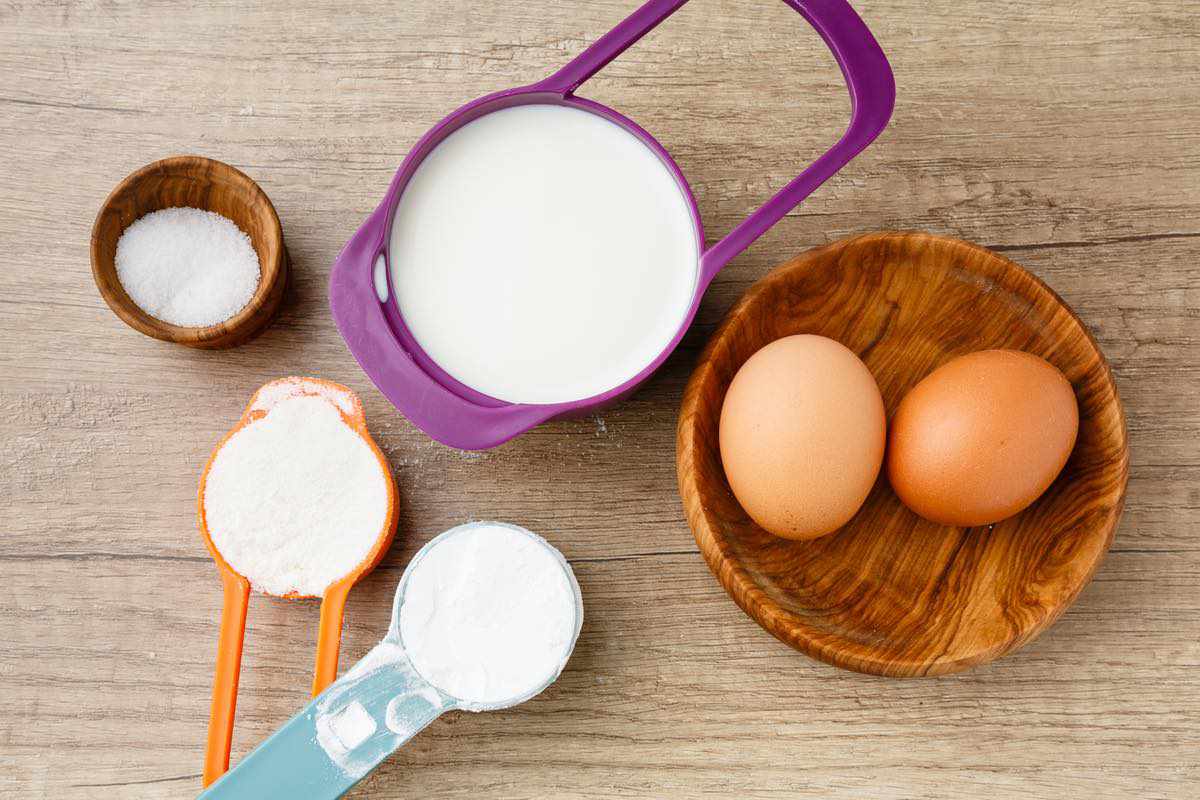 Coconut flour is another great paleo baking ingredient, and it's rather nutrient dense as well. This flour is a good source of dietary fiber, protein, healthy fats, and it adds a delicious coconut flavor to meals that it's made with. Of particular interest is that in spite of the fact that most of the fat content found in coconuts is saturated fat, it's actually been shown to have a cholesterol-lowering effect in certain individuals with moderately high cholesterol levels. (2)
Other than these two baking flours, this recipe calls for a bit of baking powder, salt, eggs, and almond milk to help hold everything together. After mixing all of the ingredients together, you'll need to let the batter sit for 5-10 minutes or so in order to let it thicken. Once that's done, you'll be all set to cook the tortillas in a skillet, and then serve them warm with your preferred filling afterwards.
Don't let the short list of ingredients used to make these tortillas fool you. They are definitely one of the best paleo recipes I've come across in some time. You really don't need to get too fancy to make some truly delicious paleo dinners, and this recipe is definitely proof of that. The next time you're craving some spicy Mexican style cuisine, keep this tortilla recipe in mind.
And speaking of Mexican style cuisine, we've got plenty of great paleo friendly Mexican recipes that you can't miss, like this chicken fajita with paleo tortilla recipe. If you're a fan of spicy soups, then you'll want to try both this spicy beef tortilla soup with avocado as well as this slow cooker taco soup. And last but not least, this spicy Mexican cauliflower rice makes a perfect side dish for all of these meals.
---
¼ cup arrowroot flour
¼ cup coconut flour
¼ tsp baking powder
pinch of salt
2 eggs
1 cup minus 2 tbsp unsweetened almond milk
olive oil for greasing
In a bowl sift together the coconut flour, arrowroot flour, baking powder and salt and set aside.
In another bowl place the eggs and almond milk and whisk to combine.
Add in the coconut mixture and whisk to combine.
Let the batter sit for 5-10 minutes so it can thicken.
Preheat an 8 inch skillet over medium heat.
Lightly grease with olive oil.
Pour 1/3 cup of batter into the pan.
Swirl the pan so the bottom is evenly coated.
Cook for 3-4 minutes or until the top begins to appear dry and the edges start to brown, then flip carefully using a spatula.
Cook for another 1-2 minutes and then transfer to a serving plate.
Repeat the process to use the rest of the batter.
Serve warm with your favorite filling.
More Good Low Carb Tortilla Recipes
Paleo Flaxseed Tortillas
I've been a big fan of Mexican food for as long as I can remember, and eating a stuffed tortilla is definitely my idea of a delicious meal. Today, we're going to make paleo flaxseed tortillas that do not require a tortilla press. All you need is some ground flaxseeds, water, salt and tapioca flour, together with parchment paper and a rolling pin.
Ingredients
1 cup ground flaxseeds (flaxseed meal)
¾ cup water
3 tablespoons tapioca flour + more as needed
1 teaspoon salt
Directions
1. Mix ground flaxseeds with water and let it sit for 15 minutes.
2. Pre-heat oven to 350 deg. Fahrenheit (180 deg. Celsius) and line a baking sheet with parchment paper or a silpat
3. Add tapioca starch and salt to the ground flaxseed-water mixture and mix well to get a dough (the dough should not be too sticky, if too sticky, add an additional teaspoon of tapioca starch at a time until not sticky anymore)
4. Divide dough into six portions and place dough on top of parchment paper sprinkled with tapioca starch. Coat rolling pin with a bit of tapioca startch and roll each portion into a large circle (as thin as you possibly can without dough breaking).
5. Use a medium bowl or a large round cookie cutter to cut out a circle.
6. Repeat until all the dough is used up.
7. Place tortillas on the prepared baking sheet and bake for 8 minutes, flipping over halfway.
8. Serve paleo flaxseed tortillas immediately