Recipe Lists
31 Paleo Coconut Flour Recipes (Pancakes, Cookies and More)
Let these recipes show you how to use coconut flour with great results every time, both sweet and savory-style, from pancakes, brownies, and cookies to fish cakes and breading.
---
1. Buttery Coconut Flour Low Carb Biscuits
Coconut flour is great for biscuits, because it helps create the crumbly texture of traditional drop biscuits. These are also made with sea salt, egg whites, egg, and butter, so they have a lovely buttery flavor with lots of protein. Great for dinners!
---
2. Simple Coconut Flour Crepes
You can make these crepes either sweet or savory depending on what you put in them (feel free to leave out the vanilla and cinnamon if you're going savory). The base is coconut flour and coconut milk, and the sweet version is delicious with fresh berries and melted dark chocolate.
---
3. Low-Sugar Paleo Brownies
These brownies are perfect for those on a low-sugar diet, or for diabetic paleo eaters. You'll need green-tipped bananas, coconut oil and coconut butter, vanilla, raw cacao powder, coconut flour, and sea salt. You could also add a handful of chocolate chips!

---
4. Cranberry Pistachio Shortbread Cookies
Here's an elegant cookie that's great for grown-ups, with a coconut flour shortbread base sweetened with agave (or honey) and studded with chopped pistachios and dried cranberries. Drizzle them with a sweetened balsamic vinegar reduction—try raspberry balsamic!

---
5. Grain Free Double Chocolate Almond Coconut Cookies
I love these cookies with their rich almond butter base, melted butter, coconut flour, and melty chocolate chunks. You can replace the cane sugar with coconut sugar to keep everything paleo, and consider adding a handful or so of shredded or flaked coconut!

---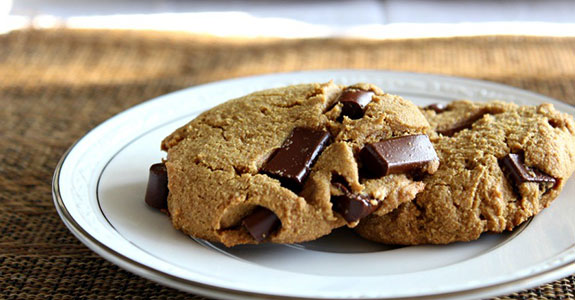 Photo: Paleo Running Momma
6. Big Soft Paleo Chocolate Chunk Cookies
These delicious cookies are sweetened with organic coconut sugar and raw honey, and they're made rich with a base of sunflower seed butter or nut butter (I bet cashew is fantastic in these cookies), coconut flour, vanilla extract, and allergy-free chocolate chunks.
---
7. Easy Paleo Biscuits
These biscuits are made with coconut flour, lard or coconut oil (butter or ghee would also work), eggs, cashew or coconut milk, and just a few other ingredients. They're perfect for when you just really need a good dinner biscuit to sop up some soup or stew.

---
8. Crowd Please Carrot Cake
Serving some non-paleo eaters? This carrot cake will impress even the biggest of skeptics, and it's easy to make with coconut flour, cinnamon, ginger, nutmeg, maple syrup, melted coconut oil, grated carrots, crushed pineapple, and golden raisins. Top with a maple pecan glaze!

---
9. Pumpkin Coconut Pancakes
These pumpkin pancakes are full of flavor with pumpkin puree, almond butter, coconut flour, ripe bananas, almond extract, cinnamon, and more. The almond butter really helps to richen these and provides a protein boost, along with the egg whites.

---

Photo: Sunny Side Ups
10. Paleo Cinnamon Spice Sweet Potato Bread
Pumpkin, sweet potato, and winter squash are almost interchangeable when it gets to baked goods. The flavor in this sweet potato bread is really lovely, accented with maple syrup, cinnamon, nutmeg, vanilla, and cloves. You could top this with paleo frosting for a real treat!
---
11. Nut Butter Banana Coconut Bread
While this recipe technically calls for peanut butter, you could use any nut butter you like. Either way, the flavor of nut butter, bananas, and vanilla will be marvelous, and the smell of this bread baking is bound to fill your entire house. It needs just half a cup of coconut flour!
---
12. Pineapple Coconut Muffins
Here's my all-time favorite paleo muffin recipe, complete with all of my favorite ingredients. You'll make them with coconut cream, coconut oil, maple syrup, fresh pineapple, coconut flour, coconut flakes, and macadamia nuts (omit them for a but-free option).

---
13. Coconut Flour Pumpkin Spice Mug Cake
This mug cake is made with coconut flour, mixed pumpkin pie spiced, pumpkin puree, coconut oil, make syrup and vanilla. It's a simple ingredient profile, and a single-serving treat, which is great because then you don't have a bunch sitting around needed to be eaten.

---

Photo: A Saucy Kitchen
14. Paleo Pumpkin Bread
This delicious pumpkin bread is absolutely filled with seasonings like cinnamon, nutmeg, cloves, and ground ginger. Coconut flour forms the base with eggs and honey or maple syrup, and the pumpkin seed topping is optional but extra pretty and nutritious.
---
15. Paleo Tortilla
Useful as wraps and dozens of other applications, these paleo tortillas are a winning recipe you're going to want to keep on hand. You'll need unsweetened almond milk, tapioca flour, coconut flour, olive oil, black chia seeds, and just a bit of sea salt. That's really it!

---
16. Pumpkin Spice Mini Muffins
Coconut flour is great for muffins, because it's excellent at providing that slightly crumbly, slightly crumby texture you look for in a good muffin. And these pumpkin spice muffins are GOOD muffins, with vanilla, coconut butter, coconut milk, coconut flour, and more coconut butter on top.

---
17. Paleo Gingersnap Cookies
One of my favorite things about working with coconut flour is that you don't need much of it. Many "speciality" paleo ingredients are expensive, including coconut flour, but coconut flour isn't so bad because more recipes just take a small amount, like these yummy gingersnaps.

---

Photo: Fit Foodie Finds
18. Coconut Flour Mug Cake
This mug cake has just a couple of ingredients, including coconut flour, cocoa powder, maple syrup, egg, and almond milk. It's a chocolate cake, but you can top it with nut butter, berries, nuts, or anything else that strikes you fancy, including paleo sprinkles if you can find them.
---
19. Paleo Sweet Bread
This may be a sweet bread, but the only sweetener is apple butter. How cool is that? This bread has only 6 ingredients, so you can whip it up pretty easily with just melted coconut oil, eggs, coconut flour, vanilla, apple butter, and baking soda. I want some of this with butter for breakfast!
---
20. Rhubarb Bars
These rhubarb bars are creamy and delicious with a double-layer effect going on. The bottom later is made with coconut flour while the creamy rhubarb later is made with gelatin, which is super good for your skin, hair, nails, and digestive tract. Sweetened with honey and maple syrup!

---
21. Paleo Protein Coconut N'oatmeal
This oat-free breakfast hot cereal is made with paleo protein powder, ripe banana, coconut flour, coconut milk, hemp seeds, cinnamon, and vanilla extract. A bit of melted coconut oil adds extra healthy fat, and you're left with a delicious hot cereal reminiscent of oatmeal.

---

Photo: Well Plated
22. Chocolate Chip Paley Zucchini Bread
While it's officially called zucchini bread, this "bread" is more like a rich and delicious blondie with a fudgy texture. Yum! It's made with shredded zucchini, banana, chocolate chunks, spices, vanilla, maple syrup, and of course, coconut flour.
---
23. Coconut Flour Crusted Salmon
With a delicious seasoned crust of coconut flour, lemon and thyme seasoning, salt, black and white pepper, onion and garlic powders, and parsley, this lemony salmon cooked in coconut oil is going to be your new favorite healthy dinner protein. And it's done in half an hour, which makes for an easy weeknight dinner.

---
24. Mango Coconut Tuna Cakes
As we've seen, coconut flour is as good in savory recipes as it is in sweet ones. Try it in these mango tuna cakes with scallions, diced mango, salt, ground pepper, coconut oil, and a hearty topping of guacamole or green salsa piled on top when you're ready to serve them.

---
25. Paleo Vanilla Mug Cake
Coconut Flour is a great ingredient for mug cakes, which rely more on eggs and their container for structure than they do on flour. This one is a lovely vanilla cake sweeted with maple syrup and make delicious with vanilla, melted butter or ghee, and non-dairy milk of your choice

---

Photo: The Honour System
26. Coconut Flour Pancakes
These simple coconut flour pancakes are made with a single flour, maple syrup, eggs, coconut oil, and a milk of your choice. Id' go with coconut milk for its richness, flavor, and a carrying of your coconut theme. Almond or cashew milk would also work nicely, though.
---
27. Paleo Tortillas
These tortillas use a blend of different flours to get their texture just right. Almond flour, flaxseed meal, and coconut flour combine with chia seeds and salt. You can replace the amaranth/quinoa flour in this recipe with an extra tablespoon of almond flour. No grains, no problem!

---
28. Grapefruit Pound Cake
Grapefruit isn't the first flavor that comes to my mind when I think of pound cake, but in this recipe, it really works. Rich full-fat coconut milk and honey form the base with coconut flour, while grapefruit juice works as a flavoring agent and even a fluffing agent, because of its acidity.

---
29. Paleo Sriracha Almond Crackers
These simple crackers have only four ingredients: coconut flour, egg, optional sriracha sauce, and Blue Diamond Sriracha Almonds. If you can't find the special almonds, you can use regular almonds and add in the optional sriracha sauce for a similar flavor.

---

Photo: Audrey's Apron
30. Coconut Flour Applesauce Pancakes
With a full cup of applesauce and vanilla with cinnamon, these pancakes have an apple cinnamon effect that kids and adults will love. Melted butter or coconut oil, eggs, and a few other ingredients help these pancakes come together, and you can top them with your favorite pancake toppings.
---
31. Grain Free Pretzels
This might be my favorite recipe of the day. Actually, no. It's definitely my favorite recipe of the day, but that's because I'm a soft pretzel fiend. These pretzels are amazing with a base of tapioca and coconut flours and a full stick of flavorful, grassfed butter.