Coconut + Banana + Chocolate Chips = Bread That's To Die For
In order to make this paleo banana bread, the first thing that you'll be doing is preparing your dry mixture. In a bowl, sift together your coconut flour, baking soda, baking powder, cinnamon, and salt. By swapping out refined white flour in favor of the coconut flour, you help keep this bread batter totally gluten free and paleo friendly. The coconut flour is an excellent source of both fiber and protein, and it won't cause inflammation in your body like wheat proteins are known to do. (1) Adding cinnamon helps to add even more great flavor as well to the recipe, in addition to further boosting the nutritional value. This spice has been used all over the world for centuries due to its many culinary and medicinal benefits. (2)
After preparing your dry mix, beat the eggs until they are pale and fluffy. Next, add in the mashed bananas, before finally mixing in the vanilla extract and melted coconut oil. Once this mixture has a smooth and creamy consistency, you can blend it with your prepared coconut flour mixture. Next up is my favorite part: folding in your paleo approved dark chocolate chips. I like to use dark chocolate for this banana bread as opposed to an ingredient like raw cacao for two main reasons. The first is that I prefer the slightly bitter taste that it provides, and the second is because dark chocolate is an amazing source of healthy fats and antioxidants. It's an incredible superfood that also offers a ton of health benefits for your cardiovascular system. (3)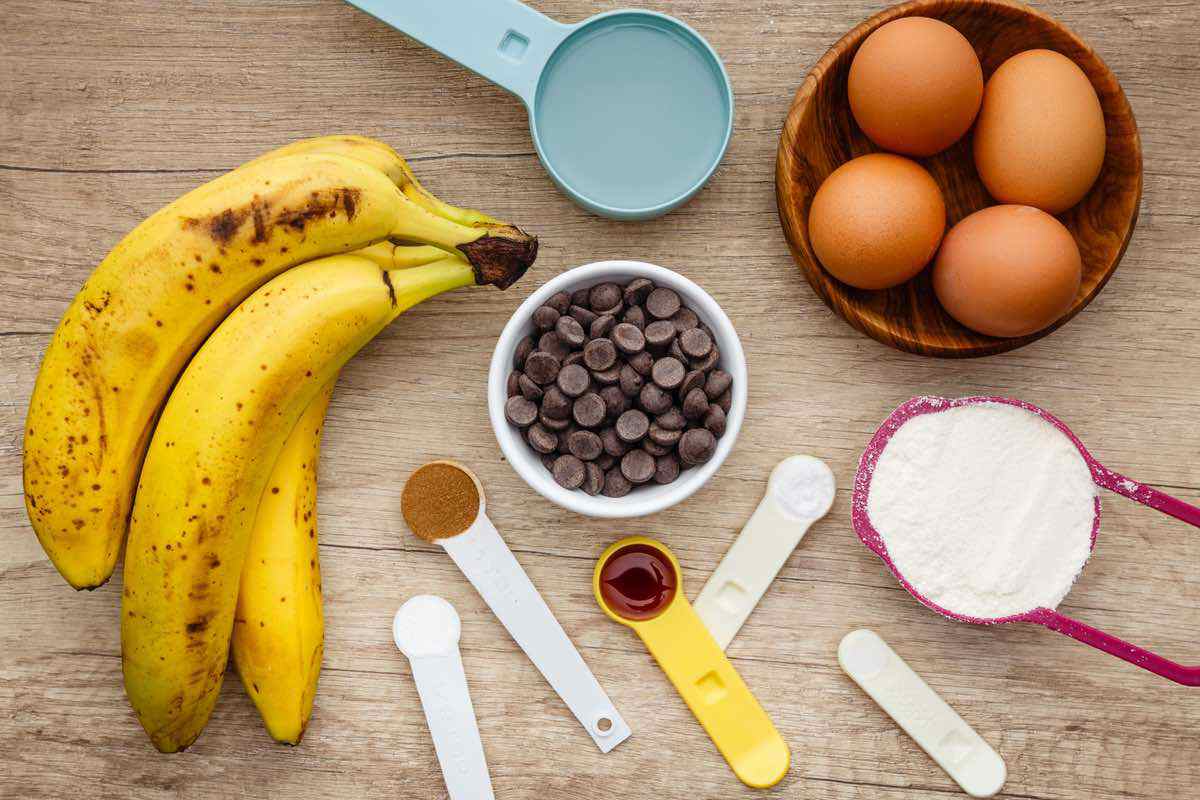 Before baking your banana bread, you're going to want to let the batter sit for 5-10 minutes so it has a chance to thicken a little bit. After transferring the mixture into the loaf pan, sprinkle extra dark chocolate chips over top and then you can finally place it into the oven. While the recipe recommends letting the bread cool completely before you serve it, I like to cheat a little bit and enjoy it while it's still warm and fresh, with some melted butter or ghee added for a really delectable treat.
While this is a fantastic way to enjoy paleo friendly banana bread, we also have a few other great recipes that you should definitely try out as well. If you enjoyed using chocolate chips in this recipe, just wait until you try this amazing double chocolate banana bread. If you would prefer a more classic plain style of banana bread, then this simple gluten free banana bread recipe is for you. Alternatively, you can use that same recipe with a few tweaks to make a tasty banana nut bread.
---
½ cup coconut flour
½ tsp baking soda
½ tsp baking powder
1 tsp cinnamon
pinch of salt
4 eggs
1 ¼ cup mashed banana
1 tsp pure vanilla extract
½ cup melted coconut oil
½ cup paleo approved (no sugar, no dairy added) dark chocolate chips plus extra for decoration
Preheat oven to 350°F.
Line an 8×4 inch loaf pan with parchment paper and set aside.
In a bowl sift together the coconut flour, baking soda, baking powder, cinnamon and salt. Set aside.
In the bowl of a stand mixer fitted with the paddle attachment add the eggs and beat on medium speed until pale and fluffy.
Add the mashed bananas and beat until well combined.
Add the pure vanilla extract and melted coconut oil and beat until well combined, smooth and creamy.
Add in the coconut flour mixture and beat until smooth.
Fold in the chocolate chips.
Let the batter sit for 5-10 minutes so it can thicken.
Pour the batter into the prepared pan and smooth top.
Sprinkle with extra chocolate chips.
Bake in preheated oven for 40-50 minutes or until a toothpick inserted into center comes out clean. Remove from oven and allow to cool completely before slicing.