A Tasty & Convenient Breakfast Option
There's two main components involved in making this blueberry muffin batter–preparing a 'dry' mix and a 'wet' mix. For the dry mix, you're going to be mixing together your coconut flour, baking powder, and salt. The reason I don't feel guilty about enjoying paleo muffins like this is precisely because they're made with ingredients like coconut flour instead of flour made from wheat.
Refined white flours are known to cause inflammation in many people, and chronic inflammation is one of the main contributing factors in the development of many types of diseases. (1)
The wet mix is made by first beating your eggs and honey together until the mixture is pale and fluffy. Honey is another ingredient that I absolutely love for all of my paleo baking needs. Not only does it add an incredible amount of all natural sweetness to my baked goods, but it's an honest to goodness nutritional superfood as well. It's absolutely packed with beneficial enzymes, vitamins, minerals, and antioxidants.
It's such a beneficial food for your health that many people even use it for several medicinal applications, thanks to its antiseptic and antibacterial properties as well. (2)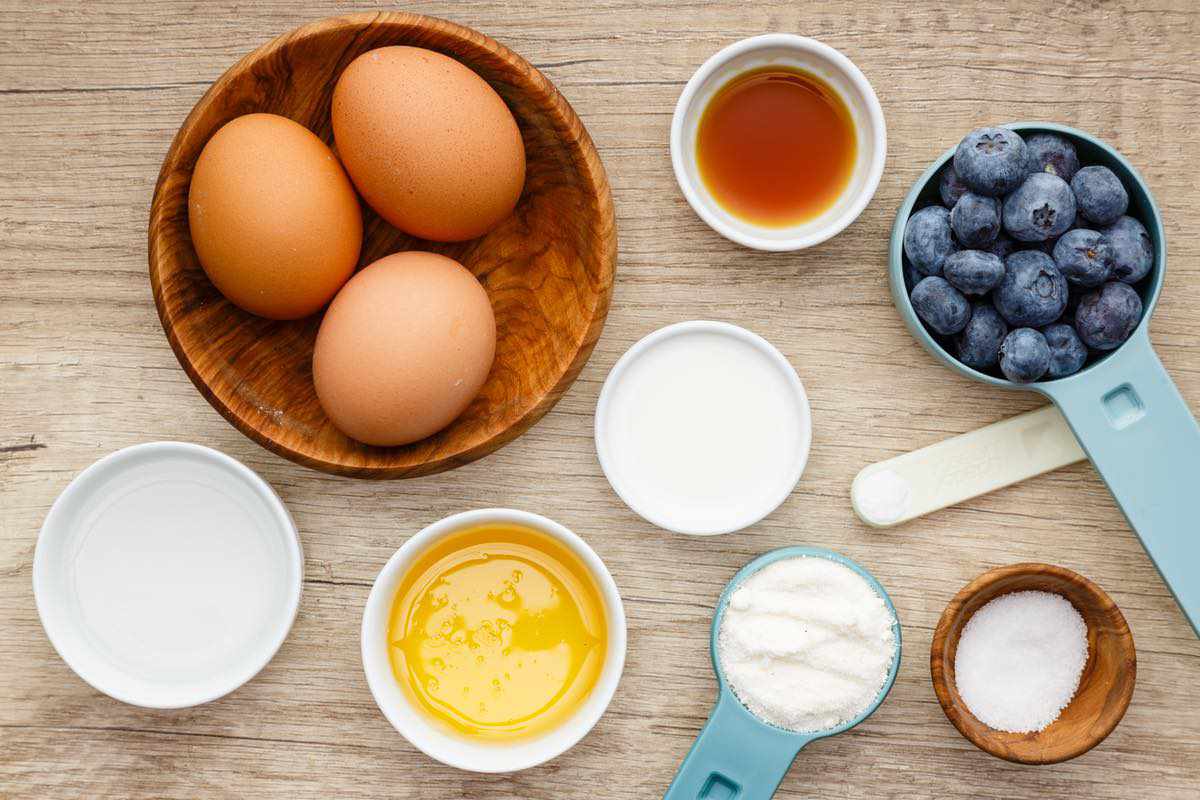 After your eggs and honey are combined, you can add in the melted coconut oil, almond milk, and vanilla extract. Beat this mixture until it's well combined and then gradually add in your coconut flour mix as well. Let your batter sit for 5-10 minutes and then fold in the blueberries.
hese are my favorite type of muffins as I personally think blueberries are delicious, and they're also incredibly good for you. They're a solid source of fiber, vitamins B6 and C, folate, potassium, and preliminary research has even indicated that they may help to improve memory in older adults. (3)
With your muffin batter complete, the final step is to make the crumble top. Get a separate bowl and combine your almond flour, shredded coconut, honey, coconut oil, and chopped almonds. Mix everything together with a fork until large crumbs form and then sprinkle it evenly over the top of your muffin batter.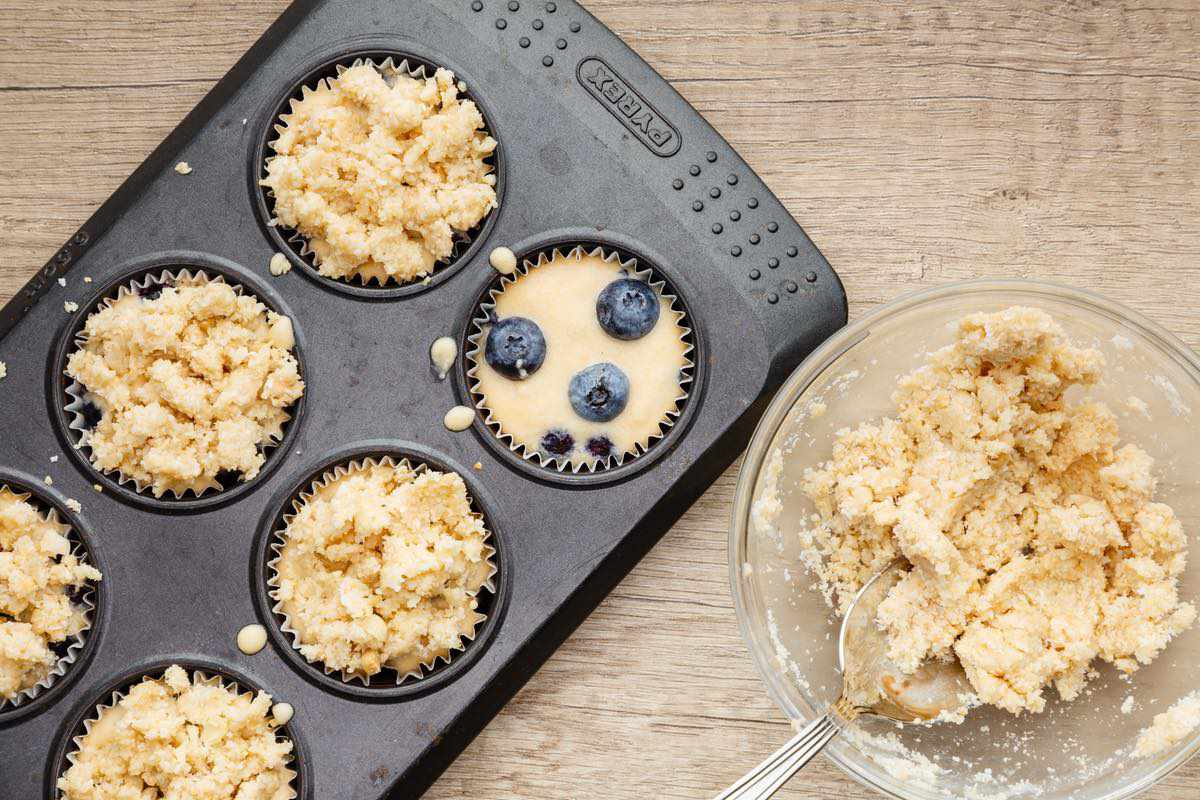 There was a point in my life where I never thought I would enjoy eating muffins for breakfast, but thanks to awesome paleo recipes like this one, I can do just that. Not only that, but I can do so 100% guilt free due to the fact that the muffins are made totally from scratch with fantastic paleo friendly ingredients.
And while these blueberry muffins are incredibly tasty, the real key to this recipe is the added crumble top. Even if you're not a fan of almonds, you could swap them out for pecans or walnuts if you'd prefer and still achieve the same result with the crumble top.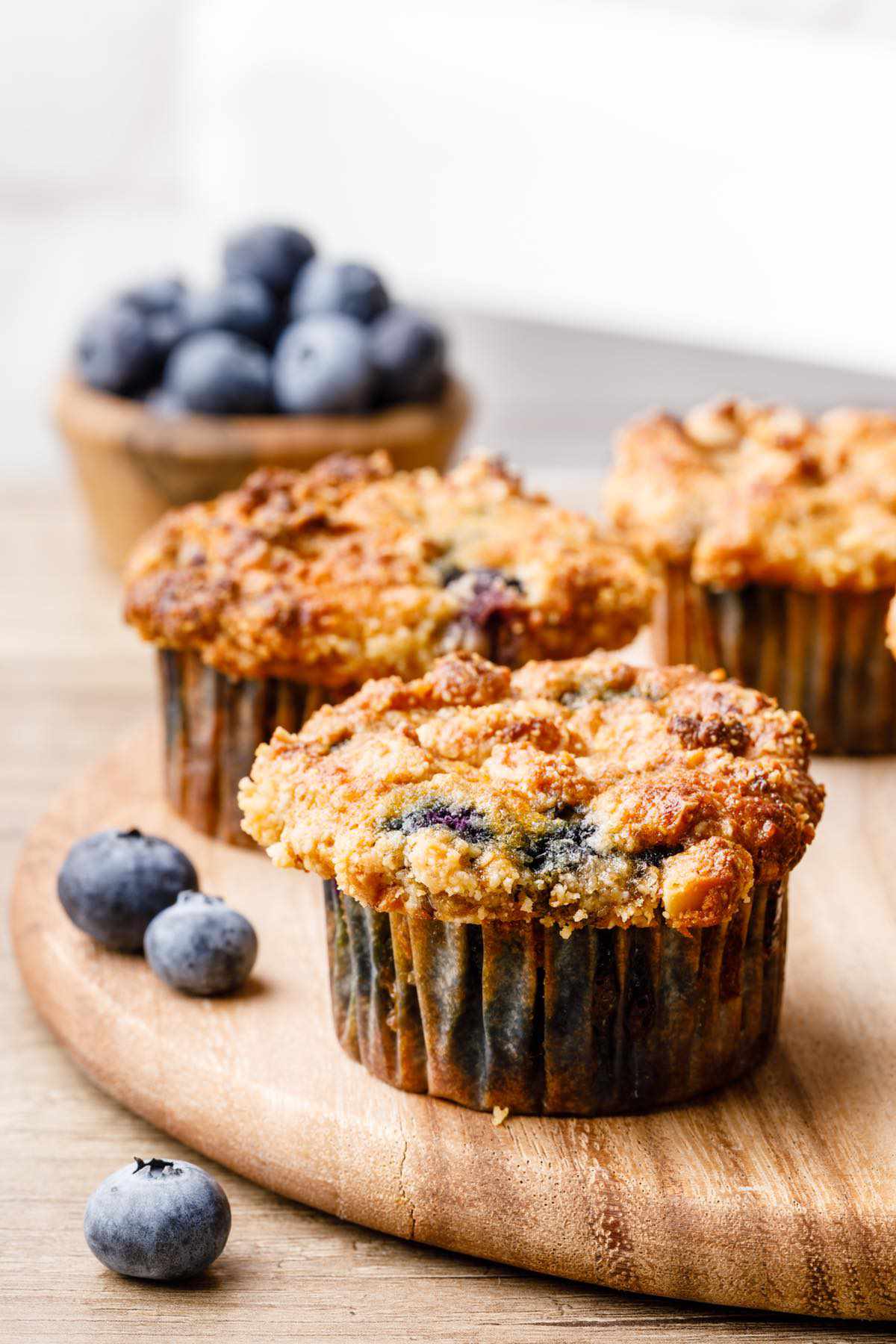 P.S. – This might be my favorite blueberry muffin recipe, but we also have several other fantastic paleo muffin recipes that you should definitely try out:
---
For the muffins

¼ cup coconut flour
¼ teaspoon baking powder
pinch of salt
3 large eggs
3 tablespoons honey
3 tablespoons coconut oil, melted
2 tbsp almond milk
1 tsp pure vanilla extract
1/2 cup fresh blueberries

For the crumb topping

1/4 cup almond flour
2 tbsp unsweetened finely shredded coconut
1 tbsp honey
1 tbsp coconut oil, softened
1 tbsp almonds, chopped
Preheat the oven to 350°F.
Line a 6-cup muffin pan with paper cups. Set aside.
In a bowl sift together the coconut flour, baking powder and salt.
In the bowl of a stand mixer fitted with the paddle attachment beat the eggs and honey until pale and fluffy.
Add in the coconut oil, almond milk and pure vanilla extract and beat until well combined.
Add in the coconut flour mixture and beat until smooth.
Let the batter sit for 5-10 minutes so it can thicken.
Gently fold in the blueberries.
Scoop the batter into the prepared muffin cups and set aside.
To make the crumb topping, in a bowl combine the almond flour, chopped almonds and unsweetened shredded coconut.
Add in the coconut oil and honey and mix with a fork until large crumbs form.
Sprinkle the crumb topping evenly over batter in each cup.
Bake in preheated oven for 20 to 25 minutes, or until a toothpick inserted into the center comes out clean.
Remove from the oven and allow to cool completely before serving.