Drinks
25 Cocktail Recipes That Are Paleo-Approved
We all know that consuming alcohol isn't exactly encouraged on the paleo diet, but most paleo experts agree that if you're eating clean, it's okay to enjoy one of the "cleaner" drinks every now and then. So give one of these paleo cocktails a try!
---
1. Sparkling Peach Sangria
This beautiful sangria is made with fresh peaches, sprigs of fresh thyme, moscato, and champagne, prosecco, or sparkling wine for an elegant touch. Allowing the flavors to infuse for several hours before serving ensures the best peachy flavor in this drink.
---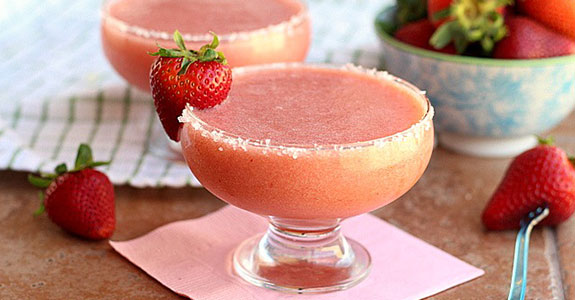 Photo: Oatmeal With A Fork
2. Family Friendly Strawberry Margarita
Last but not least, I want to share this non-alcoholic margarita the whole family can enjoy. It's made with rub red grapefruit (including the pith—you're trying to replicate a margarita flavor here), apple, apple juice, frozen strawberries, and maple syrup.
---
3. Super Easy Paleo Sangria
For a simpler sangria, choose your favorite white wine, and your favorite fruits, and chop the fruit to soak in the wine. That's it! I would use strawberries, oranges, and maybe cherries. Use whatever you like, and you'll be bound to end up with a fantastic drink perfect for enjoying on the porch.
---
4. Spicy Manhattan Cocktail
Manhattan was my grandfather's favorite drink, and I've heard so many stories from my dad and aunts and uncles about being made to learn the mixing process as kids so they could do it for him! While I never mixed my granddad a Manhattan, this recipe still feels a bit nostalgic to me.
---
5. Paleo Strawberry Daiquiri
This strawberry daiquiri is fruity and sweet with frozen strawberries, lime juice, orange juice, honey, rum or potato vodka, and a fresh strawberry for garnish. I could even imagine tweaking this recipe by using different frozen fruits of a similar sweetness. Blackberry daiquiri, anyone?
---

Photo: Wicked Spatula
6. Grilled Mango Habanero Margarita
This is one of my favorite margarita recipes, and I'm not surprised that it comes from one of my personal favorite paleo bloggers. This margarita involves grilling your mango first for an amazing flavor and mixing it with honey, lime juice, tequila, brandy, and a habanero pepper.
---
7. Paleo Mojito
This drink is so simple to make that you hardly need a recipe. Once you've gotten hold of your fresh mint, limes, rum, and club soda, you'll just need a bit of stevia and you'll be well on your way to homemade mojitos on a warm evening. Kids love this one if you make a version without the rum!
---
8. Blackberry Mint Julep
This yummy drink is made with fresh blackberries, mint leaves, coconut sugar, and bourbon. It's fruity, refreshing, and super relaxing with that bit of bourbon. If you're eating clean and enjoying alcohol only occasionally, you can certainly allow yourself to enjoy this easy mint julep every once in awhile.
---
9. Blackberry Tequila Mojito
Tequila is a generally low-toxic liquor, and adding citrus can help level out the insulin spike from drinking alcohol, so this is okay for an occasional treat. Good thing, too, as it's totally delicious with fresh blackberries, mint leaves, soda water, lime, and a handful of ice.
---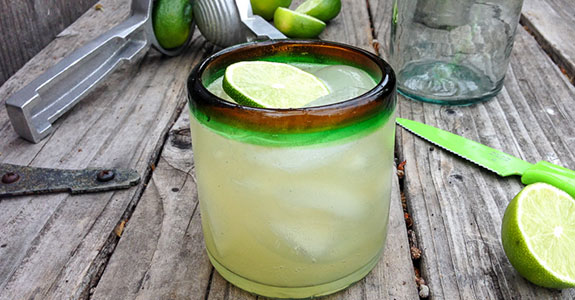 Photo: Against All Grain
10. Simple Paleo Margarita
This margarita recipe uses just blanco tequila, fresh-squeezed lime juice, and a homemade honey syrup, which you can choose to infuse with herbs if you wish. There are also some helpful tips about choosing a margarita type and brand.
---
11. Maple Ginger, and Citrus Sangria
This unique sangria is made with pinot grigio and spiced rum with maple sugar, ginger root, orange and lemon juices, and mint leaves. You'll use the maple syrup to create a ginger syrup you can hold onto for future use. It's spicy, sweet, and an amazing compliment to the other flavors in this drink.
---
12. Paleo Berry Sangria
This sophisticated sangria is perfect for a backyard picnic, and is made with red wine, Gran Marnier, brandy, oranges, lemon, lime, mulberries, cherries, and raspberries. If you can't get any mulberries, try using blackberries instead for a fun twist. Add club soda for some sparkling action.
---
13. NorCal Margarita
This margarita couldn't possibly be any easier to make. It has only three ingredients, and a beautiful clear, frosty look. You'll need top-shelf tequila (preferably resposado or anejo), a single lime, and club soda. That's it! This recipe also includes a few facts on what makes this particular margarita a little easier on your body.
---

Photo: Cookies To Kale
14. Skinny Margaritas Two Ways
These two recipes are for a creamy frozen margarita made with coconut yogurt, pineapple, and mint, and a margarita on the rocks with ginger powder, stevia, and soda water. It's your choice—if you're making margaritas for two, why not try one of each and share them?
---
15. Bloody Mary
Now, we can't fool ourselves into pretending an alcoholic drink is actually as good a choice as a salad. But if you're going to indulge (you deserve it), it can't hurt to at least squeeze a veggie or two in there, can it? This bloody mary is paleo-friendly and oh so good.
---
16. Maple Mint Vodka Spritzer
This easy and refreshing drink is made with handfuls of fresh mint, dark maple syrup (if you get grade B, it has more of the minerals and nutrients than grade A), vodka, and seltzer water. This drink is perfect for sipping with friends outside on a warm day.
---
17. Ginger Margaritas
These margaritas are naturally-sweetened with a homemade ginger-lime simple syrup. I don't usually recommend using agave syrup as it's quite processed, so honey could make a third alternative in your simple syrup. This recipe could also be infused with herbs!
---

Photo: So Lets Hang Out
18. Watermelon Margaritas
One of the best margaritas I've ever had was a watermelon one, but I'm sure it was loaded with not so good ingredients. This homemade version is much better, with silver tequila, freshly-squeezed lime juice, triple sec, watermelon puree, and wedges of lime and watermelon for garnish. Salt up your rim and have a sip.
---
19. Kombucha Margarita
Adding kombucha to your margarita makes it a bit healthier than a classic margarita. But don't worry—you'll still use tequila, triple sec, and fresh squeezed lime juice in this recipe that's tangy, fizzy, sweet, and refreshing when you'd like a drink to relax with.
---
20. Tangerine and Thyme Martini
This martini is made with vodka, tangerine juice, and a homemade honey thyme simple syrup. You'll need water, honey, and sprigs of fresh thyme. If you're feeling adventurous, you could also try this recipe with other herbs or juices and customize your flavor.
---
21. Easy Paleo Tequila
This margarita has only four ingredients, and one of them is just ice. You'll need juice limes, raw honey, and 100% pure agave tequila. Keep it simple and keep it (fairly) clean. If you don't have a shaker, just stir vigorously and call it a day, right?
---

Photo: Strictly Delicious
22. Rosemary Grapefruit Margaritas
To make this margarita paleo, simply use coconut or maple sugar when you make your rosemary simple syrup. Coconut sugar will have a more neutral flavor, while maple syrup will add a lovely hint of maple that would be amazing with grapefruit and rosemary.
---
23. Classic Paleo Mojito
This pretty mojito uses a shot each of gin, lime juice, mint leaves, ice, and a splash of club soda. For a fun twist, add a bit of 100%, unsweetened cranberry juice as well (or another tart juice). You'll get an extra burst of flavor fro the juice, and a beautiful sunset color.
---
24. Hot Buttered Rum Batter
Want a nice mug of hot buttered rum on a chilly night? Mix up the "batter" with grass-fed butter, grade B maple syrup, and a blend of delicious spices and keep in the fridge to add to heated dark rum when you want it. The best part is it's also good in hot coffee!
---
25. Bloody Mary Infused Vodka
I'm with this blogger. While I like the taste of a bloody mary, I prefer to eat my salads. This drink gives you a way to enjoy the taste without the salady feel—you'll need grape tomatoes, celery, jalapeno, garlic, peppercorns, and vodka.