Easy-to-Prepare Salad That Has Everything You Need
This salad doesn't just provide a fantastic amount of protein, it also adds in a nice dose of healthy fats in the form of monounsaturated fats provided by the addition of an avocado. A link has been established between avocado consumption and overall diet quality (1), so if you aren't already including them in your paleo diet, now is a good time to start.
Avocados
Avocados are great not just because of the healthy fats found in them, but they also possess even more potassium than bananas and they are absolutely loaded with fiber. Along with the bacon though, the fat content in the avocados help to keep you feeling full long after you finish this salad. The protein content added by the chicken is just the icing on the cake that really makes this salad so satisfying.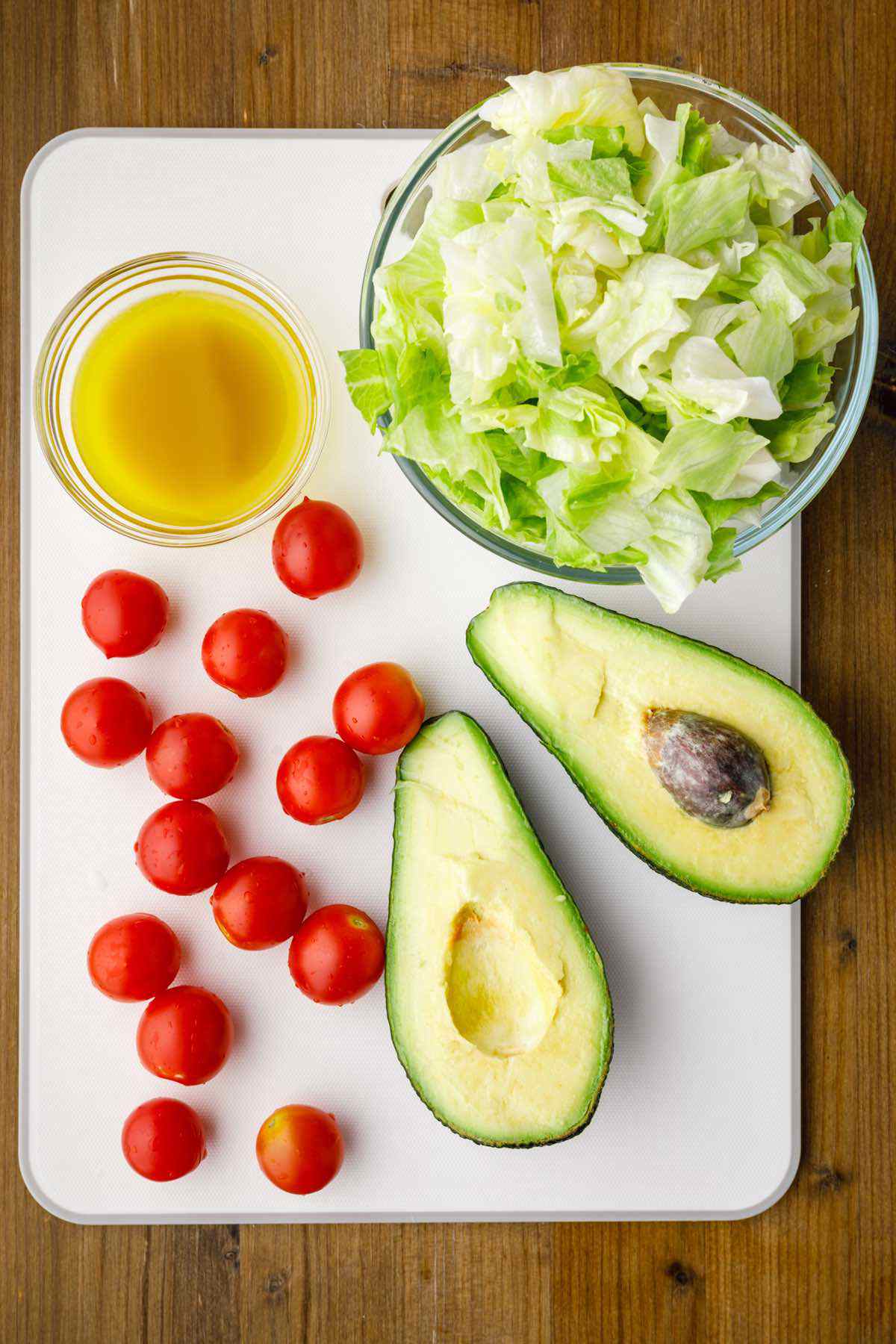 Plenty of Vegetables for Fiber and Satiety
On top of that, this salad has lettuce, tomatoes, and olives to provide you with plenty of flavor and nutrients. And of course, there's a great homemade dressing to up the flavor of this salad even more. The dressing is perfectly tangy, combining apple cider vinegar with Dijon mustard to really add some extra bite to this salad.
Tip for Storing Salads
Have you ever stored your tossed salad in the refrigerator, only to come back to a wilted mess just a few hours after? That's because salads are best served freshly dressed and eaten immediately after, not prepared in advance. You can still prepare your undressed salads and dressing in advance, though. What I like to do is portion out my salads into individual mason jars like these. The mason jars are dishwasher safe, but more importantly, they keep my salads fresh and ready to go. The layers go like this:
Bottom layer: dressing
Second layer: heavier chopped ingredients like cucumber, tomato, onion, beets, olives, capers, etc.
Third layer: heavier/ thicker greens like kale, spinach, etc.
Fourth/top layer: lighter greens like lettuce, celery leaves, arugula, alfalfa sprouts, etc.
As you can see, this salad truly has everything that you need when it comes to enjoying a healthy, balanced lunch. It's loaded with protein, healthy fats, fresh veggies, and best of all, it's incredibly tasty. The next time that anyone wonders how someone could eat nothing but a salad for lunch and somehow feel satisfied, be sure to share this cobb salad recipe with them so they can also see just how satiating salads can be.
P.S. – This cobb salad isn't the only salad recipe that we offer with a high amount of protein. If you're looking for a few other salad options for lunch that are just as satisfying and high in protein, check out these great recipes as well:
#1 – The Best Tuna Salad You Have Ever Had
#2 – Summer Salad with Poached Egg and Salmon
---
For the salad

4 eggs
6 slices bacon
3 cups romaine or iceberg lettuce, finely chopped
1 cup cherry tomatoes, halved
½ cup black or green olives
1 avocado, peeled, pitted and diced
2 cups cooked chicken breasts, chopped

For the dressing

¼ cup olive oil
1 tbsp apple cider vinegar
1 tbsp Dijon mustard
1 ½ tsp honey
salt to taste
Place the eggs in a saucepan.
Fill with cold water, covering the eggs by an inch.
Add salt. Bring the water to a rolling boil over high heat.
Cover with a lid and remove from the heat. Let the eggs sits for 10-12 minutes.
Drain and place the eggs in a bowl of ice water to cool.
Cool for 10 minutes, peel and dice into small pieces. Set aside.
To make the dressing, place all the ingredients in a small bowl and mix to combine. Season with salt to taste and set aside.
Add bacon to a cold skillet. Cook for 15 minutes over medium heat, flipping once halfway through. Once cooked, place on a paper towel to drain and cool.
Chop into small pieces and set aside.
In a bowl, toss together finely chopped lettuce and dressing.
Transfer to a serving platter.
Top with chicken, avocado, bacon, eggs, olives and cherry tomatoes.
Serve immediately.