Even after I started eating Paleo, I have to admit that there were days I strayed here and there, especially at first. When I was just a novice, I thought I had to give up certain things forever. And let me tell you – ice cream was the number one thing that occasionally made me fall off the Paleo wagon. Until I discovered this: a recipe for classic vanilla ice cream. Yup, you heard right: Paleo ice cream!
This classic vanilla ice cream recipe is probably my all-time favorite example of how Paleo is not about "giving things up." I've learned time and time again that if I'm restricting myself – if I'm constantly having to say "no, I can't eat that" – I won't stick to whatever eating plan I'm on. And that's why Paleo has been such a godsend for me. Once I really got into Paleo I realized it's not about giving things up. It's about finding new ways to do things.
And that's why this classic vanilla ice cream is my favorite example of an ingenious Paleo recipe. Instead of using milk or cream and white sugar – both no-no's for Paleo eaters – this recipe uses full-fat coconut milk and almond milk for the "dairy" aspect of the ice cream. With these substitutes, you aren't even going to notice the difference between this ice cream and traditional ice cream because the coconut milk and almond milk provide all the creamy, rich consistency that ice cream needs.
Just like if you were making traditional ice cream, you use the ingredients to make a custard. Then, you chill the custard and, once it's cooled, you get it all into an ice cream maker. Then, all you have to do is wait while the magic is made! That's definitely the hardest part for me.
Now I'm sure some of you are wondering what to do if you don't have an ice cream maker. I'll say this: if you have little kids or, like me, a gaggle of little nieces and nephews, and you have a little extra cash, I totally recommend splurging on an ice cream maker. Why? Well, because you is cooler than the mom or the aunt who makes ice cream? Duh! And of course, there's a pay off for you too!
Ice cream makers basically churn and freeze the ice cream at the same time, which aerates the custard mix and makes it have that almost fluffy-frozen mouth-feel. But, if you don't have one, don't give up yet! You can certainly still freeze your custard concoction and will get a delicious creamy, ice cream-like treat – it will just be a bit denser than regular ice cream. And that's not necessarily a bad thing!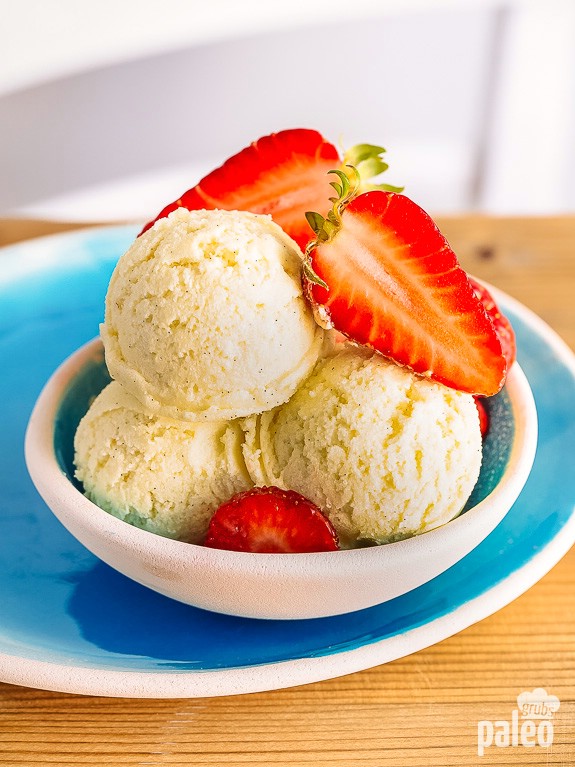 One last tip about this recipe: please don't use vanilla extract in place of the whole bean! Vanilla beans are a bit pricey, but they are worth it. It's always best to be as natural as possible, your body will thank you for it. But an even better rationale is that the flavor you get from a real bean totally dominates what you get from a bottled extract. It's sweeter and more floral and complex and will really take your ice cream to the next level, flavor-wise. So get that bean in there!
So the next time you really want to wow someone – maybe someone who isn't a Paleo eater – make up a batch of this classic vanilla ice cream. For starters, everyone is going to be impressed that you made ice cream because, how cool is that? And everyone – and especially non-Paleo people – will be amazed that you can actually have ice cream while eating Paleo.
Another great example of the versatility and yumminess of the Paleo lifestyle!
---
4 egg yolks
1 vanilla bean
½ cup honey
1 ½ cup full fat coconut milk
1 cup almond milk
Cut the vanilla bean in half lengthwise, scrape seeds and set aside.
In a metal bowl beat the egg yolks with honey and set aside.
Place the coconut milk, almond milk, vanilla seeds and scraped vanilla bean in a pot and bring to boil over medium heat.
Remove from the heat and gradually pour it into the egg yolk mixture, whisking constantly.
Place the bowl over a pot filled with simmering water.
Stir the custard gently with a spatula until it thickens enough to coat the back of a spoon, about 15 minutes (mixture should be 185 F).
Remove from the heat and discard the vanilla bean.
Cover with plastic wrap and let it cool completely.
Transfer in a refrigerator and chill for at least 4 hours, or overnight.
Pour the mixture into an ice cream maker and freeze according to the manufacturer's instructions.