Soft and warm on the inside, chewy on the outside, these sweet Paleo cinnamon rolls make a delicious breakfast. Great for an occasional indulgence, they take a bit of time to prepare, but are well worth the effort. Hints of cinnamon, walnuts, and honey are rolled up into this baked treat, topped off with a coconut glaze.
---
Last weekend I could not get cinnamon rolls out of my head, so I went on an extensive online search for recipe inspiration. I was a bit disappointed by the results. While I understand that cinnamon rolls are far from a natural Paleo recipe, most of the ones I came across had a long list of strange ingredients that didn't seem very good for you. I knew there had to be a simpler way. Luckily I came across a cinnamon roll dough recipe from Ingredients of a Fit Chick. I added my own personal touches, using the regular ingredients in my pantry, and the cinnamon rolls came out amazing.
These Paleo cinnamon rolls are different than their gluten counterparts in the level of sweetness and in their size. I like the fact that these cinnamon rolls are not as overwhelmingly sweet as the kind you get at a bakery. You don't get hit with a wall of sugar; instead you taste hints of cinnamon and honey as you bite into it. If you do desire a very sweet cinnamon roll, simply add a greater amount of honey and dates. The optional glaze also helps to top off the sweetness.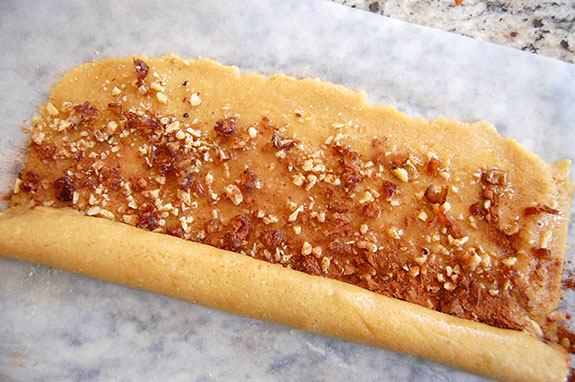 When all of the dough ingredients are mixed together it should be quite thick. I found that wax paper was easy to use, in order to roll out the dough. With cinnamon rolls you actually need the shape to resemble a rectangle, so take your time to get an even layer. Then the fillings can be sprinkled over the surface. The walnuts and dates should be very finely chopped so that they maintain the shape with the dough instead of making large chunks.
To roll up the dough, use the wax paper to rotate the edge of dough away from you. Try to make a tight roll from the beginning. If you want mini cinnamon rolls like in the photos, roll up the long edge. If you want fewer, larger rolls, turn the wax paper so the shorter edge is near you and roll up from there.
Because almond flour is filling and high in carbs, I shaped these cinnamon rolls to be smaller in size than the gigantic kind. There are probably 2-3 bites per small roll, good for moderation.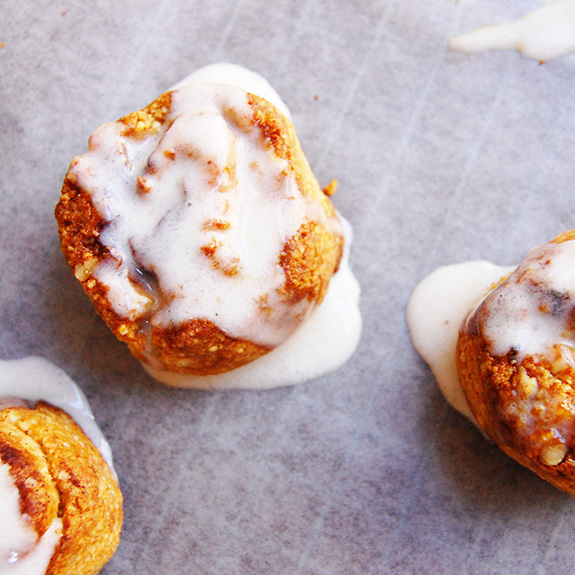 Once the log is rolled, I recommend chilling it for 15 minutes or so to help it keep the shape. Then you can cut the log into 9 or 10 thick pieces, shaping them a bit again if needed. Place those on a baking sheet and put it in the oven. Keep an eye on the rolls towards the end of the cooking time since everyone's oven is different. You will be rewarded with cinnamon smells wafting from the kitchen and a warm, sweet treat for breakfast.
---
For the dough

2 tbsp coconut oil, melted
1 egg
1 tbsp raw honey
1 tsp pure vanilla extract
1 1/2 cups almond flour
1 tbsp coconut flour
1 tsp pure baking soda
Pinch of organic sea salt

For the filling

1 tbsp organic cinnamon
1/4 cup pitted organic Medjool dates, finely chopped
1/4 cup organic walnuts, finely chopped

For the glaze

2 tbsp honey
2 tbsp coconut cream
Pinch of cinnamon
Whisk together the coconut oil, egg, honey, and vanilla in a medium bowl. Add the almond flour, coconut flour, baking soda, and salt. Stir well to combine.
Transfer the dough onto a sheet of wax paper. Cover with another sheet of wax paper and roll out into a long rectangle. Remove the top sheet of wax paper. Drizzle the dough with honey and sprinkle with cinnamon. Top with the chopped walnuts and dates.
Use the wax paper to roll the dough into a log. Place the log in the freezer to harden for 15 minutes.
Preheat the oven to 325 degrees F. Slice the log into individual pieces, about 9 or 10 rolls. Place onto a baking sheet. Bake for 10-12 minutes until golden.
Meanwhile, make the glaze by stirring together the honey, coconut cream, and cinnamon. Once the rolls are golden, remove from the oven and drizzle with glaze. Serve warm.