How to Make Cinnamon Roll Blondies
Making these cinnamon roll blondies is rather straightforward; that's probably why I love this recipe so much. With just a little bit of effort and about 45 minutes of your time, you'll have your kitchen filled with the mouth watering scent of freshly baked cinnamon rolls.
Preheat the oven. Preheat your oven to 350℉ and prepare your baking pan. To avoid sticking and for easier clean-up, line it with parchment paper.
Prepare the coconut swirl. Add the coconut sugar and ground cinnamon to a bowl and mix to combine. Set aside.
Combine the dry ingredients. In a separate bowl, add the blanched almond flour, coconut flour, a pinch of salt, and baking powder and mix to combine. Set aside.
Beat the eggs and honey together until well combined.
Combine the wet ingredients. Add the almond butter (or any smooth nut or seed butter), melted coconut oil, and pure vanilla extract into the egg mixture and beat to combine.
Combine the wet and dry ingredients. Add the almond flour mixture into the egg mixture and mix until well combined.
Prepare the mixture for baking. Pour half of the dough into your prepared pan and sprinkle with ⅔ of the cinnamon swirl mix.
Finish the swirl. Top with the rest of the dough and sprinkle with the remaining swirl mixture.
Bake for 20-25 minutes.
Remove from the oven and let cool. Make sure you let it cool completely before glazing.
Prepare the glaze. While the blondies are cooling, add the softened coconut butter, honey, and pure vanilla extract to a small bowl and mix to combine. Add one tablespoon of water at a time until the glaze reaches your desired consistency.
Drizzle. Drizzle the glaze over top of the cooled blondies.
Serve. Serve immediately.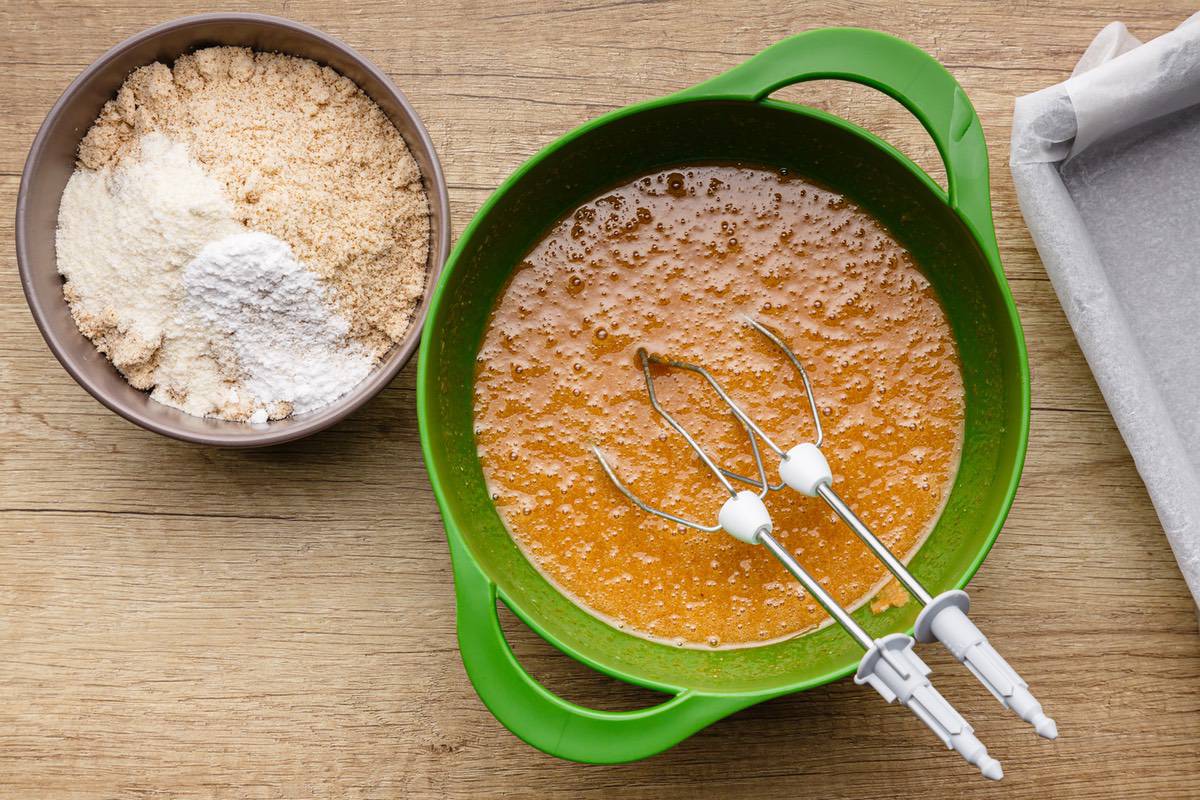 What Exactly are Blondies?
If you've never had blondies before, the best way I can think to describe them is that they're very similar to brownies except for the fact that they substitute the cocoa for vanilla and brown sugar (or coconut sugar in the case of this keto recipe).
For these cinnamon roll blondies, just imagine a combination of a brownie and a cinnamon roll and it's not too far off from the final product.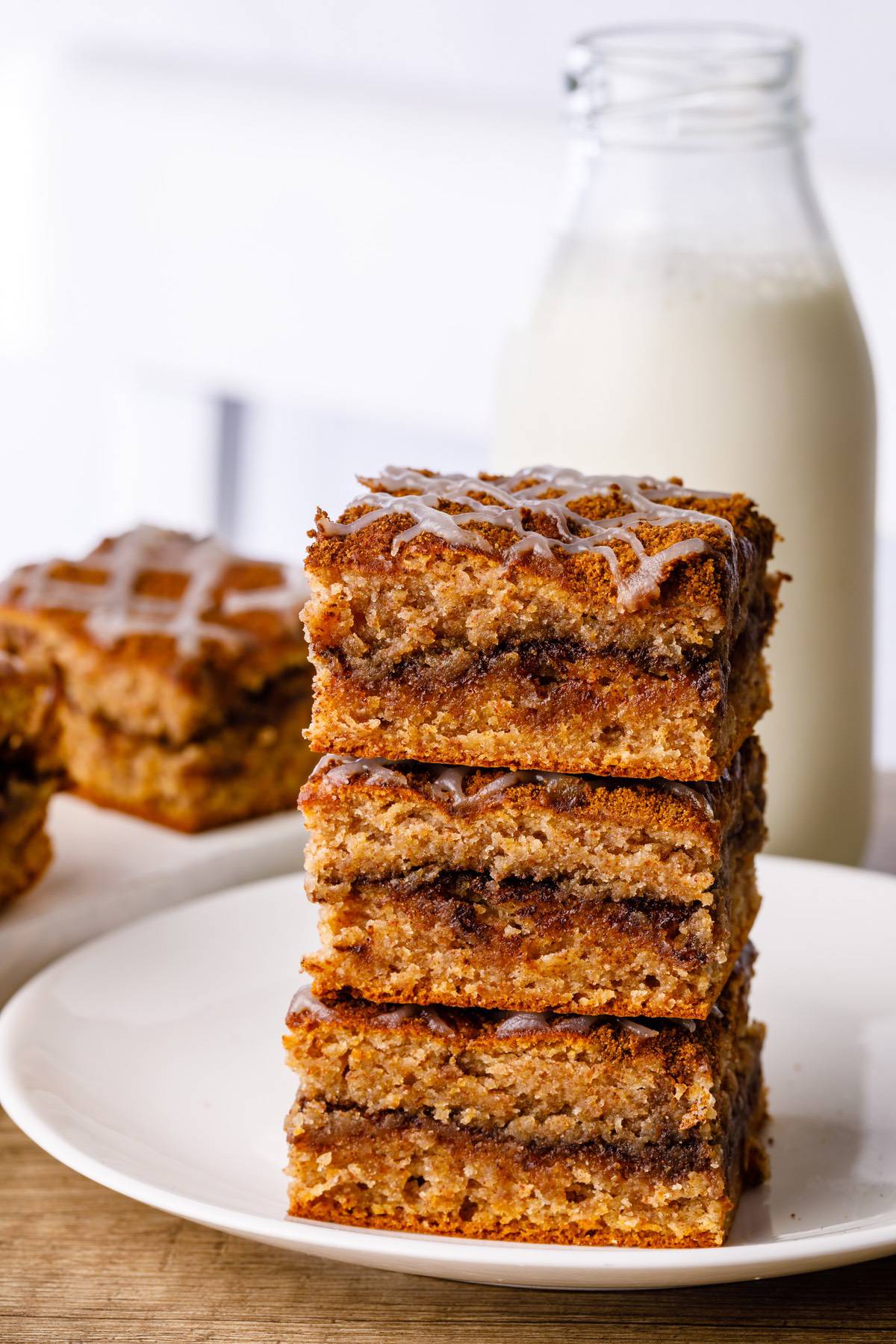 2 Quick Tips for Baking with Almond Flour and Coconut Flour
If you aren't used to baking with paleo friendly baking flours, then there are a couple of important tips you might want to keep in mind:
Don't just substitute paleo flours like almond flour or coconut flour in for all purpose flour at a 1:1 ratio; both types of flour differ greatly in texture and you will need to modify the amounts used accordingly.
When baking with both almond flour and coconut flour (like with this recipe), then a good general rule of thumb to follow for the ideal ratio amount is 3:1 almond flour to coconut flour. That's not a hard and fast rule though; this specific recipe changes that up by using 1 ¾ cup of almond flour with only a single tablespoon of coconut flour.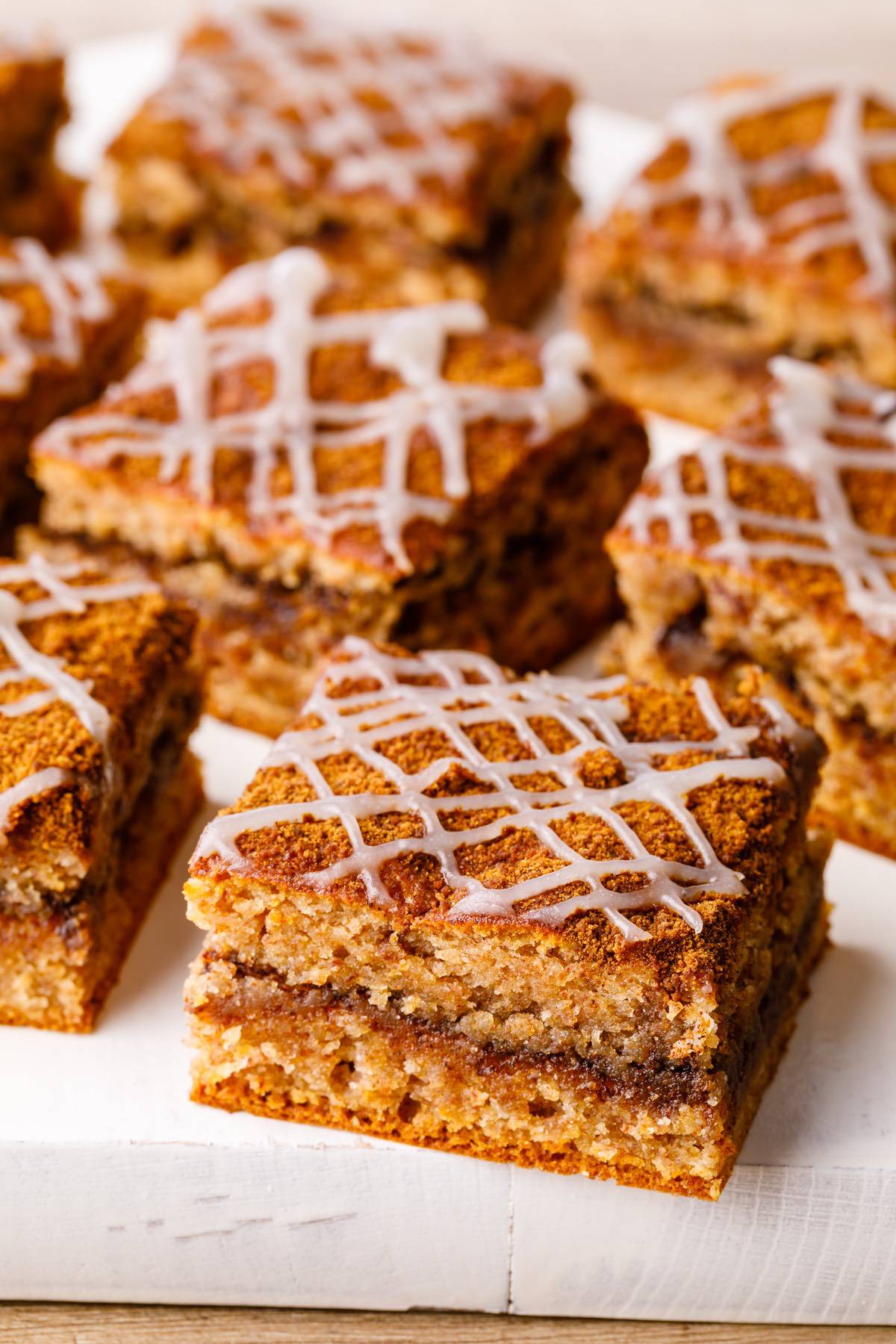 3 Reasons Why Paleo Flours Are Healthier Than Regular Flours
Baking with paleo approved flours like almond flour and coconut flour tends to be far better for your health compared to using traditional all purpose flour or other types of refined flours. Here are a few reasons why:
Refined wheat can cause inflammation. Studies have discovered that gluten proteins in refined wheat products (like all purpose flour) can actually trigger inflammation. Considering that chronic inflammation can develop into a variety of diseases, you're far better off sticking with paleo flours like almond flour and coconut flour. (1)
Paleo flours can lower inflammation. Almond flour in particular is a great choice for relieving chronic inflammation in the body. Almonds are well known to provide numerous cardiovascular benefits, including reduced blood pressure and reduced LDL cholesterol. This has a domino effect which also results in less inflammation within the body. (2)
Rich in dietary fiber. Both almond flour and coconut flour are excellent sources of dietary fiber, which helps with everything from regulating bowel movements to providing protection against certain types of cancer. (3)
(You may also like: Sticky, Ooey, Gooey Paleo Cinnamon Rolls)
---
For the blondies:

1 ¾ cup blanched almond flour
1 tbsp coconut flour
1 tsp baking powder
pinch of salt
2 large eggs room temperature
½ cup honey
½ cup almond butter or any smooth nut or seed butter
2 tbsp melted coconut oil
1 tsp vanilla extract

For the swirl:

¼ cup coconut sugar
1 ½ tbsp ground cinnamon

For the glaze:

¼ cup softened and smooth coconut butter
2 tbsp honey
1 tsp vanilla
2-4 tbsp water (as needed)
Preheat oven to 350ºF.
To make the swirl, in a bowl, combine the coconut sugar and cinnamon. Set aside.
Line an 8×8 inch pan with parchment paper. Set aside.
In a bowl combine the almond flour, coconut flour, pinch of salt and baking powder. Set aside.
Using an electric mixer, beat the eggs and honey.
Add the almond butter, coconut oil and vanilla extract and beat to combine.
Add the almond flour mixture and mix until well combined.
Pour half of dough into the prepared pan.
Sprinkle with 2/3 of swirl mixture.
Top with remaining dough.
Sprinkle with rest of swirl mixture.
Bake in preheated oven for 20-25 minutes.
Remove from the oven.
To make the glaze, in a small bowl, combine the coconut butter, honey and vanilla extract.
Add the water (1 tablespoon at a time) until the glaze reaches desired consistency.
Drizzle over cooled blondies.
More Good Blondie Recipes
Cherry Blondies
Take full advantage of summer produce, when cherries are fresh and plentiful, with these delicious blondies. In this recipe cherries and chocolate are speckled throughout the fluffy, moist cake bars. Serve alongside Paleo ice cream or top with a dollop of coconut cream.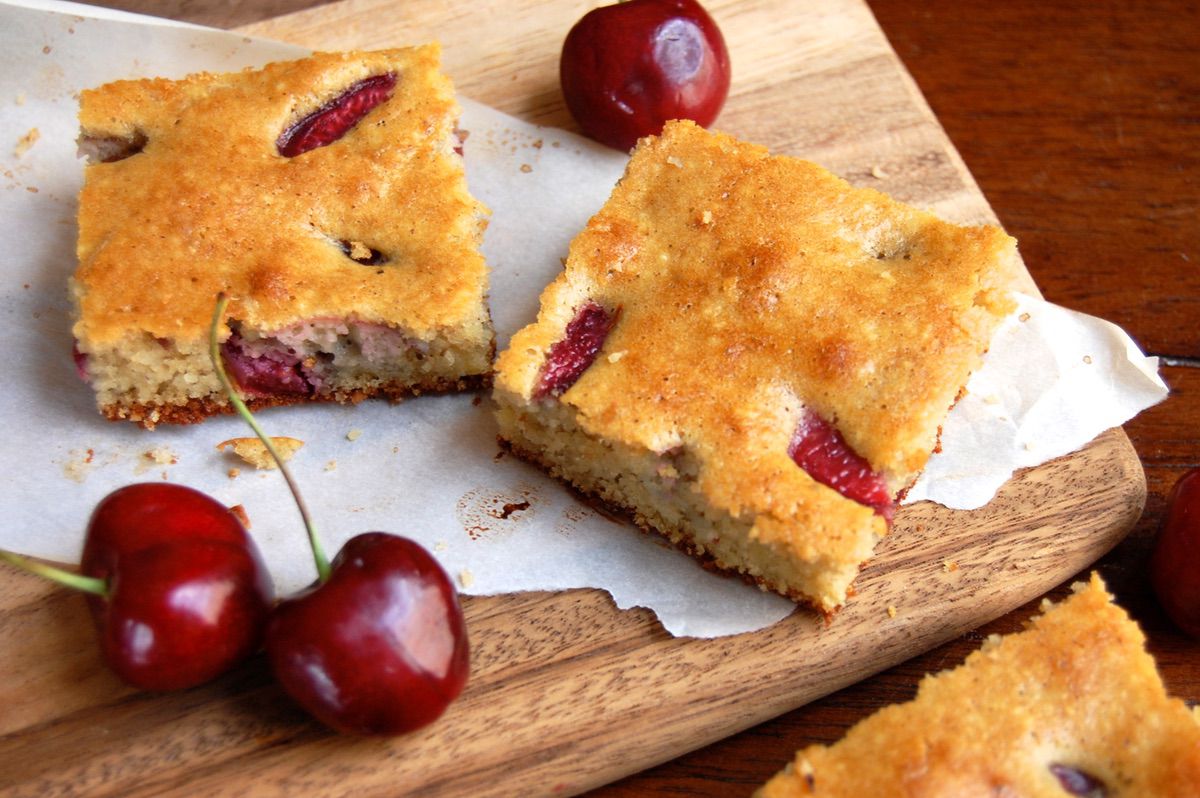 Ingredients
1 1/2 cups almond flour
1/2 tsp baking soda
1/4 tsp salt
2 eggs
1/4 cup coconut oil, melted
3 tbsp honey
1 tsp vanilla extract
1 cup cherries, pitted and halved
2 oz. dark chocolate, finely chopped
Instructions
1. Preheat the oven to 350 degrees F.
2. Prepare an 8×8-inch baking pan with coconut oil spray. In a medium bowl, sift together the almond flour, baking soda, and salt.
3. In a separate bowl, whisk together the eggs, coconut oil, honey, and vanilla. Add the wet ingredients into the dry and fold in the cherries and chocolate. Bake for 15-20 minutes, until a toothpick inserted into the center comes out clean.
4. Let cool for 5 minutes before serving.