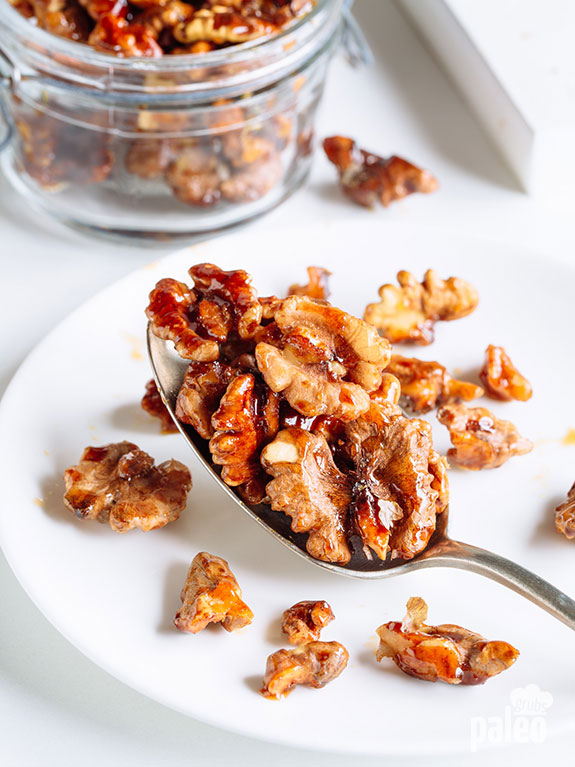 Oftentimes I get people asking me how I handle snacks or what I recommend for fast, easy, yummy, Paleo snacks. I have tons of recipes for snacks and I usually spend a little time each weekend prepping ready-to-go snacks for the week ahead, but in reality, the snack I rely on the most is quite simple: it's nuts! No, really – I don't mean it's crazy. I mean: it's nuts!
I keep all kinds around but my favorites are definitely almonds, cashews, and walnuts.
Like most nuts, walnuts are a good source of protein and high in the good-for-you kinds of fats. They also have high levels of many nutrients and vitamins, like B6 and folate. They're little bundles of healthy living, straight from the tree. So of course you can eat them plain, but why be plain when you can be cinnamon-roasted?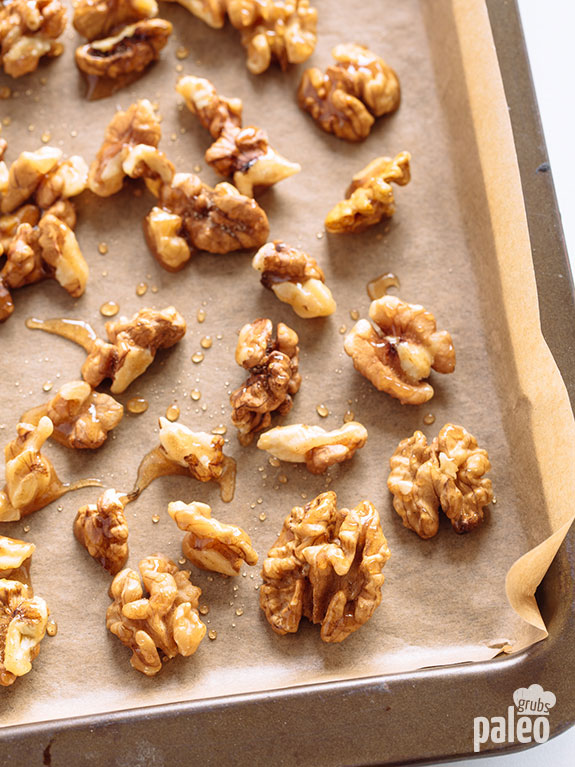 This recipe takes just a few minutes to whip up. Mix up your honey and cinnamon and salt, toss the nuts in the mix, and pop them in the oven. Then go read a book or do push ups or something else good for yourself for 25 minutes or so while the goodness gets baked into the little lovely walnuts.
Walnuts are the nuts of the walnut tree and when fully ripened, can be eaten straight off the tree. But of course most of us still get our walnuts at the grocery store where they are conveniently taken out of the their hard outer shell for us. You can find walnuts still in their shell, especially around the holidays, so if you really want to crack them yourself, go right ahead. But I would definitely recommend saving time and getting them already shelled.
Watch out when you take these babies out of the oven – they will look and smell seriously tempting – but they are also going to be piping hot. So restrain yourself for a good fifteen to twenty minutes before you start to nibble. Burning your tongue or the roof of your mouth on piping-hot nuts: not good!
These make a great mid-day snack. They're a little sweet and almost taste like candied nuts and the baking gives them a bit of a chewy texture. Once they are completely cool – and I mean completely – no bit of warmth coming off them at all – I divide them up into mini storage containers and keep them in the fridge. Then, in the morning, I can grab one or two pre-portioned containers and head out the door.
As much as I like keeping these cinnamon roasted walnuts all to myself, I also like having them around for when guests pop over. Even if we're just having tea or a quick visit, I can put a bowlful of nuts on the table that we can nibble on as we chat. Everyone likes them and they're the perfect little treat.
So whether you make them to share or to keep all to yourself, I totally recommend whipping up a batch of cinnamon roasted walnuts weekly so you always have some ready to go.
(Make this next: Spicy Roasted Cashews)
---
-
1 cup raw walnut halves
1 tsp ground cinnamon
3 tbsp Paleo-friendly raw honey
pinch of salt
Preheat oven to 350 F. Line a baking sheet with parchment paper and set aside.
In bowl combine honey, ground cinnamon and salt. Add in walnuts and toss to combine.
Spread nuts in single layer on prepared baking sheet.
Bake, stirring occasionally, until toasted, about 10-20 minutes.
Let cool completely before serving.
| | |
| --- | --- |
| Calories | 127 kcal |
| Potassium | 55.8 mg |
| Vitamin A | 0.2 µg |
| Vitamin C | 0.3 mg |
| Folic Acid (B9) | 9.6 µg |
| Sodium | 72.6 mg |