Soups
18 Paleo Chowders to Warm Your Soul
While chowder comes in many different varieties, they all have at least one thing in common: they're creamy, velvety, and super comforting. Whether you're looking for a seafood mix chowder, a traditional New England clam chowder, or something more vegetable-heavy with cauliflower, sweet potatoes, and celery, I've got you covered. Check out the following recipes with fantastic creamy-making ingredients like coconut milk and cauliflower, with super flavor agents like bacon!
---
1. Cauliflower Chowder
While totally dairy-free, this cauliflower chowder has all the creaminess you could possibly want with garlic cloves, onion, carrots, celery stalks, chicken stock (bonus points for homemade), coconut milk, cumin, turmeric, and crumbled bacon slices.
---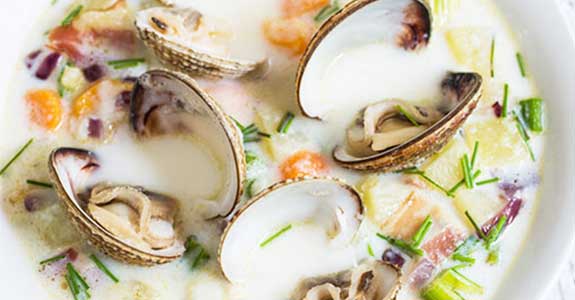 2. Grandma's New England Clam Chowder
It's a fun surprise when a Paleo version of an old favorite tastes better than the original. Such is the case with this clam chowder recipe, full of fresh clam flavor and
---
3. Super Creamy Clam Chowder
This chowder takes the cake (or, uh, clams) so far for the creamiest chowder recipe. It does use cauliflower to make the base, but it's also extra creamy with the use of nutritional yeast. The nutritional yeast gives it an almost creamy flavor that's so yummy.
---
4. Crab and Veggie Chowder
Want a veggie-rich soup, but craving a crabby chowder? This chowder is the best of both worlds with creamy cauliflower, butter, garlic, potato, parsnips, carrots, leek, and crab meat. Obviously you'll want to use a dairy-free milk in this one—I suggest coconut.
---
5. Oven Baked Chowder
This is a unique chowder, as the oven does all of the work for you! You'll chop your vegetables and arrange them in a pan with mild white fish and seasonings such as paprika and bay leaf. Stir coconut milk into it when it's finished to add a lovely richness.
---

Photo: The Modern Buttery
6. Cauliflower Clam Chowder
This clam chowder is meant to serve as a worthy replacement to New England clam chowder, and it certainly does! With bacon, celery, onion, cauliflower, carrots, clams, and clam juice, it's rich in flavor with both vegetables and clams, along with a thick broth and your choice of dairy-free milk.
---
7. Salmon Scallop Chowder
The crazy-good flavors of this chowder are thanks to the sockeye salmon, ghee, fennel bulb, fish sauce, and coconut cream! Use homemade chicken bone stock in this soup to get the extra nutritional benefits of the gelatin and nutrient-rich broth.
---
8. Shrimp and Clam Chowder
This soup has intense shrimp and clam flavors from the shrimp stock (homemade instructions included), shrimp, and both fresh clams and frozen clam meat. Coconut milk makes it super creamy and goes well with the seafood flavors, while sweet onion and celery add an extra savory flavor.
---
9. Crock Pot Pumpkin and Crab Chowder
This awesome soup can be made in your crock pot or slow cooker, saving you tons of time so you can come home to an amazingly fragrant dinner. It's creamy with pumpkin puree and coconut milk, and features delicious asparagus, crab meat, and mushrooms for a variation on the typical vegetables.
---

Photo: A Healthy Life For Me
10. Cauiliflower Chicken Chowder
Chicken soups, no matter what kind, always feel like comfort food to me. This chicken chowder, with this ghee, bacon, onion, garlic, celery, carrots, and cauliflower is no exception. With a creamy coconut milk broth, it'll always hit the spot when I need a nice, nourishing chicken soup.
---
11. Easy Paleo Seafood Chowder
This chowder is super rich and creamy from coconut milk and partially mashed sweet potatoes, which is a way to both thicken the soup and add a ton of nutrients at the same time. Clam juice helps flavor this soup, while wild-caught shrimp are perfectly protein-rich bites.
---
12. Poblano Bacon Chicken Chowder
The flavors of this chowder are amazing, from the fresh poblano chilies to the cayenne pepper, carrots, turnips, and thick-cut bacon. I love the super-savory, slightly salty flavor the bacon brings to this soup, which is thickened with cauliflower and arrowroot starch.
---
13. Pork and Clam Chowder
This creamy chowder has cauliflower, red potatoes, onion, clams, and salt pork for a unique and delicious flavor. Coconut milk helps to make it extra creamy, while butter adds a special richness and velvety mouthfeel. Feel free to use sweet potatoes if you avoid eating white potatoes.
---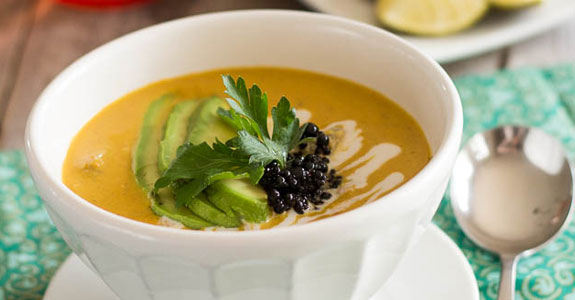 Photo: The Healthy Foodie
14. Pumpkin Seafood Chowder
This is a really unique flavor combination with pumpkin puree, onion, garlic, ginger, curry powder, and shredded carrots flavoring a soup of coconut milk, shrimp, scallops, and baby clams. It's the perfect soup to warm your bones on a chilly fall or winter evening.
---
15. Coconut Clam Chowder
This chowder has a unique flavor from Italian seasoning, parsley, cayenne pepper, and plenty of garlic. Sweet potatoes give it a hearty texture with a slightly sweet flavor (amazing with the coconut milk and onions), along with delicious bacon.
---
16. Easy Paleo Seafood Chowder
This is one of the easiest Paleo chowder recipes I've seen, and it gets most of its thick texture from sweet potatoes. You'll use shrimp, clams, and bacon to create amazing flavors with chicken broth and coconut milk as the creamy, comforting base.
---
17. Roasted Vegetable Chowder
Not a huge seafood fan? Neither am I. So let's both give this amazing roasted vegetable chowder a try! With white sweet potatoes, onion, parsnips, garlic, rainbow carrots, and cauliflower, you know it's going to be amazing. The broth is rich and creamy with coconut milk and cauliflower.
---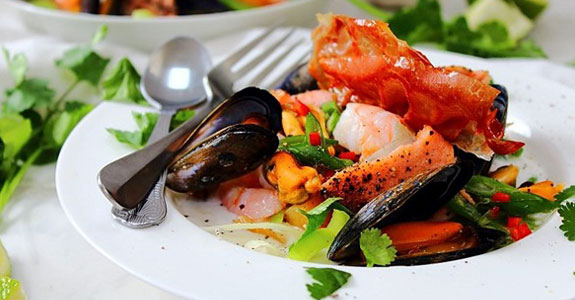 Photo: Peachy Palate
18. Creamy Coconut Milk Seafood Chowder
This seafood chowder is super-loaded with tiger prawns, rainbow sea trout, and fresh mussels for a protein-rich, savory meal. Also joining the party we have garlic, leek, rutabaga, coconut oil, full-fat coconut milk (so creamy), prosciutto, and seasonings.