Whether you want to have a romantic time with your partner or just want to eat something fancy that tastes amazing, you can't go wrong with these strawberry delights. Choose the best-looking strawberries from the carton and you'll have a real treat in a matter of minutes.
And why not enjoy something like this? It sends massive pleasure signals to the brain thanks to the chocolate, and provides you with antioxidants from the strawberries. It's a win-win and will cure a chocolate craving while also leaving you feeling like you're definitely not on a diet. And that's how we want to feel right? Paleo is more of a lifestyle than a hard and fast diet.
Honey gives this the sweetness it needs, and helps avoid the use of refined sugar. Think about what a normal chocolate-covered strawberry contains. It's probably been dipped in milk chocolate, which will mean added dairy and a ton of added sugar. The strawberries will likely be conventionally grown, so they'll have pesticides, herbicides, and a ton of chemicals to help preserve them.
Stick with organic strawberries and you'll be doing your body a favor and living more like a caveman whose food was all naturally organic. If you find the right grocery store there isn't a huge jump in price between conventional strawberries and organic strawberries, but the difference in what you're getting is pretty extreme.
It may take a little more effort to make your own chocolate rather than buying something from the store, but believe me it's worth it. You'll simply need some cocoa butter and raw cacao. The rawness makes it healthy since it will be unprocessed and have all of its natural nutrients still intact. There's something to be said for regaining some quality control over the foods you eat and taking matters into your own hands.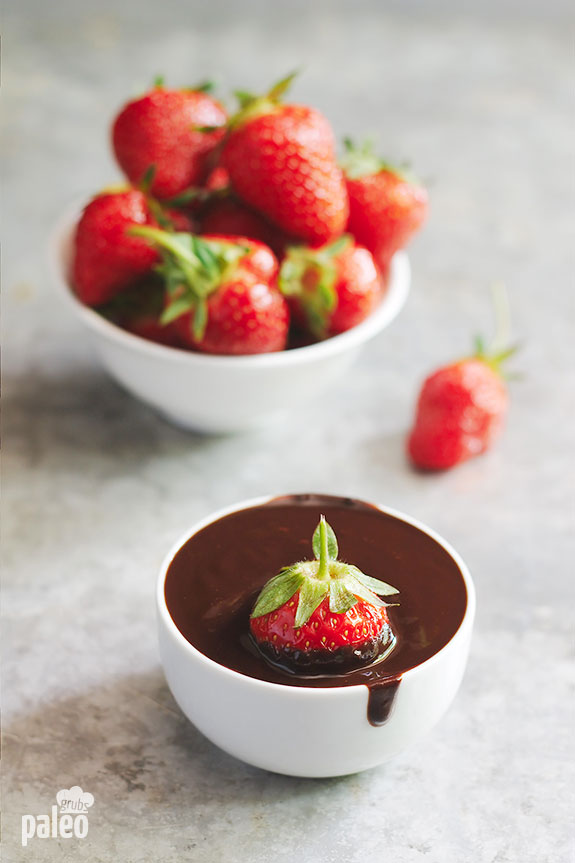 What's best about this recipe is how easy it is to make. Once you've got the chocolate ready and melted it's simply a matter of dipping the strawberries in until they're properly coated. Let them cool and the chocolate will harden around them. The chocolate drizzle gives them that extra-fancy look and makes you want to eat them even more.
These can also be great when you're hosting a party or if you want to bring food to a gathering. Everyone loves chocolate-covered strawberries so they're sure to be a hit.
---
¼ cup ( 36 g) cocoa butter
3 tbsp ( 12 g) raw cacao
1 ½ tsp raw honey
20 fresh strawberries
To make the chocolate, melt the cocoa butter in a heatproof bowl set over a pot of simmering water. The bottom of the bowl should not touch the water.
Add the cocoa powder and honey and mix well to combine. Cool slightly then dip each strawberry into the dark chocolate.
Set strawberries on the parchment paper. Dip a fork in the remaining chocolate and drizzle the chocolate over the dipped strawberries. Refrigerate for an hour before serving.