Recipe Lists
25 Yummy Chocolate Bark Recipes (Paleo-Friendly and Dairy-Free)
Chocolate bark can be as simple as melted chocolate topped with crushed candy canes, or it can be as fancy as a healthy vanilla bean crunch bark with sliced almonds and sea salt. It's up to you and your ingredients, and how much time you've got for kitchen concoctions. Either way, you'll want to give these paleo bark recipes a try.
---
1. Paleo Salted Caramel and White Chocolate Bark
The flavor combinations here will melt in your mouth and send you straight to paleo chocolate bark heaven. This treat is easy to make with dates, coconut oil (the secret to the hardening process), tahini or cashew butter, honey, vanilla, and Himalayan salt.
---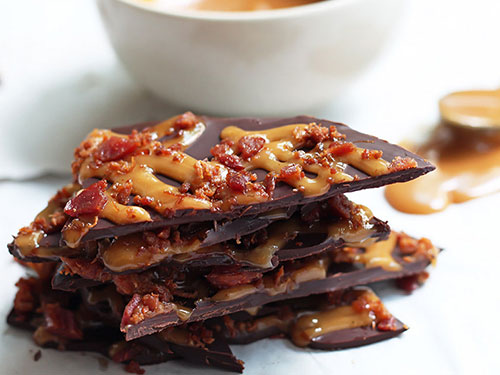 Photo: Leelalicious
2. Bacon Dark Chocolate Bark With Salted Coconut Caramel
You knew it wouldn't be too long before bacon joined this party, didn't you? Of course you did. For this recipe, you don't need to use the suggested bacon crumble—you can cook your own bacon and chop it into little pieces!
---
3. Easy Chocolate Freezer Bark
This is probably the easiest chocolate bark you'll ever make, and the chocolate is homemade with coconut oil, cacao powder, maple syrup, vanilla extract, and toppings. need some topping ideas? Try fruit, nuts, cacao nibs, caramel, cookie dough pieces, and more!
---
4. Dairy Free Chocolate Bark Recipe
Okay, maybe this is actually the easiest bark you'll ever make. All you need is dairy free chocolate chips and toppings like dried cranberries, shredded coconut, pecan pieces, dried goji berries, and paleo-friendly sprinkles or other toppings. Enjoy Life is a good chocolate brand for this.
---
5. Cranberry Pistachio Chocolate Bark
Made with cacao powder, coconut oil, and honey or maple syrup, this simple bark of homemade chocolate and natural toppings is not too sweet, but just right. You'll top it with crunchy pistachios and dried cranberries for a tart and salty, super colorful topping.
---

Photo: Veg Kate
6. Raw Chocolate Goji and Raspberry Bark
This bark is delicious with superfoods like goji and raspberries, and a homemade silky-smooth chocolate with maple syrup, coconut oil, sea salt, cacao powder, and the magic ingredient: cacao butter. It's a major ingredient in real chocolate, so you'll need it to make the good stuff!
---
7. No Sugar Keto Vanilla Protein Bark
This bark tastes absolutely amazing and is a ketogenic diet-friendly treat you don't have to be guilty about enjoying. Make sure you've got a paleo-friendly vanilla protein powder (any brand), cacao butter, vanilla, smooth almond butter, stevia, and cacao nibs.
---
8. Raw Fruit and Nut Chocolate Bark
Fruits and nuts are a great way to decorate your homemade chocolate bark, and this version also happens to be mostly raw with cacao powder, virgin coconut oil, maple syrup, sea salt, dried currants, chopped almonds, and a sprinkle of freeze dried raspberry.
---
9. Dark Chocolate Beauty Bark With Pepitas and Goji Berries
Because the ingredients in this bark contain vitamins, minerals, and nutrients that are good for your skin, this "beauty bark" is a snack that's actually nourishing for your body with chia seeds, raw pepitas, dried goji berries, dark chocolate chips, and sea salt.
---

Photo: Bakerita
10. Vanilla Bean Crunch Almond Butter Bark
I'm not going to lie, I kind of like vanilla bark better than chocolate bark. Is that okay to say? Because it's the truth, especially when we're talking about this crunchy vanilla bean bark with coconut oil, almond butter, vanilla bean, sliced almonds, and sea salt.
---
11. Salted Caramel Paleo Bark
This bark is pretty simple, but don't be fooled: there is nothing like the simple-but-decadent combination of salted caramel and chocolate, and here we're doing it paleo-style with Enjoy Life chocolate chips, coconut oil, sea salt, and a paleo caramel sauce.
---
12. Raw Chocoalte Pomegranate Bark
This bark is mostly- or completely-raw (depending on whether you use maple syrup or raw honey) and has the heavenly delicious flavor of pomegranate spread onto sweet homemade chocolate. It would be a great treat for a romantic date night treat!
---
13. Paleo Double Layer Chocolate Bark
For a gorgeous and simplistic chocolate bark that only has four ingredients, make this elegant treat with cocoa butter, dark chocolate, almonds, and chia seeds. The chai seeds make a pretty little sprinkle topping that's completely healthy and super tasty.
---

Photo: All Day I Dream About Food
14. Candied Pecan and Bacon Bark
Again with the bacon, right? I know you love it. This bark is made with butter, toasted pecans, bacon, cocoa butter, chocolate, and vanilla extract, so really it's just full of delicious ingredients I want in my mouth, in any possible combination—especially the combination dictated in this recipe.
---
15. Raw Mint Chocolate Bark
Mint and chocolate are a classic combo everyone loves, and this bark also has crunchy toppings like goji berries and chopped almonds. I recommend replacing the agave with maple syrup so you have a sweetener that's a bit less processed. Use raw honey if you want the bark totally raw!
---
16. Sugar Free Chocolate Bark
Sweetened with stevia or, for a non sugar-free version, maple, honey, or coconut nectar, this bark is simple and sweet. It's made with raw cacao butter, raw cacao powder, toasted and roasted pistachios and pecans, raisins, and vanilla bean seeds.
---
17. Vanilla Honey Fruit Salad And Brownie Bark Chips
This bark recipe comes with its own accompaniment, and you should definitely make them together because they're that good. For the bark, you'll need almond flour, cocoa powder, salt, egg, almond butter, almond milk, chocolate chips, and vanilla.
---

Photo: Living Healthy with Chocolate
18. Paleo Peppermint Bark
For having such a tasty flavor, this bark is super simple to make—it's perfect for the holidays when you need a winter-themed treat but you're too busy to pull something fancy together. You'll need chocolate chips, peppermint extract, coconut milk, coconut butter, and toppings.
---
19. Paleo Almond Joy Bark
If you love those chewy, not-at-all-paleo bars with the chocolate filling, try this bark recipe that tastes just like it with melted dark chocolate, unsweetened coconut, coconut butter, slivered almonds, vanilla, and honey to sweeten things up. So gooey and delicious!
---
20. Dark Chocolate Bark With Sea Salt and Superfoods
I love adding superfoods to my chocolate bark, in part because they're healthy, but also because many of them make awesome decorations! This bark is gorgeous topped with Himalayan pink salt, blanked almonds, goji berries, hemp seeds, and more.
---
21. Salted Caramel Bacon Bark
In this recipe, homemade caramel is as simple as half coconut milk, half coconut sugar, and a touch of sea salt. The rest is easy with dark chocolate (at least 70% cacao), your salted caramel batch, and a few strips of crisp, cooked bacon all chopped up.
---

Photo: A Calculated Whisk
22. Salted Pepita Chocolate Bark
Because they're high in magnesium and other minerals, pepitas are a great addition to your chocolate bark. It's great to pack nutrients into treats! Make this one with chocolate chips, pepitas, dried cranberries, currants, or raisins, and some vanilla salt.
---
23. Paleo Peppermint Bark
This bark may have a silky-smooth homemade chocolate base with maple syrup and peppermint extract, but the real star of this show is the peppermint candy crackle on top. It's made from honey, peppermint extract, raspberries, and shredded coconut, and you've never had anything like it!
---
24. Simple Paleo Chocolate Bark
For this paleo bark, you'll start with a 70% or greater chocolate bar and add coconut butter, raw macadamia nuts, unsweetened shredded coconut, and sea salt. The nuts and shredded coconut add a yummy texture that'll make each bite harder to resist than the last.
---
25. Macadamia Coconut Cream Candy
I want this candy in my mouth right now. It's full of healthy fats and delicious, creamy ingredients! And it doesn't have any sweetener apart from what's in the (optional) chocolate chips! You could eat the whole batch and not feel guilty, which I just might do.